"Believe in yourself" – Lewis Appiagyei, a Guinness World Record holder, reveals his plans of making it to Formula 1 and becoming a champion, just like his legendary namesake Lewis Hamilton.
1. Tell us about your early years and childhood. How was it like growing up in Camden & Hong Kong?
I was born in London (Camden) in 2007. Camden is still hands-down the coolest place in London and has been for the longest time. It's a real melting pot of different cultures and people from all over the world live here. It also attracts loads of visitors. I only discovered that myself as I grew up. When I was a year old, my parents moved to Hong Kong where they had been living and working for some time before I was born. So as a child growing up in Asia's capital of tech we were spoilt with the latest gadgets before the rest of the world got them. When Sony introduced the PSP (Play Station Portable), the must-have tech at the time, my dad got one. My fondest memory was when I was first introduced to playing racing games, my dad was a massive gamer himself. The game that kick-started my love for real racing and eSports was the racing game Ridge Racer on the PSP. I first played it when I was just 2 years old and I was already good at it then!
2. You took up karting at a very young age. Describe your experience at the Buckmore Park Kart Circuit, renowned for its association with F1 champions Jenson Button and Lewis Hamilton.
I started karting at the age of 7 at Buckmore Park and loved it straight away. I instinctively knew that it was going to be the beginning of my journey to Formula 1. The staff there were all really friendly and there was a real camaraderie between the drivers and the parents. We are still in touch with many of the guys we met back then when it all started. It was great having early successes as a Bambino go-karter. Coming home with a trophy, even if it was just a small one in those days felt great. I once won two on a single day and broke the track record for my age category, and that caught the attention of the press so they dedicated a whole back page of the newspaper to me which was really cool. Many more trophies followed since and we don't really know where to put them all anymore. My mum always
complains about having to dust them down!
3. What was it like breaking the Guinness World Record and making it to the Forbes Africa 30 under 30 class?
It felt absolutely amazing and totally surreal at the same time when I received the famous Guinness World Record certificate. I'd always seen programmes on tv about people attempting to break records and make it into the famous record book and then here I was, aged 10 in the record books myself. Getting on the world-famous Forbes List for Africa was so humbling and such an honour that I can't put it into words. To be recognised for your achievements and to be viewed upon as one of the shining lights of a continent is truly one of the brightest jewels in my resume.
"Age is an issue of mind over matter. If you don't mind, it doesn't matter." ~Mark Twain #forbes30under30
Class of 2020 pic.twitter.com/SAMiHfyrPm

— Lewis Appiagyei (@LewisAppiagyei) May 23, 2020
4. You recently did an internship with McLaren. Take us through your journey of working with some of the brightest minds in racing.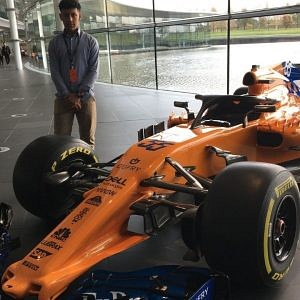 I was honoured to win a place on this prestigious, real-life project. Unfortunately, I'm not really allowed to talk much about it, as you can imagine it's all confidential. Because of the lockdown, it all took place over Zoom video calls. I'm still hoping that as things open up again there will be a chance to reconnect with the McLaren F1 engineers that were on the project and get to visit the McLaren Technology Centre again. My real aim with McLaren at this moment in time is to be on their young drivers' program, that's my main priority.
5. Sticking with Formula 1, who is your favourite driver from the current grid? And which team would you like to race for in the future?
My favourite driver is obviously my namesake Lewis Hamilton. With regards to teams, Mercedes, McLaren, and Red Bull would all be great, but I will grab any opportunity to get onto the F1 grid, regardless of the team.
6. Formula 1 has seen a plethora of young stars making it to the roster, the likes of Lando Norris, Max Verstappen, Charles Leclerc. What are your views on the future of the sport this decade, and beyond?
The future of F1 is looking bright. As far as young talented drivers coming up the ranks are concerned, replacing the likes of Hamilton in the coming years is going to be a very hard act to follow, and F1 will need another superstar racing driver in the mould of Hamilton to keep people tuning in. I think female drivers, the likes of Jamie Chadwick, will become a familiar sight in F1 very soon and a female race winner is on the cards as well.
7. We know Lewis Appiagyei for karting, racing, and e-sports. Apart from these, what do you do in your free time?
I do athletics and fencing to keep fit, build core strength and stamina, all of which is important for racers. We don't just sit in a car and drive around. It's physically highly demanding. Aside from that, I'm really into football. I support Arsenal of course and follow all things football very closely. Playing FIFA and Fortnite are things that I enjoy. I also listen to rap music and watch Anime. And responding to journalists across the globe, which is cool so far.
8. You are an Arsenal supporter, like Hamilton. Arsenal has been struggling ever since Arsene Wenger left. Where do you feel they are going wrong?
Good question! Every Gooner, that's what Arsenal supporters are called, has his or her own opinion on the matter as to why Arsenal has been struggling since Wenger's departure. My opinion is based on missed opportunities, like not signing one of the best players in the world (Kylian Mbappé) when he was available, we've also in the past waited too long to buy the right players at the right time. In the English Premier League and Formula 1 alike, you'll tend to find the teams who invest well, have the best players or drivers at the top of their game, like Man City or the Mercedes F1 team. To be honest, Arsenal is not there yet.
9. What are your plans when it comes to racing, and when can fans see you on their scenes or live on the track?
My plan is to be an F1 driver within the next 5 years, so everything I am doing now is geared up towards that goal. I plan to produce and launch a series of documentaries to chart my journey to F1 for my fans. I call the project 'T MINUS 5' – this brand will represent a countdown to my F1 debut. It represents a real statement of intent and a commitment to a declared timeframe, a proactive stance to raise the finances needed for this epic venture. Simply asking for money to go racing is not what I'm about. I want my backers to feel connected to my goal and vision of becoming an F1 champion. I intend to invite passionate and committed production companies and brands who can see what I see.
10. You are a youth icon, serving as an inspiration for many. What is your message to them?
Thank you for that tag, I recognise that I am in a somewhat privileged position for having such a platform. The words I've carried around with me since I was 10 years old as my maxim are: "Believe in yourself, believe in your dreams, and everything is possible."
I spoke those words at the end of my first major awards ceremony and at my first public speaking event. If you want to be a success, in my humble opinion, you need to believe in yourself first. Don't believe in people who put you down. The ones who say "You can't do that!", ignore them.
Be passionate about your dreams. Above all else study and work hard for it and you will achieve your goal, because the most important person to believe in you, is you yourself.
Read more Lewis Appiagyei: All you need to know about the go-karting champion looking to emulate namesake Lewis Hamilton