F1 in Bahrain: F1 fans so bored with Mercedes' dominance overly asked for rain in every other race to the rain gods that it is now raining in a desert.
Rain in Formula 1 adds a pinch of a plot twist, hence amidst the dominance of Mercedes, fans got so bored that the unpredictability provided by rain became the most desirable element of the sport.
Throughout the season, F1 fans asked for rains to the mythical gods while the races were being held in Europe, at that time clouds didn't shower their mercy and the races went on as it was predicted to be.
The only time the rain came in to affect the race this season was in Turkey, but even after that Lewis hamilton managed to win, no doubt he made an incredible performance to pull that win off.
But now ironically, when nobody asked for the rains, considering that it is probably too much to ask for in a middle-east country, with a wide rocky and desert environment, mild showers was observed near the venue.
Williams' driver George Russell even shared the rain in Bahrain on his social media account, making fans chuckle over the bizarreness of the event.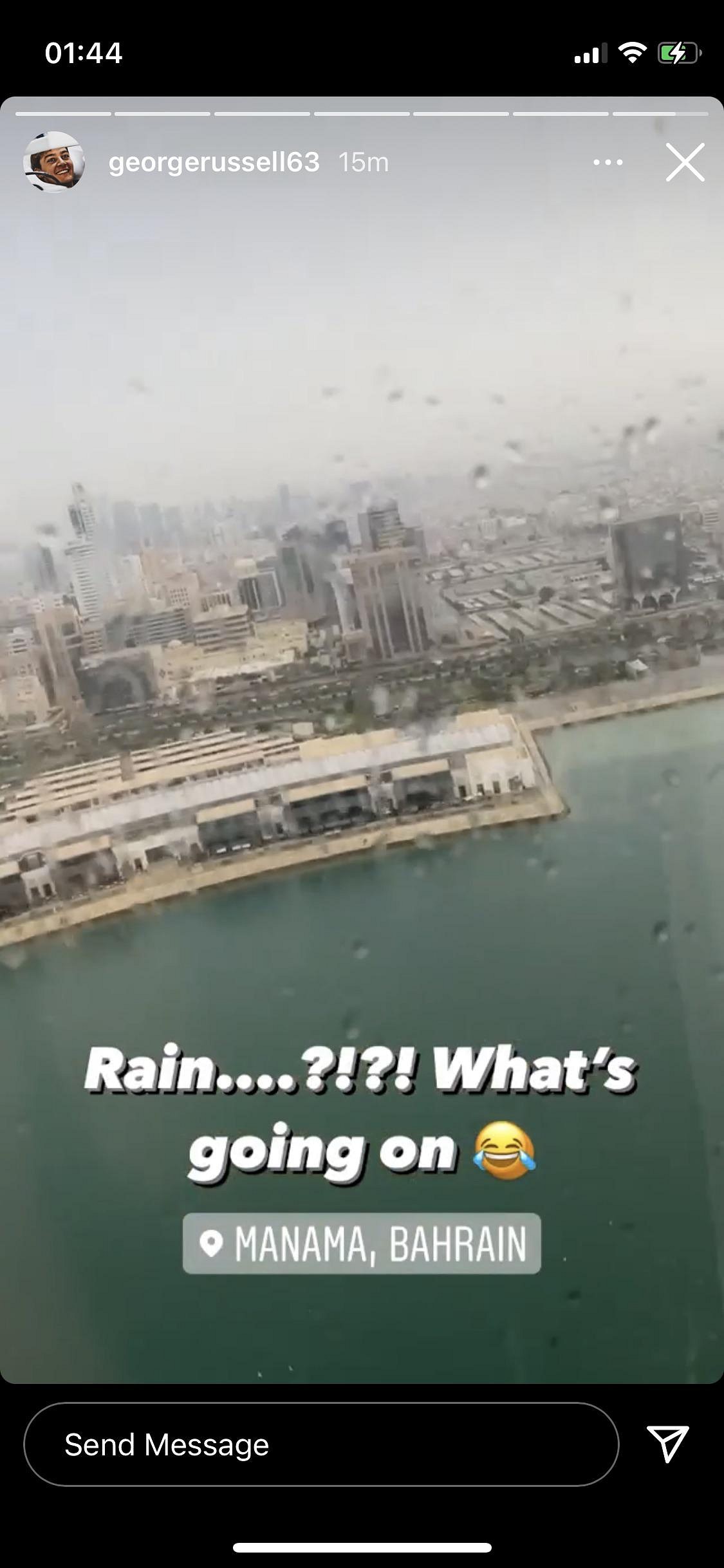 Though this rain is just an odd day amidst the usual arid climate, and for the following two days, dry and sunny weather has been forecasted.
F1 in Bahrain; Bizzarness awaits
Bahrain circuit will organize two races successively out of the last three races left this season, with the last Grand Prix is going to be at the Yas Marina circuit, UAE.
The first race is going to be on their usual track, but for the second race, the outer track is being opened, which will extend straights for the drivers to drive.
It will surely be an unusual spectacle, and Pierre Gasly has already predicted be an F1 version of an IndyCar race, and it has been heralded that per lap might time less than a minute, considering the lack of turns it is going to offer.