"For those affected by governments' anti-LGBTQ+ law"– Lewis Hamilton and Sebastian Vettel extend support against ant-LGBTQ+ law in Hungary.
This week, Hungary has attracted attention for two reasons– the protest against Prime Minister Viktor Orban's government steps that critics say stigmatize sexual minorities in Hungary, and the other is the Hungarian Grand Prix as the law intends to prohibit the display of content to minors that depict homosexuality or gender change.
Now, while the world of sports and politics are overlapping more than ever, the two marquees of F1– Lewis Hamilton and Sebastian Vettel have extended their support for the LGBTQ+ community in Hungary, participating in the pride parade against the law.
The seven-time world champion posted a story on Instagram with a heartfelt message that displays undivided support for movement and fall of the law with the referendum that can seize the validity of the law.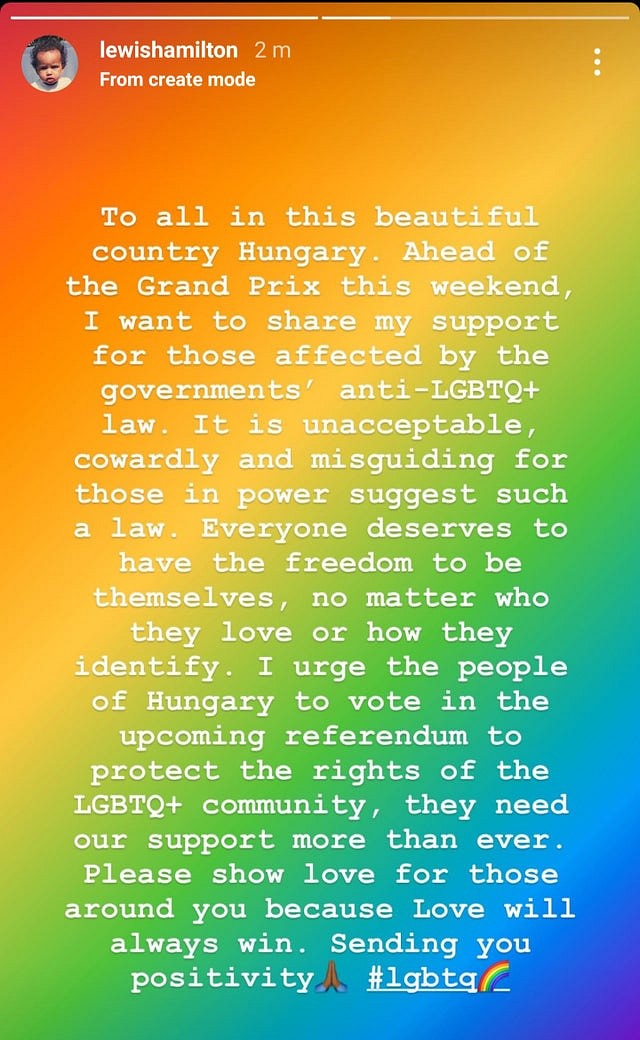 On Wednesday, Orban announced that the country would be going under a referendum to demonstrate public support for the law. The poll would require the Hungarians to decide whether children should be introduced to topics of sexual orientation in schools and whether gender reassignment should be promoted or depicted to children.
Sebastian Vettel join hands with Lewis Hamilton.
Meanwhile, Sebastian Vettel was spotted in shoes dawning pride colours at the Hungaroring, which is interpreted as his support for the sexual minority struggling against Hungary's new law.
👏 We are extremely grateful to Sebastian Vettel and @LewisHamilton for being active, visible allies to the #LGBTQ+ community and for showing solidarity in the build-up to this weekend's #F1 #HungarianGP.

Thank you, Seb & Lewis. Your support for equality means so much.

🏳️‍🌈🏳️‍⚧️ pic.twitter.com/qWTvZPELI8

— Racing Pride (@RacingPrideHQ) July 29, 2021
Therefore, it is an impactful statement by the two prominent drivers of F1 to speak against the government, which is infamous for its conservative and right-wing thoughts.
The F1 overall remains away from speaking against the establishments which have gained a poor reputation for their human rights violations and could set a precedent for the future.