Max Verstappen on Why Sergio Perez Not Winning Races Isn't 'The End of the World'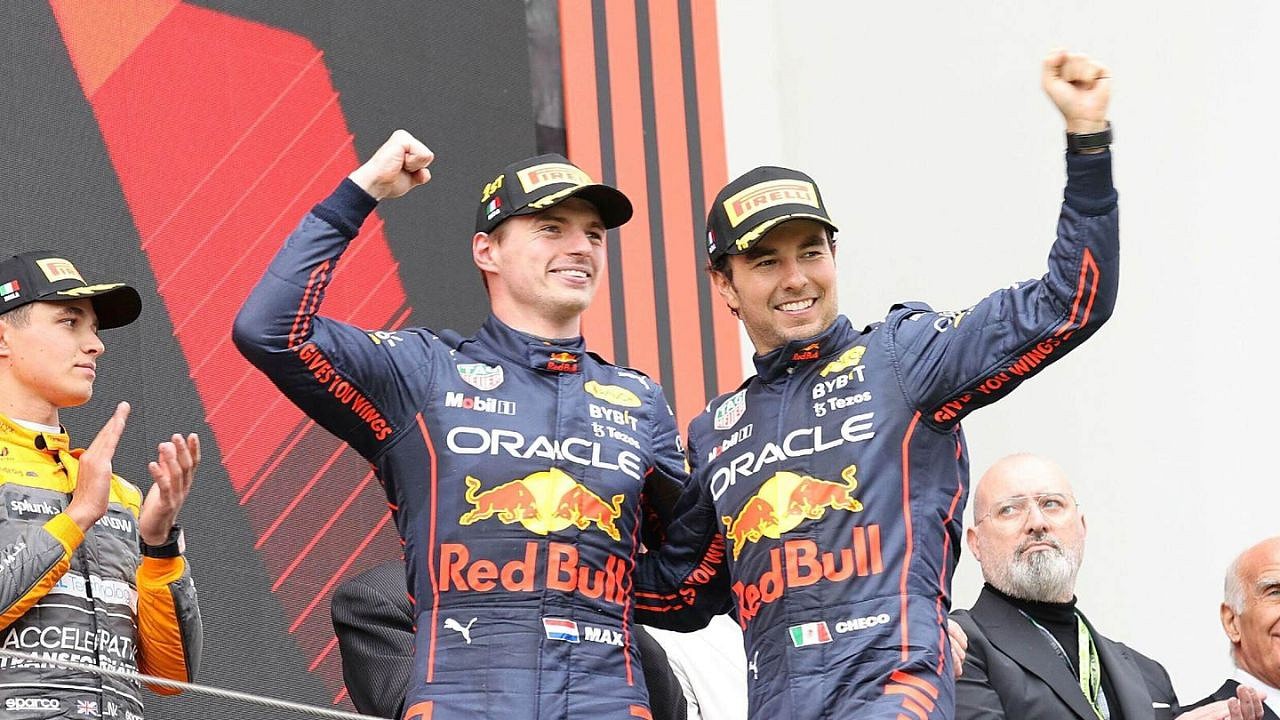 Max Verstappen has been the main figure at Red Bull since joining the team in 2016 as an 18-year-old. He has had many teammates at the Milton-Keynes-based outfit but none have been able to match him, so the pressure on Sergio Perez to deliver was always going to be high when he moved to Red Bull in 2021.
The Mexican driver joined a race-winning team for the first time in his career but struggled immensely behind Verstappen, who was competing for the world championship. There were times when Perez had to sacrifice his own race to help Verstappen's title charge, which the latter appreciates immensely. However, in a recent interview, he also admitted that winning races should not be the most important thing in the world for Perez, or for him.
Verstappen spoke about how much he got to know Perez in the last two years and highlighted the things he likes about the 33-year-old. The Dutchman revealed that he considered Perez a rival, especially when he was at Toro Rosso but then got close to him over the years.
Also read: "I'm Sick of People Fueling Black-White Problem": Former Ferrari Driver Once Denounced Lewis Hamilton Promoting Racial Equality
Max Verstappen feels succeeding in F1 isn't the most important thing in the world
Verstappen is a two-time world champion and at the young age of 25, he has surpassed the careers of some of the biggest F1 legends in history. However, he insists that succeeding in the sport isn't the most important thing. He connected this to his teammate Perez not winning enough races.
According to Verstappen, Perez is a unique human being because of how much he cares for his family and friends. That is the most important thing in the world according to Verstappen.
"F1 is very important and you want to have a lot of success, but it is not the end of the world if you don't succeed," he said. "I think the same way."
Also read: Max Verstappen, Even After Calling Lewis Hamilton 'Stupid Idiot' Once, Admits 7xTime F1 Champion Is Among The GOATs
Can Sergio Perez rise up to Verstappen's challenge?
Verstappen went off to a flying start in the 2023 season, winning the opening race in dominant fashion. Perez followed him in second place to bring home a 1-2 finish for Red Bull, who it seems, have built the fastest car once again.
However, most people expect Verstappen to coast to his third world championship win. Perez, on the other hand, will be wanting to be a part of the championship fight for the first time in his career. Red Bull's chief advisor Helmut Marko insists that their objective is to win the championship, and they don't care which driver bags it.
---