Father-Son duos who have played Cricket for India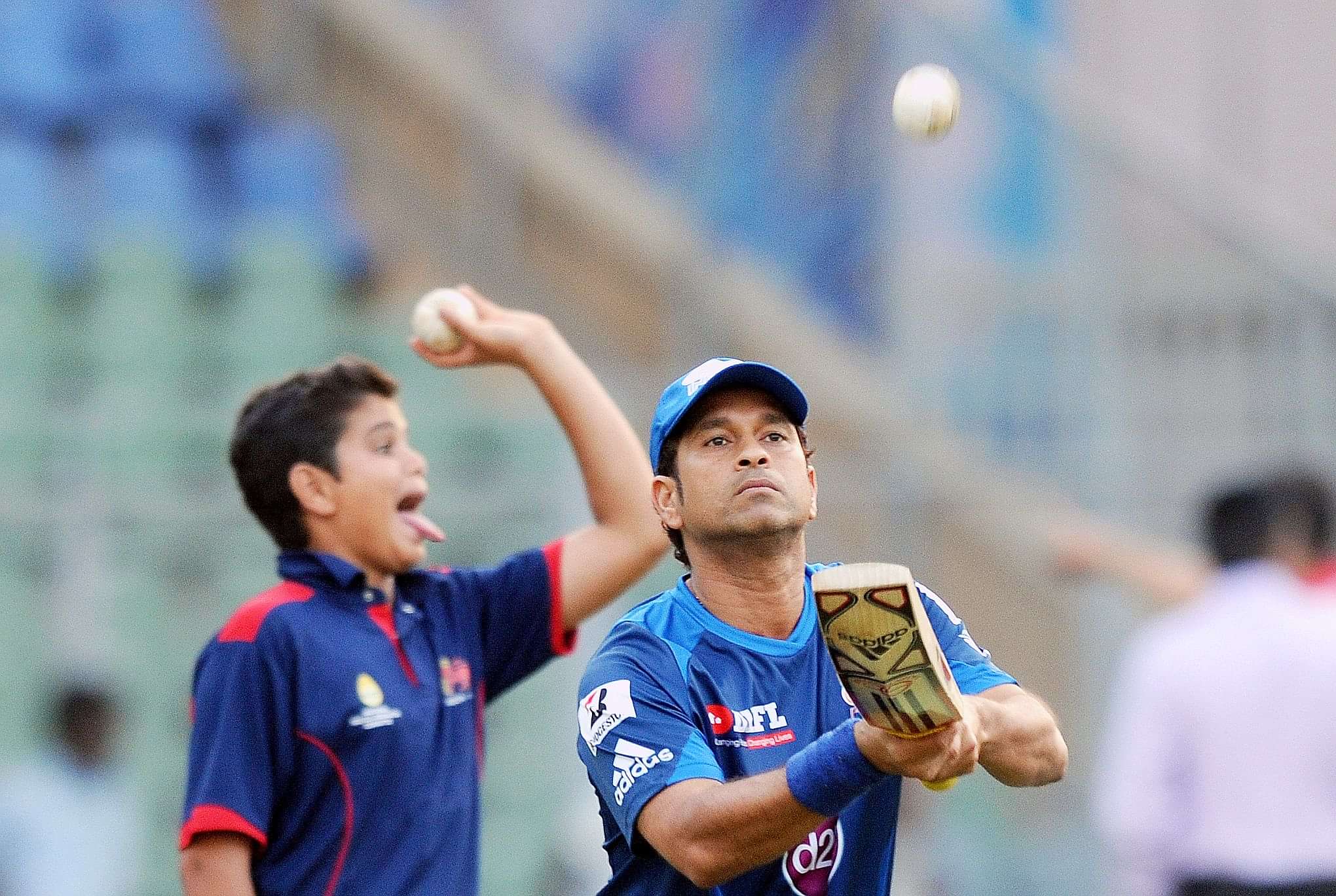 Playing cricket at the international level is hard enough. Out of millions, only a few are lucky enough to get the opportunity.However, certain families have been blessed with international cricketers in more than one generation. Here, we look at 10 father-son duos who have played Cricket for India
1) The Nawabs of Pataudi
Mansoor Ali Khan Pataudi is widely known as one of the famous and enterprising captains India have ever had. But, what is known as well-known is the fact that 'Tiger' was only the second test captain in the family.
Also Read: Moments when Muttiah Muralitharan made Sri Lanka proud
In 1946, India toured England for 3 test matches. Captaining them was the 36 year old Iftikhar Ali Khan Pataudi. Not only that, the senior Pataudi had also represented England early in his career. In 1932, he had even scored a century on test match debut in Sydney.
Mansoor followed in his father's footsteps, taking up the mantle of captaincy at the tender age of 21. He would go on to captain India in 40 test matches.

2) Lala, Surinder and Mohinder Amarnath
In 1933, India played their first test match on home soil at the Bombay Gymkhana. Nainik 'Lala' Amarnath, on debut, scored the first test match century by an Indian. He took the famed English attack to task, bringing up his century in 117 minutes.
Lala was dynamic with both bat and bowl and could even keep wickets. He would go on to have an influential career and is widely regarded as one of the pioneers of Indian cricket.
Lala's elder son, Surinder, would emulate his father by also scoring a century on test debut. However, his other son, Mohinder, would have a greater career.
Mohinder would play 69 test matches over an 18 year old career. Known as the comeback man of Indian cricket, Mohinder was one of India's best performers against the hostile fast bowling of Pakistan and West Indies.

3) Vinoo and Ashok Mankad
India never had a better all rounder than 'Vinoo' Mankad. That was until Kapil Dev arrived a generation later to steal Mankad's mantle.
A right handed batsman, who could bat anywhere in the lineup, Mankad is India's greatest left arm spinner alongside Bishen Bedi. 2109 runs at 31.47 and 162 wickets at 32.32 in 44 test matches is testament to his ability. Add to that, the fact that he played in an era when India were minnows.
Vinoo' son, Ashok, played 22 test matches for India in the 70s. An old school opening batsman, he could never really match his father in deed or fame.

4) Vijay and Sanjay Manjrekar
Vijay Manjrekar was one of the mainstays of the Indian team in the 50s and the 60s. In 55 test matches, he garnered 3208 runs at an average of39.12. He also scored 7 test centuries.
His son, Sanjay, played 37 test matches in the 80s and 90s. Like his father, he too was a middle order batsman. His numbers read a respectable 2043 runs at 37.14 with 4 centuries.

5) The Gaekwads
Datta Gaekwad represented India in 11 test matches in the 50s. Although in and out of the team, he captained the Indian team which toured England in 1959.
His son, Anshuman, played 40 test matches as an opening batsman in the 70s and 80s.  He had terrific reserves of patience and concentration. This is demonstrated by his 671 minute epic for his Test-best 201 against Pakistan at Jalandhar in 1982-83. He later went on to be the head coach of the Indian Cricket Team!

6) Pankaj and Pranab Roy
Before Sourav Ganguly, Pankaj Roy was the greatest cricketer to emerge from West Bengal. An enigma of an opening batsman, he had periods of success interspersed with those of failure.
Roy twice reached three figures in his maiden Test series against England in 1951-52. The following summer, however, he struggled in England and suffered five ducks in his seven Test innings. He finished with 2442 runs at an average of 32.56 and 5 centuries.
His son, Pranab, played 2 test matches for India in 1982. Like his father he was also an opening batsman, although he could never reach those heights. Pankaj's nephew, Ambar Roy, played 4 test matches in 1969.

7) Sunil and Rohan Gavaskar
Sunil Gavaskar is quite simply, one of the greatest cricketers the world has ever seen. He burst into the Indian team in 1971 as a terrific opening batsman. For the next 16 years, he remained an ever present figure scoring mountains of runs.
He was the first man to 10,000 test runs and broke Don Bradman's record for the highest number of test centuries. At the time of his retirement, Sunil, held the record for the maximum runs scored in test cricket (10,122) and the maximum number of centuries (34).
Sunil's son, Rohan, played 11 ODIs for India in 2004. Unlike his father, he was a middle order batsman and a useful left arm spinner. Needless to say, Rohan will have to, rather harshly, bear the mark of being the not-so-famous son of a famous father.

8) Hemant and Hrishikesh Kanitkar
Hemant Kanitkar played 2 test matches for India in 1974. He came into national reckoning by a series of splendid performances around the domestic circuit. But his international record did not come anywhere near his feats at the national level.
His son, Hrishikesh, also played a couple of test matches for the country. However, he will be more fondly remembered for his exploits (however brief) in limited overs cricket.
He will forever be linked with his winning boundary off Saqlain Mushtaq in fading light in India's memorable victory over Pakistan. This was in January 1998, when the team chased a 300-plus target in the Independence Cup final.

9) Yograj and Yuvraj Singh
Yuvraj Singh is a cult figure of Indian cricket. Yuvraj became the epitome of the modern day cricketer in the early 2000s. A hard hitting middle order batsman, a brilliant fielder and a better than average bowler.
However, much less known is the fact that Yuvraj's father, Yograj, played a single test match for India in New Zealand in 1980-81. He also played a handful of ODIs on the same tour. He has gained fame lately for his acting and sensational tweets targeting MS Dhoni.
Yuvraj, meanwhile, starred in India's victories at the 2007 ICC World T20 and 2011 ICC World Cup. The southpaw has been one of India's best limited over cricketers. He has also played 40 test matches, albeit with modest success.

10) Roger and Stuart Binny
This one will be familiar to Indian cricket fans. Roger Binny played 27 test matches and 72 ODIs for India, mostly during the 80s. He was the highest wicket taker in the 1983 World Cup and also played a key role in the 1985 Benson and Hedges Cup win.
A versatile all rounder, Binny batted in the lower order and bowled medium fast. His son, Stuart, has played sporadically for India over the last couple of seasons. Like his father, he too is a middle order batsman and a medium fast bowler.
Stuart is yet to match the achievements of his illustrious father, although he still has time on his side.
---