Federico Valverde receives huge praise from Diego Simeone for his sacrificial red card in Supercopa final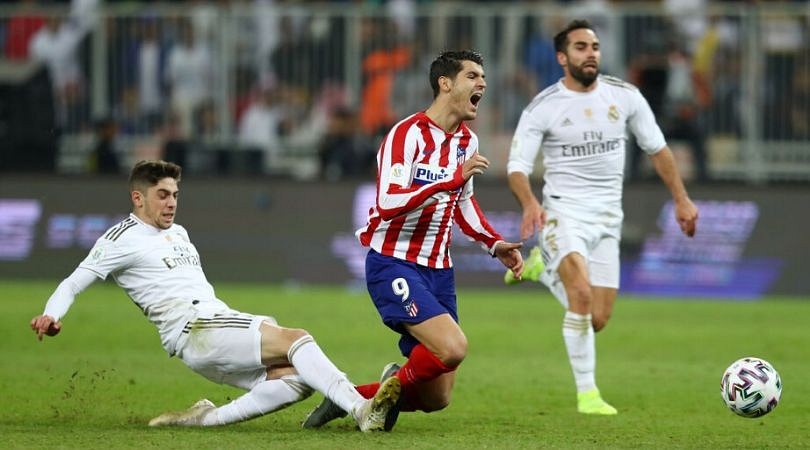 Federico Valverde receives huge praise from Atletico Madrid's manager after the former makes a sacrificial tackle on Alvaro Morata last night.
Real Madrid and Atletico Madrid fought long for the Supercopa title last night but the game remained goalless even after the completion of the extra time.
Although on one instance Atletico Madrid was about to break the deadlock as Alvaro Morato was on the clear run to get a goal in the 115th minute of the game and that time only Real Madrid's Federico Valverde came to rescue and tackled the Spanish striker.
However, Real Madrid had to pay a price for it, as the tackle by the Uruguyan International was charged with the red card as it denied Morata, a clear scoring chance and was not on the ball at all.
At that moment, Atletico Madrid players were furious at him, but Diego Simeone was one man who was impressed by the sacrifice made by the young midfielder.
"It was the most important moment of the match because if the play had continued it could possibly have led to a goal," said Simeone, who consoled Valverde as he walked off the pitch following the red card.
"I told him not to worry anyone would have done what he did in his place, he did what he had to do," added the Argentine coach, who was no stranger to football's dark arts as a player.
Spot when Diego Simeone gave Federico Valverde a pat on the head, you know he rates that his tackle on Morata as sublime. Only legends in football knows Valverde was genius with that tackle. #HalaMadrid #RealMadridAtletipic.twitter.com/bsD9DozfuH

— SNPR (@SmartAtuadi) January 12, 2020
Valverde was later given the man of the match award even though he got to face a red card after his cynical foul on Morata. Valverde said he had spoken to Morata after the game and felt some remorse for his actions.
"I apologised to Morata. What I did is not good but it was all I could do. I'm happy to win the trophy but I feel a small sense of regret for that," said the Uruguayan.
"My teammates and the coaches supported me and Simeone also came up to me, that's not something everyone does." he further said.
The foul made by Valverde definitely played a key role in making Los Blancos the title, as Real Madrid came out to be the winning side through penalty shoot-outs.
---