Why Football Will Overtake Cricket In India Within The Next 5 Years !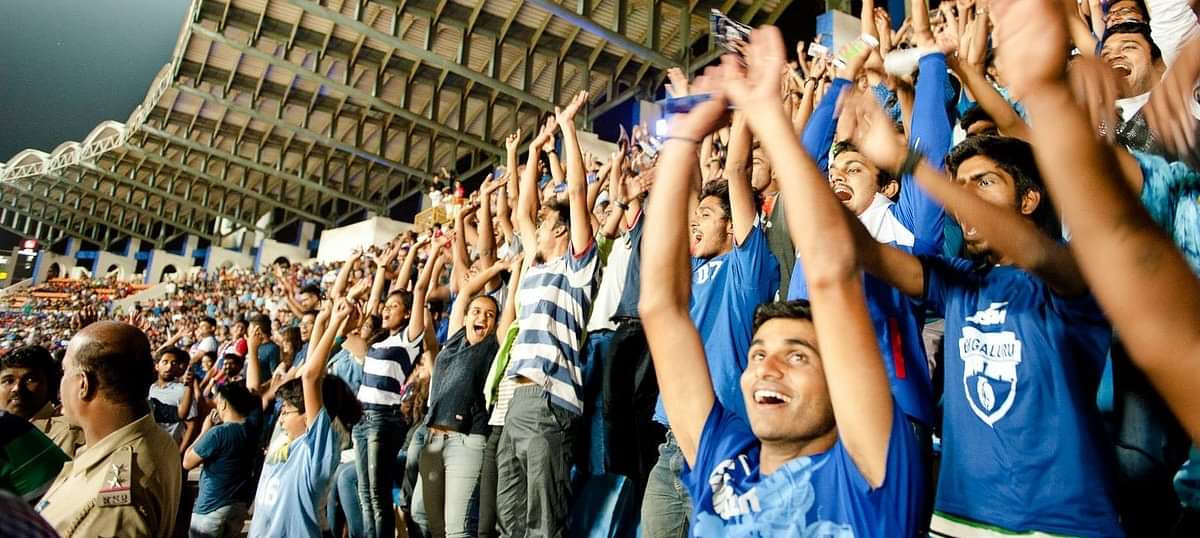 "The only thing I won't watch is darts. And I don't watch cricket. How can you like a game that requires you to take four days off work to follow a Test? And I don't really like golf. I know a lot of English footballers play, but I know that if I go with the club to play, sooner or later I will end up trying to smash the ball with my foot." – comments Arsenal football legend Thierry Henry. (  Football will overtake cricket )
India's obsession !
Well Mr. Henry, the billions of Indian Cricketing fans belong to a totally different school of thought. Since India's maiden world cup win in 1983, Cricket has inspired the entire nation into believing in a game with identical sanctity as that of a religion.
Many games have shaped Champions and Legends; Cricket has created "Gods". Cricket has curved passion into obsession, winning into tradition and local talent into sensations. Amidst the vault of dominance of cricket in India, another game which has exhibited some level of influence is Football!

Internet Age !
The ultra modern Internet age has offered the freedom of choice, the choice to choose and follow the "game you like" rather than "the game which most people like". Football, being the most popular sport in the world, was ought to seize the attention of Indians.(  Football will overtake cricket )
The comparisons and factor analysis of Cricket and Football's contemporary growth in India is as interesting as ever. But there are few reasons why people think football has what it takes to face up to the popularity and growth of Cricket in India:

Why Football will Overtake Cricket !
Cricket, in its shortest format of Twenty-twenty, is a 3-hour game while Football at its worst is a 1.5 hour game. Thus the smooth, appealing and liberating experience of a football game matches no other.
Football includes more nationalities, more clubs and more players to follow, for the Indian as well as global fans, than cricket.
The weather in India plays a pivotal role as football can be played in all weathers while the case of Cricket is poles apart.
The timings of games like English Premier League matches are featured at a peak time and display extremely competitive matches amongst 20 equally competent teams. Due to internet, the matches like that of La Liga, which feature at odd time-zones, are also not hard to follow.
The advent of ISL has created a buzz in the market about revolutionizing commercial football in India. Though it can't reach the standards and popularity of IPL yet, still ISL has moved on to create its own fan base.
The availability of proper infrastructure and fitness centers for cricketers is available while it's not the case with football players, even though footballers are more prone to injury than cricketers. Thus, the specialized infrastructure expansion services to widen world-class sports infrastructure for football is approved forward with a progressionist attitude.
The fast trending growth of FIFA PS4 and PC game, which is extremely popular among youth and FIFA keeps on updating every year with excelled consumer experience.
Football is much free from spot fixing and other scandals than cricket, which has recently become a plethora of corruption activities.
There's a trend coming up that affluent parents' conveyance of their children to English Football academies to coach over the summer as it's become the in thing and ensuing subject matter of discussion in the social circles
Moreover, there is a clear perception that it's cooler to be a football fan and follow a Barcelona or a Madrid. Those ManU or Barca fans categorize themselves as metaphorical "royal and elite" group.
"That will have a tumble down effect into other parts of Indian football. We are not competing with them, we are all working together to take things to the next level." – says ISL official Mr. Dhar.

Next Big Market !
South Asia is the only region in which a "royal" sport like Cricket is the commoner's sport rather than football. A commoner's sport should be one with the trait of ease of play in technique and rules. Football is far easier to play than cricket. Cricket accompanies complicated rules with sophisticated DRS system while football just needs a football. (  Football will overtake cricket )
And in a country of 1.2 billion people, if thousands of cricketers come up each year, it's not delusional to expect equivalent number of footballers, provided proper scope and opportunity.
In a country with cricketing "Gods" in the stature of Sachin Tendulkar, Rahul Dravid and VVS Laxman, the sport of football is still searching for that glimpse of inspiration. Whether football will overtake Cricket in 5 years remains a debatable issue; but the pace at which football is gaining significance, "The Gentleman's Game" is up for one hell of a popularity battle from the "Beautiful Game".
---