FIFA 23 Xavi Hernandez Prime Icon SBC: How to claim this legendary Ultimate Team card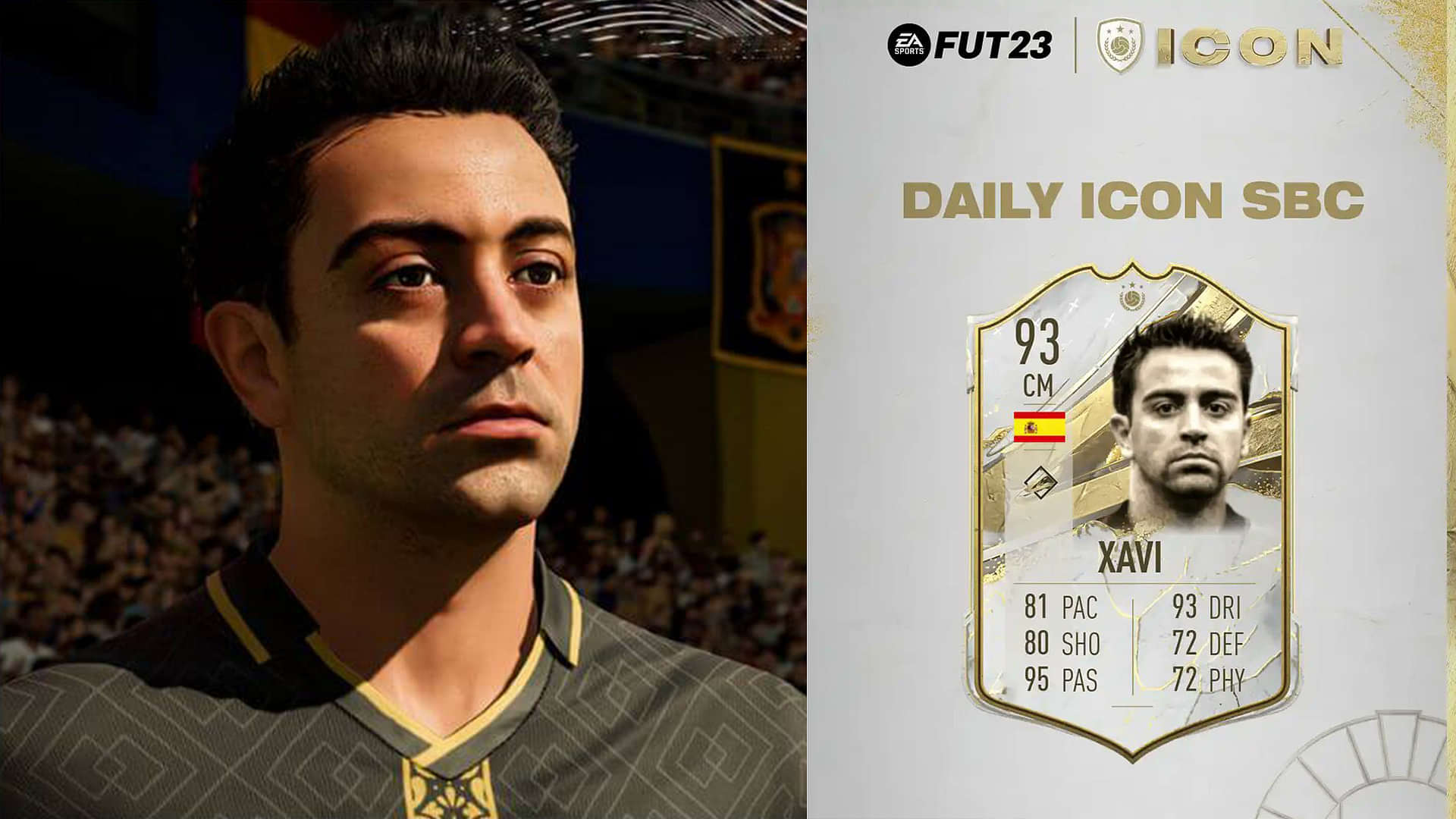 When FIFA 23 fans believe Ultimate Team can't get any better, EA Sports makes the game more engaging. The Prime Icon SBC for "Midfield Maestro" Xavi Hernandez has been added to FUT. Find out everything you need to know about this challenge.
The Icon card series is the most sought-after FIFA 23 item. These unique cards pay tribute to the now-retired soccer star, who once dominated the sport with their excellent performance. The present Barcelona coach and former midfielder Xavi Hernandez is one of those players to receive Icon cards.
The Spaniard's ability to control the game with his vision and excellent passing traits earned him the title of 'The Puppet Master". Undoubtedly, FIFA 23 fans would love to have such an exceptional midfielder in their FUT squad too. Now thanks to EA Sports, fans have the opportunity to get the Xavi Prime Icon card from a newly added SBC.
Contents
How to complete the FIFA 23 Xavi Hernandez Prime Icon SBC?
How many FUT coins are needed to complete this SBC?
Should FIFA 23 fans acquire the Xavi Hernandez Prime Icon card?
How to complete the FIFA 23 Xavi Hernandez Prime Icon SBC?
This Squad Building Challenge consists of five phases in which fans have to build squads of eleven players. This is arguably the easiest Icon SBC that EA Sports has published recently. Like other challenges, this one also has requirements that fans must fulfill. However, they aren't as complicated as other Icon SBCs.
This Xavi Hernandez Prime Icon Squad Building Challenge is divided into the following five phases:
Born Legend
This team should consist of more than eleven players.
This team should exclusively consist of Rare Bronze players.
Rising Star
The team should have more than eleven players.
This squad's players should all be of Rare Silver quality.
On a Loan
The squad should have at least two Rare quality players.
The whole team should be made up of Silver quality players.
Blaugrana
At least one FC Barcelona player should be among the starting eleven.
The total rating of the team should be higher than 84.
La Furia Roja
This team should have at least one Spanish player.
This team should feature a player from the Team of the Week (TOTW), Team of the Season (TOTS), or FUT Champion.
The overall rating should be higher than 85.
How many FUT coins are needed to complete this SBC?
Loading embed tweet https://twitter.com/IconSquadGaming/status/1661909870638174209?ref_src=twsrc%5Etfw
FIFA 23 fans would have to spend over 106,000 FUT coins to get all the essential players from the Transfer Market for completing this SBC. It is possibly one of the most pocket-friendly Icon SBCs that has been added to Ultimate Team lately. The reason for this estimated budget could be the less demanding requirements of the challenge.
But there are always players for whom this SBC's estimated budget could be huge. So they can always save up some coins and complete the challenge by using the cards from their own inventory. If players are low on coins and cards, they can play some FUT matches to get their hands on more for the SBC.
Should FIFA 23 fans acquire the Xavi Hernandez Prime Icon card?
The 93-rated Xavi Hernandez Prime Icon card at an expenditure of nearly 106,000 FUT coins is an absolute deal. This card has 95 Passing and 93 Dribbling stats, making it the perfect fit for building a strong FUT squad. So fans should get this card as soon as possible before EA Sports removes it from the game.
Following the completion of this challenge, fans can find out how to get the FIFA 23 Thierry Henry Prime Icon SBC by visiting here.
---