FIFA 23 Yannick Carrasco Flashback: How to complete the objective of this special card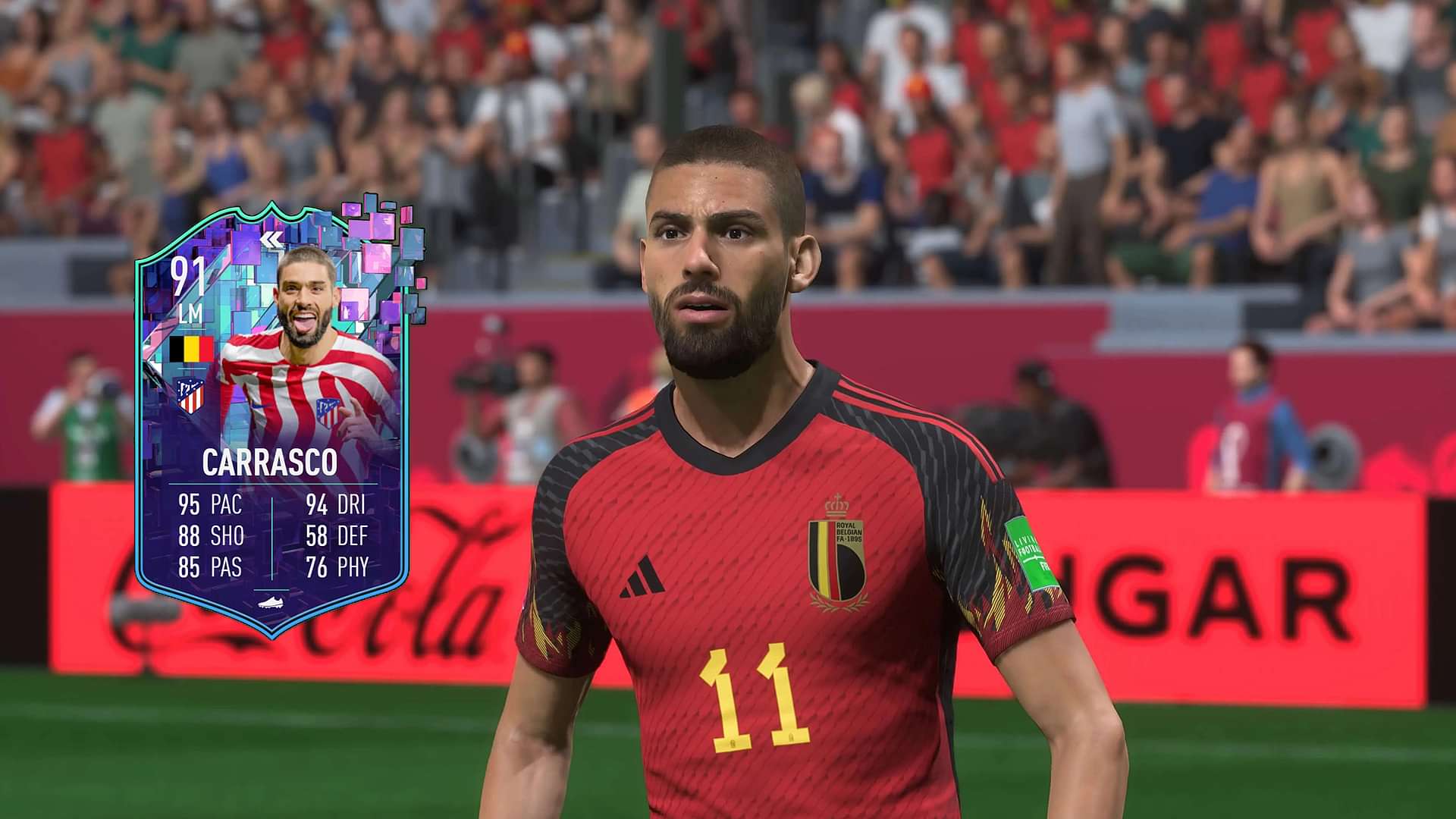 Yannick Carrasco was given a Flashback version card in FIFA 23 Ultimate Team, which can be obtained by completing an objective.
Yannick Carrasco has been one of the most prominent figures for the Spanish club Atletico de Madrid in recent years. However, his performance might not be up to the developer's standards for receiving a La Liga Team of the Season card this year in FIFA 23. But he was instead rewarded with a Flashback card.
Unlike most FUT cards, Flashback ones don't compliment soccer players for their current performance. Instead, it honors them for their performance from a previous season. Fans are going crazy to get Carrasco's new special card, but there are more surprises for the fans on the way to get this card in the game.
How can you obtain the Yannick Carrasco Flashback card in FIFA 23?
This Flashback card may be obtained by finishing a FUT objective, "Flashback Yannick Carrasco [XP]". The objective has five tasks that fans must do in order to get their hands on the special FUT card.
Loading embed tweet https://twitter.com/FIFAUTeam/status/1659608679019167744?ref_src=twsrc%5Etfw
These tasks would need fans to compete in offline Squad Battles against CPU or online Division Rivals and FUT Champion matches against other fans. Here is what players need to do:
Simple Seven [XP]: Fans would need to score seven goals with La Liga players. If they use Squad Battles to complete this objective, the difficulty level must be at least Semi-Pro. This task will also reward the fans with an untradable Gold Pack.
Spanish Distribution: For this task, fans must complete successful assists while having six Spanish players in the starting 11 in four separate matches. If completed via Squad Battles, the matches should be at a Semi-Pro difficulty. The best part about completing this task is that it will reward fans with Isi Palazon's La Liga TOTS card.
Goal Artist: Fans must score in five separate matches while using the previously won Isi TOTS card in the Starting 11. This task's Squad Battle difficulty should likewise be at least Semi-Pro. Completing the task will also earn players a La Liga TOTS award. It's the 90-rated Pau Torres card this time.
Ranged Sharpshooter: Fans need to score five goals from outside the penalty box. For this one too, they will have to play in Semi-Pro Squad Battles. Further, completing this task will reward a Small Prime Gold Player Pack.
La Liga Combo: For this final task, FIFA 23 fans need to win eight matches while having Isi and Pau Torres' TOTS cards in the Starting 11. The reward for this task's completion will be an untradable Premium Gold Pack. Further, they will also finally get the Yannick Carrasco Flashback card.
How good is this FUT Flashback card?
Some FIFA 23 fans might wonder whether to spend time on completing this objective for that Flashback card or not. This special card would be worth spending every second on this objective. After all, this special card has an overall rating of 91 with some outstanding stats like 95 Pace and 94 Dribling.
Fans should hurry to get their hands on this special card before EA Sports removes it from the game. If players are done with this task, then find out more about the newly-released MLS Team of the Season cards.
---