Golden State Warriors vs Los Angeles Clippers Dream11 Prediction: Dream11 Fantasy Tips for GSW vs LAC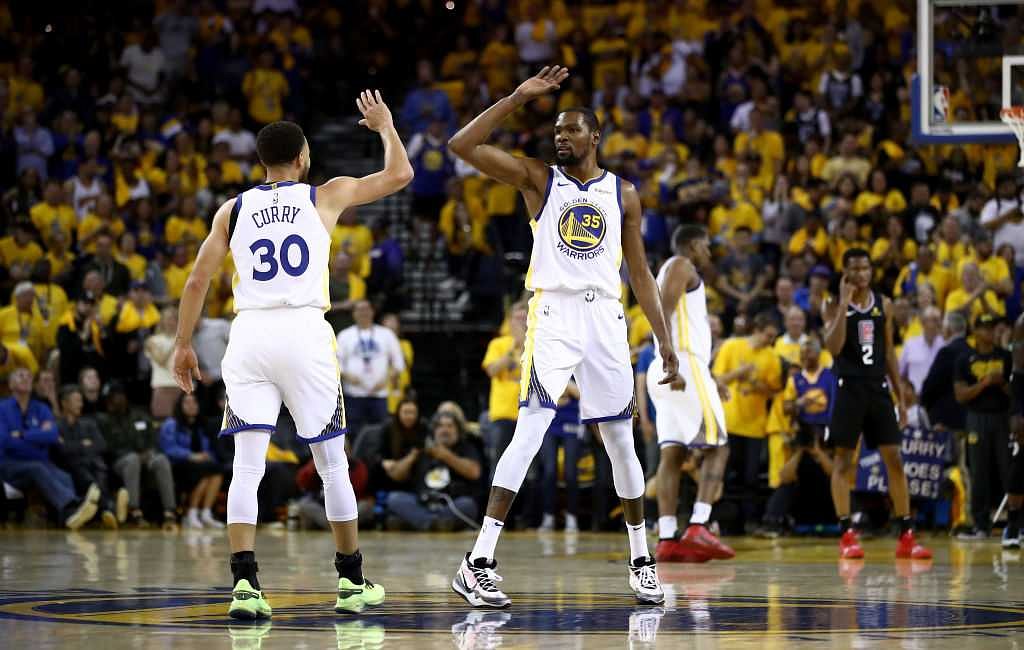 Golden State Warriors vs Los Angeles Clippers Dream11 Prediction: Dream11 Fantasy Tips for GSW vs LAC as The SportsRush helps you with Dream11
The 2 best Clippers players had one of their best games and they didn't come anywhere close to beating the Warriors. Playoffs Warriors are just a different animal and they proved just that. Curry had a top game with 38 points and 15 REBOUNDS to go with 7 assists. That is a pretty incredible game and means a bucketload of points on Dream 11. Durant gets his 25 points irrespective of whether he is locked in or not and with Patrick Beverly being the Clippers choice to guard Durant, its too big a height mismatch irrespective of how much of a pest he is defensively.
Playoff Draymond is a different animal and he is bound to get his assists and rebounds to go with 10 odd points. He can get a lot more if he starts sinking his 3s (which he did in game 1). For Clippers Montrezl Harrell and Lou Williams are their best players because they come in with the second unit when Warriors best players are in the shed and they are playing a motley crew (this is what happens when you have 5 all-stars in your starting line-up, you have no money for the rest).
Both Williams and Harrell dominate second string players and keep the Clippers in the game despite their lightweight starting line-up. Despite that, Warriors are too good and too loaded and no matter what the Clippers do when Curry and Durant sit, they will come back and pull it back for the Warriors. This is guaranteed sweep if there ever was one and Clippers will have to do something incredible to pull a game away from the Warriors.
Form:
For Warriors, Durant and Curry were on song in the first game. Curry got a game high 38 points with 15 rebounds and 7 assists. Durant who got ejected for getting two technicals still got his 23 points with 3 assists and 4 rebounds. Draymond Green shed his regular season skin and got into the playoffs groove with 17 points along with 7 rebounds and 7 assists. Andre Iguodala  is another Warrior that raises his game in the playoffs and got himself a solid stat line of 8 points, 6 rebounds and 6 assists.
For Clippers rookie point guard Shai Gilgeous-Alexander had a solid playoff debut with 18 points to go with 5 rebounds and 1 assist. Danilo Gallinari has been one of the best and most efficient volumes shooters in the league this season. He scored 15 points  go with 8 rebounds and 1 assist. The stars for Clippers though were Lou Williams and Montrezl Harrell as they have been for most of the season. Williams scored 25 points and dished out 9 assists to go with 3 rebounds. Harrell top scored for the Clippers with 26 points along with 5 rebounds and 2 assists.
Golden State Warriors vs Los Angeles Clippers Dream11 Prediction:
Point Guard: Stephen Curry  (18.5 Cr)
Do I have to justify picking Steph Curry? The only disadvantage of picking Curry would've been if he was guarded by Patrick Beverly, and even then you would fancy Curry to get his points, assists and rebounds. With Beverly on KD, there is pretty much no one that can guard Curry and his insane shots from literally anywhere in the half court. Lou Williams is not bothered with defense and Gilgeous-Alexander definitely has defensive upside but for now he isn't capable of guarding Curry. So leave him off your team if you feel like you want to lose some money early in the morning.
Shooting Guards: Jerome Evans (3.5 Cr) Garett Temple (6 Cr)
We are going light on Shooting Guards because the Warriors play 5 all-stars and I can not pick them all. Klay Thompson has the ability to heat up and destroy the scoreboard with 50 points easy, but that is a risk I have to take. Thompson hasn't had a great season offensively and while he will come good when the Warriors really need him, for the Clippers series, he isn't needed to go nuts and his defense is enough for now so I am leaving him off.
Lou Williams is again a streaky shooter and while for the season he has been shooting hot rather than cold, Klay Thompson, Draymond Green and Andre Iguodala are too good defenders to not recognize Williams importance and try to stifle him. That leaves two options.
Jerome Robinson is a patsy pick at 3.5 Cr and his only real possibility to get minutes is Warriors are blowing the Clippers. I expect there to be a decent chance for the Warriors to do just that and for that reason Robinson gets a shot.
Garett Temple at 6 Cr is a decent value. He can get 10 points and 5 rebounds if he gets 15 odd minutes and given that that is what he has been averaging for the last 10 games, he gets the nod here.
Small Forwards: Andre Iguodala (8 Cr) Kevin Durant (19 Cr)
Iguodala should be a definite pick for all teams. At 8 Cr he provides a lot of value with his assists and rebounding. He has also improved his distance shooting this season and given who he plays with, he gets his fair share of points as well. He gets to 25 points in Dream 11 with ease and can get a lot more against a Clippers team that lacks depth in terms of stars that will engage Iggy heavily on defense.
Kevin Durant is as petty as they come in the NBA. He took offense to tiny guard Patrick Beverly trying to annoy him on defense and laughed standing on top of him after he fell trying to to complete a steal. He got two techs and got ejected. He will want to come back and drop 40 points and if he wants to its very difficult to stop him.
Power Forwards: Draymond Green (13 Cr) Danilo Gallinari (16 Cr)
The upside of going light on Shooting Guards means we can pick heavy at both SF and PF. Draymond Green flashed his top form in defense and in running the offense. He competed hard on defense and got 7 rebounds and also managed 7 assists. His shooting has improved recently and he proved that scoring 17 points burying 3 3s out of his 6 attempts and if he keeps it up he will be a problem because most of opponents strategy to defend against Curry Thompson and Durant is based on leaving Green open and hoping he misses his 3s.
Gallinari is a great shooter who is 6'10. He was a unicorn before we defined them as unicorns. His shooting gets him 15 odd points every game at the least and he grabs 8+ rebounds due to his height. He can easily go off for more points given his shooting from all three levels. He is a 30 point average player on Dream 11 and I would advise splurging on him rather than Williams despite Williams game 1 performance.
Center: Montrezl Harrell (16 Cr)
Cousins is more expensive and this is his first playoff experience. Plus he plays with the likes of Durant Thompson Green and Curry (15 rebounds. lol.) so he will almost never be the focal point. But Harrell who doesn't start start games gets the best matchups and plays extremely hard. He gets boards and points in the paint like no ones business and will get his 30 odd points in the game. So he takes the spot over Cousins.
---