"I Could Make LeBron James an All-Pro Wide Receiver": Former NFL Tight End Believes Los Angeles Lakers Superstar Would Thrive In The NFL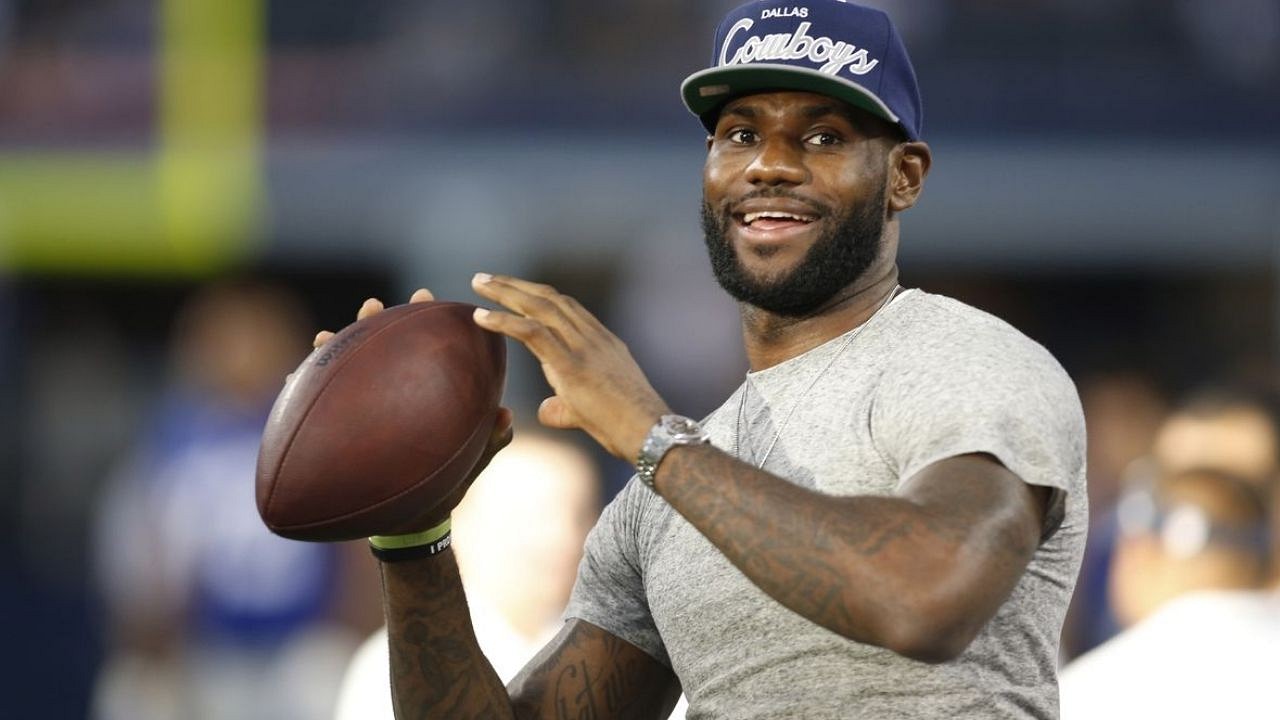 LeBron James is one of the most gifted basketball players we know. However, could James' athleticism translate to the NFL?
Former NFL tight end Greg Olsen definitely thinks he could:
Could LeBron be an elite WR?

On the latest @ColinCowherd podcast – @gregolsen88 describes how he believes that he could coach LeBron into an All-Pro NFL player pic.twitter.com/yARwcvbLTs

— The Volume (@TheVolumeSports) March 8, 2021
Also read: "Dak Prescott has never won a Super Bowl, a Super Bowl MVP, a regular season MVP": Shannon Sharpe Blasts Dallas Cowboys For Signing QB To Record Deal
LeBron James As a Wide Receiver?
While it's so hard to imagine LeBron dominating anything other than basketball, football was never out of the question for the NBA legend.
In high school at St. Vincent Mary's, LeBron played wide receiver and he was very, very good. He made first team All-State, and there was a real possibility of him joining a College Football Program.
Even after his high school days were over, LeBron still garnered attention from the NFL world. During the 2011 NBA lockout, LeBron was reportedly sought out by multiple teams in the NFL.
The Dallas Cowboys & Seattle Seahawks offered LeBron James a tryout during the 2011 NBA lockout.

His friends talked him out of it, but James told The Athletic today that he "would have made the team."

HS Stats:
— 2 yrs
— 99 Recs
— 27 TDs
— 2x All-State

What do you think? pic.twitter.com/DwfggcKkKM

— Joe Pompliano (@JoePompliano) February 15, 2021
Greg Olsen Confident He Could Convert Multiple NBA Athletes
Olsen said that all it would take for LeBron to be an NFL receiver would be one year under his tutelage:
"If I could coach LeBron James for one year, I could make him an All-Pro wide receiver,"
Olsen, however, believed that it didn't just end with the King. He feels like he could take several NBA household names and bring them over to the Gridiron. For example, he believes Russell Westbrook would thrive at safety:
"There's no question in my mind. I could turn Russell Westbrook into an All-Pro free safety."
Olsen's mentality revolves around the fact that NBA players are so unique with their skill-sets:
"They're so unique. But there's few and far between (with) those guys. But yes, I do think he can play NFL wide receiver. For how long? I think he'd be stupid to stop playing basketball and come play football. But yes, I do think he could in the short term [talking about LeBron]." .
While we may never see LeBron in the NFL, we do see his love for football all the time in the NBA court. The Lakers are always having fun throwing basketballs around like footballs and catching "touchdowns."
Inicia una temporada de la @NFL y en Los Ángeles #Lakers se quieren sumar 🏈 😂

IG @brgridiron#football #NFL #LeBronJames #nba pic.twitter.com/daRSY37yob

— Unanimo Deportes (@UnanimoDeportes) September 11, 2020
Also read: Aaron Rodgers Has Accomplished What Tom Brady, Peyton Manning & Drew Brees Never Have & Never Will
---
Share this article