IPL 2017 Fantasy Guide: Fantasy tips for Mumbai Indians vs Kolkata Knight Riders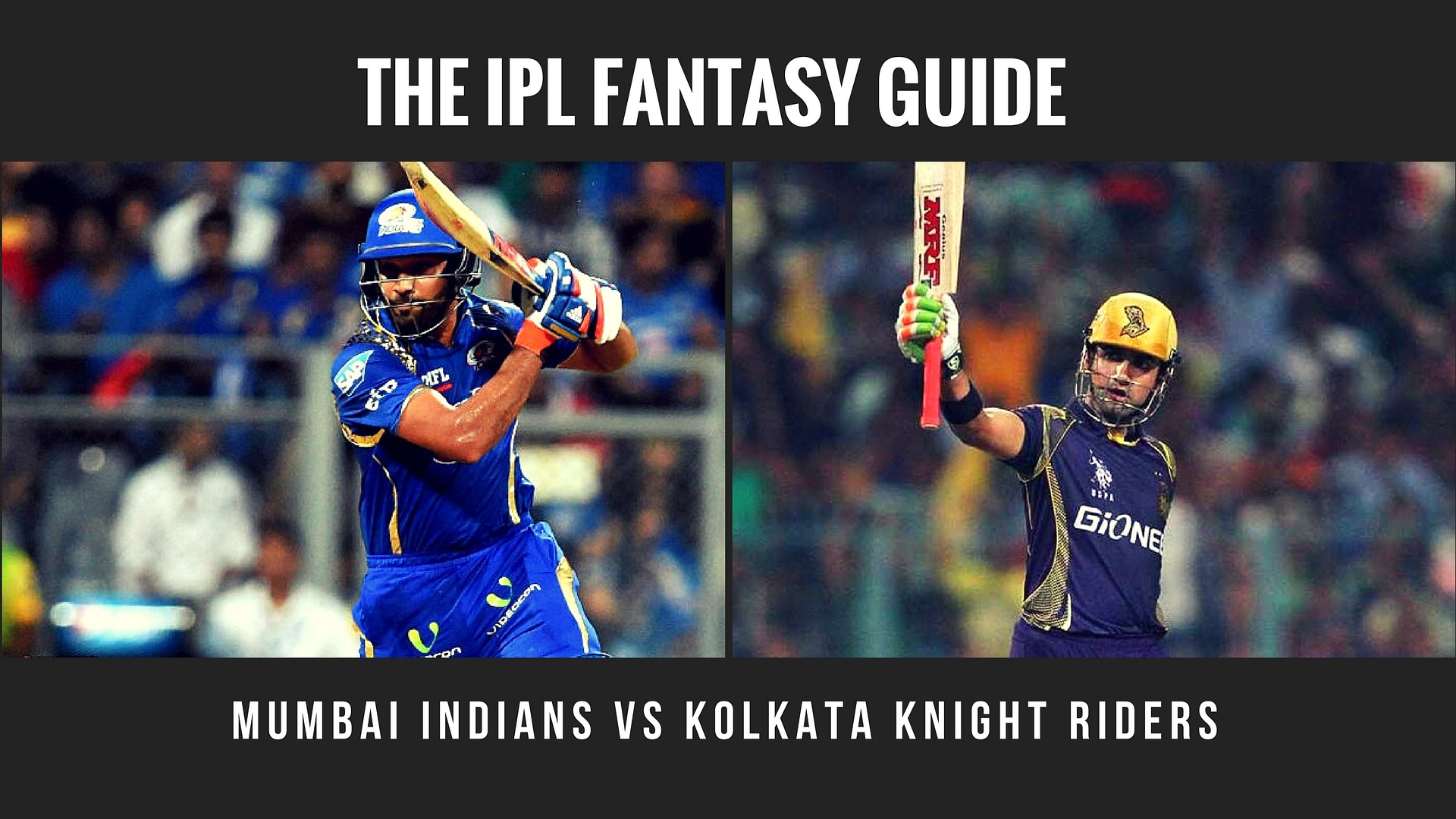 Two IPL heavyweights take on each other at the Mecca of Indian Cricket, the Wankhede stadium(we can keep the Wankhede vs Eden fight for some other day) tonight. Both these teams have had contrasting starts to their campaign this year round, with Mumbai succumbed to a frustrating loss against RPS thanks to some obnoxious fielding in the outfield. KKR on the other hand romped to a rollicking start, with 'Lynnsanity' finally gracing the IPL with its presence.
Sunday night, a belter of a track, deafening atmosphere, two well matched teams; we are surely in for a feast tonight.
Mumbai need to be bold with their team selection, they can't always wait for the final 7 games to get everything right and then hope for nothing to go wrong. It could work a couple of times, but surely not always. Opening with Buttler is a rational and a brilliant move, but then why bow out of the other umpteen rational moves you could make?
Rohit Sharma needs to bat at the top along with Buttler and Pollard needs to be ousted from the side. Pollard just doesn't do enough for me and he has been hogging that number 6 batsman and the 6th bowler spot for no reason. Simmons could be brought into the fold instead of him. Also, Mumbai can't go with just 5 specialist bowlers, especially when playing at the Wankhede, because at least one of those players is going to have a bad night. Harbhajan needs to play. Parthiv /Nitish Rana could make way, and if Parthiv does so, Buttler should be handed over the gloves.
Also Read: Fantasy tips for SRH vs GL
KKR have made all the right moves till now, but you could argue that their batting wasn't really tested in the first game. Lynn and Gambhir should start up top today as well, but it would be interesting to see where Uthappa fits in the scheme of things now. Yusuf Pathan and Woakes will be used as finishers. Their bowling combination is sorted as of now and would be further bolstered when Umesh Yadav returns to the squad.
Let's get to business now!
IPL Fantasy League
Transfer out: Jason Roy, Shivil Kaushik, David Warner
Transfer in: Chris Lynn, Jos Buttler, Krunal Pandya
Now, I already have Rohit Sharma and Kuldeep Yadav in my side for this game.
The first player that I get in for this game is Chris Lynn. For long the IPL was ignorant about Lynn's six hitting ability, until last KKRs first game this season, where they sent him up the order with the license to kill. And he obliged big time. Lynn has had two very successful BBL seasons and it is only time that he lights up the IPL as well. Get him in, he is a brilliant budget pick as well.
Buttler will be my second pick for this game. Mumbai are using him in the right way, sending him up top to make use of the field restrictions. And his destructive self was very much on display in the first game and was halted only by an umpiring howler. Expect him to light up the Wankhede tonight.
My third substitution will be Jasprit Bumrah, but only if Mumbai bowl first. Bumrah is the one of the best death bowlers in world cricket and thus his selection shouldn't raise any eyebrows. But get him in only if Mumbai bowl first because while bowling second, KKR could chase down the score well before 20 overs and thus his death bowling skills won't be put to use then.
For the uncapped player, I'll be getting in Krunal Pandya into the side. He has been trusted with the number 5 role and generally bowls at least 3 overs. I would rate him higher than Surya in terms of 'fantasy potential' as Surya's batting position is not certain as of yet and Pandya gives me the cushion of his all round abilities.
Captain: Chris Lynn/Jos Buttler(whoever bats second)
Fandromeda
Chris Lynn and Jos Buttler walk into my side in Fandromeda as well.
I bring in Rohit Sharma as well. The Wankhede track is a batting paradise and you won't want to miss out on a Rohit Sharma special. Get him in!
Batting Star: Chris Lynn/Jos Buttler(whoever bats second)
Bowling Star: Jasprit Bumrah
Happy Team picking 🙂
---
Share this article