James Anderson: The Late Bloomer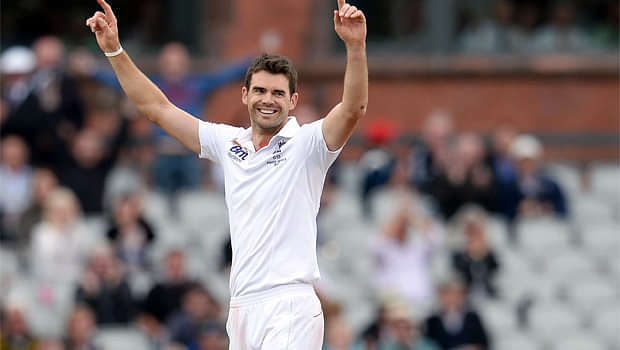 In 2014, a rejuvenated India toured England looking to overturn the horrors of three summers ago. They put up a good show at Trent Bridge. They followed it up with a brilliant victory at the Mecca of cricket, Lords. Spirits were high and the visitors started dreaming of a series victory. Only, a burly Lancashire man stood in their way. With 16 wickets in the next 3 matches, James Anderson broke India's back. He went on to win the player of the series award.
Also Read: India's medal winners at past Olympics
Beginning
A right-arm pace bowler, Anderson made his international debut at the age of 20, on England's 2002/03 tour of Australia. He is the first English bowler to reach a 400 wicket-haul in International Test Cricket, and is currently the 6th highest Test wicket-taker of all time.
His talents have been particularly apparent in Test cricket where his command of swing bowling, especially on his home grounds, has been the stuff of artistry. He has been an integral part of three victorious Ashes campaigns (2010-11, 2013 and 2015).
Anderson made his ODI debut on 15 December 2002 against Australia at Melbourne. He opened the bowling and recorded figures of 1/46 from six overs. His debut came before he was even awarded his County cap, which occurred in 2003.
In the summer of 2003, he made his first Test cricket appearance against Zimbabwe at Lord's. He took five wickets in an innings on debut, becoming the 42nd Englishman to do so.
Struggle
The Test series against South Africa in 2003-04 dented Anderson's reputation as England's golden boy. He finished the five-match series with 15 wickets at an average of 39.86. England drew 2–2 after coming from behind.
Throughout 2004-05, Anderson was ignored in favour of James Kirtley and Liam Plunkett. Anderson was not selected for the senior side's tour to India in January 2006. He was later called up as an injury reinforcement to the England senior squad in India, alongside future captain Alastair Cook.
In 2007, Anderson played in all three Tests of the series with India. He became the first England bowler to dismiss Rahul Dravid, Sachin Tendulkar, and Sourav Ganguly in the same innings. Although England lost the series, Anderson demonstrated greater consistency than before and managed 14 wickets.
Rise
In 2010 Anderson came of age in a staggeringly comprehensive fashion. A career-best 11-wicket haul against Pakistan at Trent Bridge was the prelude to a breakthrough tour of Australia in the winter of 2010-11. He left with a series-sealing 24 scalps at 26.04, and a reputation transformed.
In 2013, fittingly at Lord's, Anderson became the fourth England bowler to reach 300 Test wickets when he had Peter Fulton caught at slip. He began the 2013 Ashes with a match-winning 10-wicket haul at Trent Bridge but the following nine Tests against Australia were far less successful.
Also Read: India's top 5 overseas victories
Anderson took 37 wickets in seven Tests against Sri Lanka and India in 2014. There was an altercation with India's Ravindra Jadeja. Accusations of pushing and shoving were made, but the resulting investigation was inconclusive.
He passed Sir Ian Botham's English record Test-wicket haul, of 383, in the Caribbean in 2015. Incidentally, this feat was achieved in Anderson's 100th test match. Botham had achieved his wickets in 102 test matches.
Shortly afterwards reached 400 against New Zealand at Headingley. In the same series, Anderson took his 400th Test wicket and scored his 1000th Test run.
Legacy
Anderson has taken 21 Test and 2 ODI five-wicket hauls. In the 2015 Queen's Birthday Honours, Anderson was appointed an Officer of the Order of the British Empire (OBE) "for services to cricket".
His fitness has remained exemplary, his action as rhythmical as ever, and his appetite still powerful enough. It is not inconceivable to think that Anderson might go on capture 500 test wickets. That would make him only the third fast bowler to achieve the landmark after Courtney Walsh and Glenn McGrath.
That Anderson's left-hand batting has also steadily improved from his early days, was illustrated when he struck 81 in the first Test against India at Trent Bridge. He has served England with distinction as a nightwatchman on numerous occasions and went 54 Test innings before collecting a duck.
Anderson has also been something of a contradiction. He has had a reputation for being shy and uncommunicative off the field. Yet on the field, his verbal aggression, which he argues is necessary to conquer that diffident character, doesn't always endear him to opponents or critics.
Nevertheless, in a batsman dominated age, James Anderson is a whiff of fresh air. His vitality and aggression are part of a dying culture, which needs to be preserved.
On Anderson's 34th birthday, thesportsrush would like to wish him well and hope that he continues on the same path.
[fbcomments]
---