Josef Martinez took worst penalty of the year for Atlanta United against DC United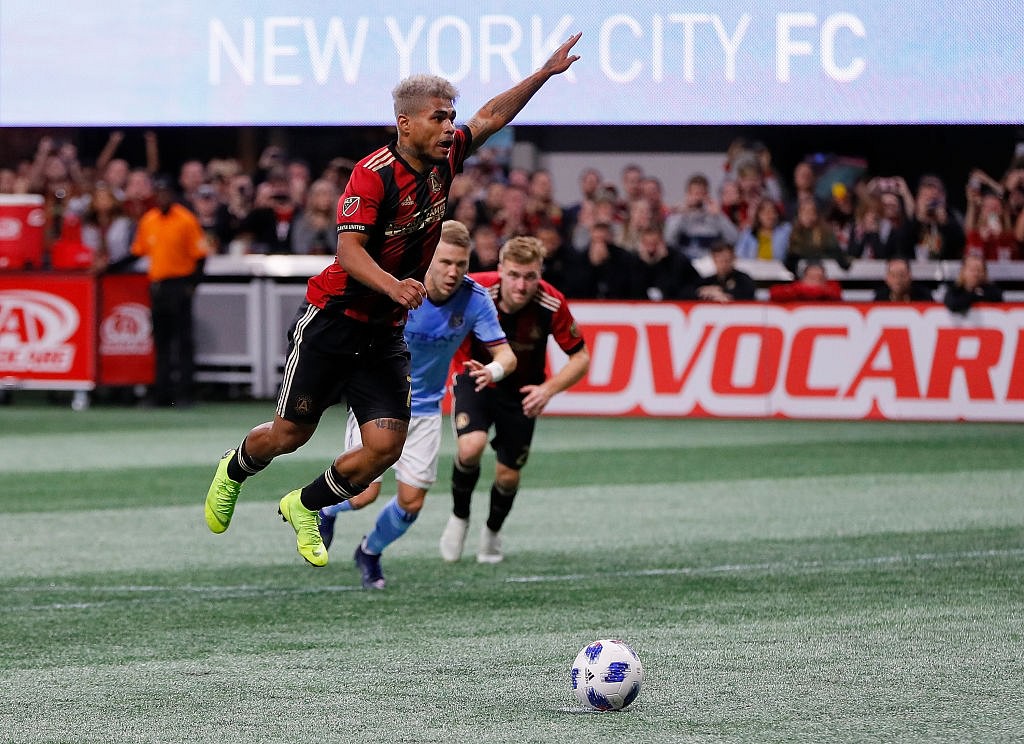 Josef Martinez made a huge blunder in the game against DC United as the player with an unusual run-up missed a chance to score.
Josef Martinez, one of the hottest properties in the Major league soccer made a bizarre penalty miss against DC United, in one of the most crucial matches for Atlanta City.
The penalty miss is now being deemed as the worst penalty of the year by the fans online. Although, the run-up which the player took before taking the penalty is the one he always take.
The 26-year-old player hops around the ball, stutters during his run-up and jumps with both feet off the ground before taking his shot. This in-ordinary technique by him usually works, but this time made him look silly on Saturday night.
Additionally, it was surprising to see him make such a blunder as he has a great record in the league after he amassed 61 goals in 70 appearances, and have won several accolades in the league.
Watch the goal
https://twitter.com/ESPNUK/status/1153218773190660097?s=20
Although, the Venezuelan International compensated his miss after Gonzalo Nicolas Martinez opened the scoring in the 89th minute before Josef added a second in the 93rd minute to see his side making a 2-0 victory in the match.
However, the penalty miss remained a subject to laugh about for a while, but Josef saw his team get even more close to the top of the table, with the scoreline.
Atlanta United are second with three points behind Philadelphia, with a game in hand., but with Wayne Rooney's DC United only being one point behind them, the race to the play-offs seem very tight, as one goal can make all the difference.
Perhaps that's something Martinez should consider when he steps up to take his next penalty – although it's not likely he's going to change his rather unique style anytime soon.
How twitter reacted
A rare penalty miss from Josef Martinez pic.twitter.com/F4JT0mFPbd

— James Nalton (@JDNalton) July 21, 2019
Not gonna lie here, but I think Josef Martínez has just taken the most hilariously awful penalty I have ever seen. Ever.

He did some weird hop before kicking the ball, crucial tie vs DC United, didn't work, ball blazed over the bar. You have to see it. It's just confusing.#MLS

— Football Chatters (@FootballChat555) July 21, 2019
Josef Martinez misses a penalty tonight, first time in a while where he's used the hop run up. Only his 2nd penalty miss for Atlanta – apparently – but I'm genuinely surprised this routine doesn't miss more often #ATLvDC pic.twitter.com/DDc20HO9jI

— Tom Scholes (@_TomScholes) July 21, 2019
Josef Martinez's penalty run up usually works. Last night's effort was the third penalty miss of his career. He's scored 18 pic.twitter.com/ltVqVkbymO

— James Nalton (@JDNalton) July 22, 2019
The most embarrassing penalty run up of all time, goes to Josef Martinez pic.twitter.com/S0PsdMP7LP

— Josh Kindon (@JoshMCFC03) July 21, 2019
https://twitter.com/SportingLifeFC/status/1153214632045293568?s=20
---