Leicester City vs Arsenal: Twitter reactions as Arsenal loses third successive league game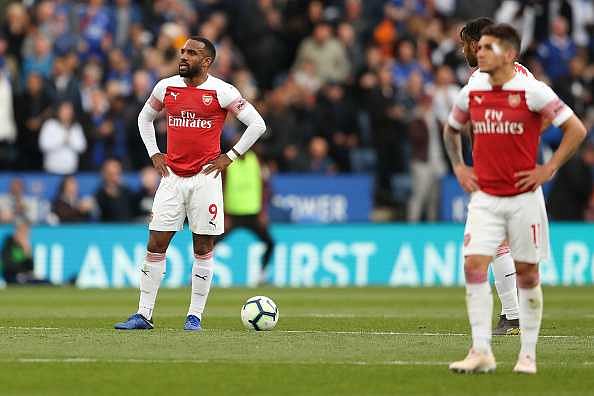 Arsenal's hopes of finishing in the top-4 took a massive hit as Arsenal suffered a 2-0 defeat to Leicester City. We take a look at the Twitter reactions for the game.
Arsenal's poor away form continued to haunt the side at the King Power Stadium, as Unai Emery's men suffered a 2-0 loss against Leicester City.
The Gunners faced Leicester in a vital Premier League fixture in their bid for the top-4, but failed to capitalize on the situation. A win would've handed Arsenal a huge boost for the Champions League qualification, but it now seems like their chances of qualifying for the European competition will largely depend on the results of their competitors.
Youri Tielemans opened the goalscoring from a brilliant assist by James Maddison in the second half. Jamie Vardy doubled the lead and put the game to bed as poor defending cost Arsenal the game.
With this loss, Arsenal stays at the 5th place in the league with 66 points. Manchester United now has the chance to overtake Unai Emery's side with a win over Chelsea later tonight.
Leicester City vs Arsenal Twitter reactions:
— P™ (@Cechque) April 28, 2019
Says a lot for how shit we were under Jose and the last month, that we are behind this absolute shower of an Arsenal team. Also says a lot about the PL that we're still in with a shot at third! Although, I accept that fourth is the main and more realistic target.

— Doc MUFC (@Doc_Joshi) April 28, 2019
best way to waste an hour and a half to watch an arsenal away game

— GRAPHICKZ (@GRAPHICKZ_AG) April 28, 2019
Before you laugh at kids who believe in Santa Claus, remember, there are adults who actually believe Arsenal can finish 4th.😭 #LEIARS

— BenchWarmers (@BeWarmers) April 28, 2019
When Judgment day comes, going to make sure I'm wearing my #Arsenal jersey just so God knows I've already been through hell 🤯🤬 🔥 #COYG #LEIARS

— Alex Wain (@alexwain) April 28, 2019
Arsenal fans right now 👇👇👇.. #LeiArs #LEIARS #Arsenal pic.twitter.com/2HHrYVP99B

— Olumide (@Femtadince) April 28, 2019
Most away goals conceded by Arsenal in a single Premier League campaign:

• 2018-19: 33 🆕
• 2011-12: 32
• 2017-18: 31
• 2016-17: 28
• 2010-11: 28
• 1994-95: 28

A miserable campaign on the road. 😒 pic.twitter.com/JQuYOCiKz4

— Squawka Football (@Squawka) April 28, 2019
You ok, Tubs? Even with your mediocre maths, I reckon you can work out that Arsenal's loss percentage in their last 3 games is 💯. https://t.co/8BgkCGqGFf

— Gary Lineker (@GaryLineker) April 28, 2019
Jamie Vardy's Premier League goals record against the 'Big Six':

8 vs. Arsenal
7 vs. Liverpool
5 vs. Man Utd
5 vs. Man City
5 vs. Spurs
4 vs. Chelsea

He's having a party 🍾 pic.twitter.com/mLQryCRvE6

— Coral (@Coral) April 28, 2019
Brendan Rodgers has now beaten Arsenal in the Premier League with three different teams:

✓ Swansea
✓ Liverpool
✓ Leicester

A rare hat-trick. https://t.co/D2v4caBEK7

— Squawka Football (@Squawka) April 28, 2019
Just Arsenal doing Arsenal things pic.twitter.com/6BFc47K07N

— Troll Football (@TrollFootball) April 28, 2019
What next?
Arsenal will return to action on Thursday night as the side takes on Valencia in the semifinal of the Europa League.
---
Share this article