Madrid Masters: Twitter salutes Nadal as he completely outplays Djokovic to enter the finals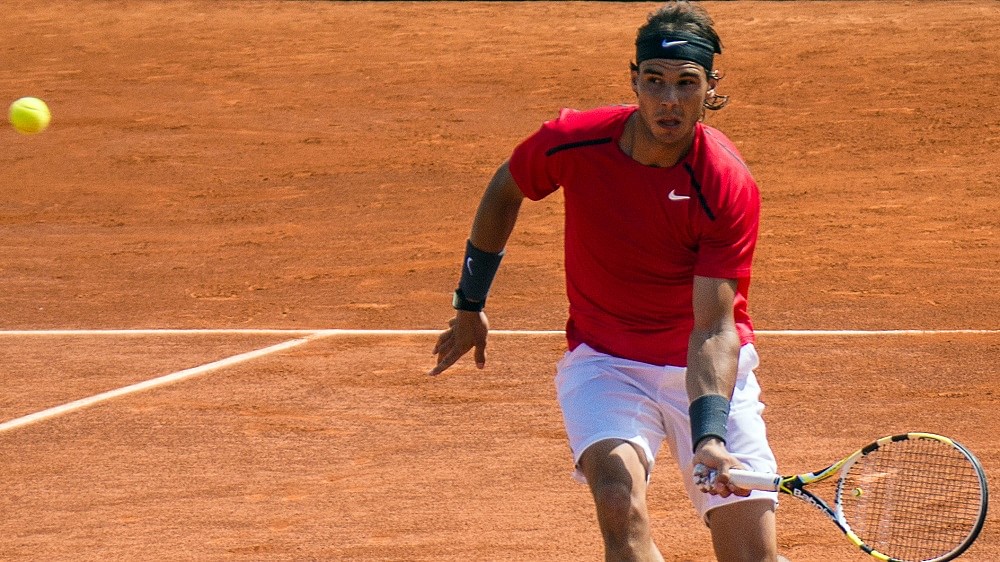 7 consecutive matches, 15 consecutive sets; Nadal had to overcome a dismal run against Djokovic to enter the Madrid finals, and with the form that he was in, he did just that. Djokovic was completely outclassed in straight sets(6-2, 6-4) by the King of Clay, sending a very strong signal to all his opponents before Roland Garros. Ever since his comeback, Rafa hadn't faced Djokovic, and probably that was the only test that was left to conquer, as Djokovic clearly had an upper hand over Nadal in their recent meetings.
But the new found Nadal is clearly playing superior tennis, tennis that lesser mortals are finding extremely hard to cope with. And ever since Djokovic has stepped down from being priomo unno, he has joined the 'lesser mortals' pack.
Also Read: Five potential coaches for Novak Djokovic
Nadal started off looking in complete control of everything, bossing the baseline rallies, using his drop shots to good effect and keeping hold of serve with ease.
Djokovic was playing catch up tennis all along, with Nadal constantly pegging him way behind the baseline and dominating rallies with authorty. This was Nadal's first victory over Djokovic since the Roland Garros final in 2014. And should he go onto win the title, Nadal would be the joint holder of the record for the most number of ATP 1000 titles(30), Djokovic being his partner in crime.
Also Read: 5 Unknown facts about the Madrid Masters
This is how the world reacted as Nadal completely outplayed a wounded Djokovic
Federer dominating the hard courts, Nadal the clay courts.

The 2006 throwback on the ATP is so damn real.

— René Denfeld (@Renestance) May 13, 2017
https://twitter.com/doranadal/status/863423203733012480
Rafael Nadal beats Djokovic for the first time since Roland Garros 2014

Rafa is back

– Sean pic.twitter.com/oLgH7Qd56Y

— Troll Tennis (@TrollTennis) May 13, 2017
Rafael Nadal beats Novak Djokovic 6-2 6-4 to reach Madrid final. Nadal's first straight sets win against Djokovic since the 2012 Rome final.

— Stuart Fraser (@stu_fraser) May 13, 2017
Clarity of tactics, execution w/confidence. Bruising backhands all week. Terrific last game! Massive streak breaking W @RafaelNadal #Madrid

— Chris Fowler (@cbfowler) May 13, 2017
Federer utterly dominates first three months of tennis year.

Nadal takes over and is unbeatable on clay.

And it is not 10 years ago.

— David Law (@DavidLawTennis) May 13, 2017
More reactions on the next page:

 
.@RafaelNadal's reaction says it all. pic.twitter.com/fx316oLkPq

— Rafael Nadal Fans (@RafaelNadalFC) May 13, 2017
Nobody beats Rafael Nadal 16 sets in a row, nobody.

Nadal wins his 1st set vs Djokovic since 2014 French Open Final

— Steph Trudel (@TrudelSteph) May 13, 2017
https://twitter.com/SemperFiUnited/status/863422035950616576
Here's the moment when Nadal ended a 7-match losing streak against Djokovic dating back to 2014…#MMOPEN pic.twitter.com/UReYbgBjWJ

— Tennis TV (@TennisTV) May 13, 2017
Rafa Nadal ends a 7-match losing streak to Novak Djokovic and extends his winning streak to 14 matches! #MMOPEN pic.twitter.com/HYBU4Yc3OS

— Tennis Memes (@ATPWTAMemes) May 13, 2017
Nadal's career record on clay: 379–34

— Christopher Clarey (@christophclarey) May 13, 2017
More reactions on the next page:

 
Novak Djokovic had 16,950 points after the French Open last year. Today? 6,845. #10105points

— Tumaini Carayol (@tumcarayol) May 13, 2017
@RafaelNadal just reminded us all why you keep fighting! To appreciate those breakthrough moments. What a win! #MadridOpen #MadridMasters pic.twitter.com/ZbsccXaiWv

— Preetesh Patel (@preeteshpatel) May 13, 2017
As expected, Nadal beats Djokovic 6-2 6-4. Long way back for Novak. #MadridMasters

— Saša Ozmo (@ozmo_sasa) May 13, 2017
Nadal looking so good right now against Novak. Early days but I'm sensing French Open #10. Bring it on! #MadridMasters

— Amani. (@Ainvayi_) May 13, 2017
Basically, if you haven't seen Federer or Nadal play you have not lived 21st century life to the fullest

— Christopher Clarey (@christophclarey) May 13, 2017
---