Why is Novak Djokovic in a buoyant mood ahead of the French Open?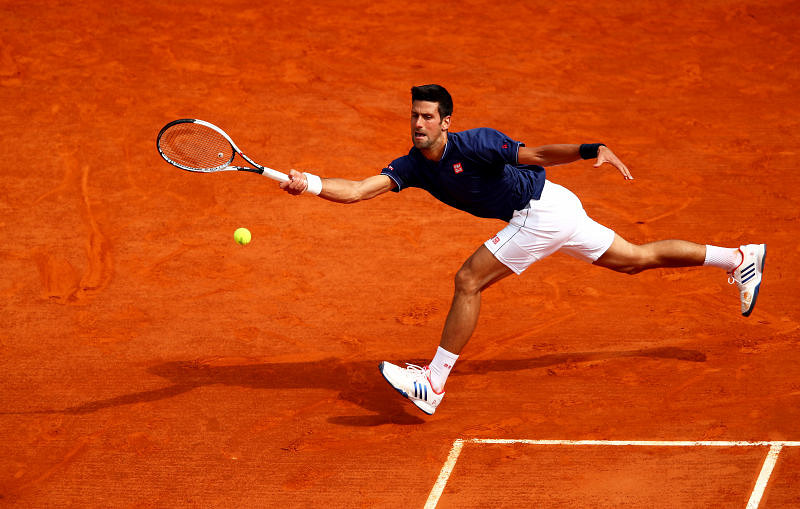 Last Saturday, The world number two Novak was beaten in the Madrid Open semifinal by 'King of clay' Nadal. In spite of his loss he was still satisfied with his overall performances in the tournament. Novak on Monday said he remains as motivated as ever to reclaim his old position at top of ATP rankings! This is in spite of not playing his best in 2017. Djokovic has won just one title in 2017(in Doha). So why is Novak Djokovic in a buoyant mood ahead of the French Open?
According to the ATP website, exactly 52 weeks ago, Djokovic was on top of the ATP World Tour, opening a 9,025-point lead in the Rankings after clinching the title at the Madrid Open. But soon after, his fortunes began to fall.
Novak expressed his views on regaining Top spot and some of his personal & professional things at press conference in Foro Italico, he said "I felt that the start of the season went really well for me this year, I am working hard to get back to my best level."
"If I don't want to win every match I play, win Grand Slams and be No.1 in the world, then I wouldn't be playing tennis professionally. Because I've achieved so much in my life and my career, I could leave my racquet aside and just enjoy my life. I have a family and a second baby on the way. Why do I need to stress so much and keep on going? It's of course because I want to win. It's always there, but what people didn't comprehend is that I needed to dig deep inside of me to find the new inspiration and motivation to get the new beginning and a new chapter. The results will follow. It's a consequence of the good work I'm doing every day in everything I do."
"Mentally I felt better and better as time went by. My game just hasn't been there. I'm happy I reached the semi-finals in Madrid, which has been my best result this year. It shows me I'm on the right path, I know for sure is that I'm doing my very best to rediscover myself in a new way and get the new strength and the new skin, so to speak," world number two explained.
Two weeks ago, he fired his entire coaching staff who were with him for almost a decade. And he described that decision as "shock therapy". He also gave statements about the same. "The decision to split with my team was a big one and I needed that change for my mind set. There have not been many players who have been with their tennis coach, fitness coach and physiotherapist for 10 years. The overall goals, dreams and aspirations are of course still the same"
"If I could describe my tennis in one word, I feel like I'm in transition, From the beginning of my career, I have been very fortunate to experience only an upwards direction in my success and results. I have been playing at a high level and with consistent results for many years. After winning Roland Garros, I didn't know how I was going to feel. I never had that issue after winning a big trophy, of bouncing back and finding new ways to motivate and inspire myself. That is, to keep playing at that level and stay emotionally recharged.But last year I found some emptiness for the first time in my life in terms of motivation. I needed a few months to think about things and get that mojo back on the court. I felt that the start of the season went really well for me this year, winning in Doha. I unfortunately lost in Australia, but mentally I felt better and better as time went by."
---