Man City Winger Raheem Sterling giggles on Instagram for Bonucci's comments on Kean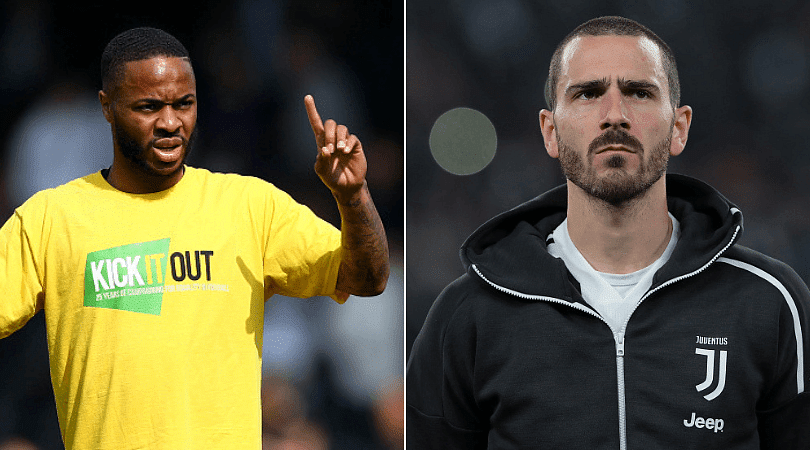 Raheem Sterling has giggled on Instagram for Leonardo Bonucci's comments on Moise Kean.
Raheem Sterling has chucked on Instagram for Leonardo Bonucci's comments on Moise Kean. The Italian forward Kean and midfielder Blaise Matuidi were abused racially during their away trip to Cagliari on Tuesday.
The former Paris Saint Germain midfielder Matuidi went up to his coach Massimiliano Allegri after hearing the racist slurs in the background and threatened to walk away from the game. Alongside him, Kean was also abused racially during the game. The Juventus youngster scored the goal and celebrated in front of the home supporters which caused tension among the players and fans.
Moise Kean celebrated like this in front of the Cagliari fans after suffering racist abuse. First Raheem Sterling, now Moise Kean. Unbelievable mental fortitude from the youngsters 👏 pic.twitter.com/TRQYqkwihL

— RF9 🇧🇷 (@SambaRole) April 2, 2019

The game was stopped for three minutes because of this outrage and Cagliari Skipper Luca Ceppitelli confronted the fans to stop this bullying act. Blaise Matuidi added that he received the same kind of abuse during their last outing.
Team-mate Blaise Matuidi was also taunted, but Bonucci incredibly partially blamed his young team-mate for the episode.
"Kean knows that when he scores a goal, he has to focus on celebrating with his teammates. He knows he could've done something differently too," Bonucci told Sky Sport Italia.
"There were racist jeers after the goal, Blaise heard it and was angered. I think the blame is 50-50, because Moise shouldn't have done that and the Curva should not have reacted that way.
"We are professionals, we have to set the example and not provoke anyone. I prefer to talk about the great performance. We were aggressive on the wings, as we knew they could cause problems with crosses." said Bonucci.
Juventus defender Leonardo Bonucci says teammate Moise Kean was '50-50′ to blame for racist abuse he received from Cagliari fans.

Full story ➡ https://t.co/lpgeNzj53x #Juve pic.twitter.com/sorhlHofcN

— BBC Sport (@BBCSport) April 3, 2019
The Italian defender was scrutinized among the public for that stupid comments after the game.
Kean hit out at his abusers on social media after the game posting a picture of himself celebrating his goal with the following message: "The best way to respond to racism #NoToRacism."
While he also posted a tweet with a finger to lips emoji.
 

View this post on Instagram

 
Raheem Sterling, who was racially abused at Stamford Bridge this season has responded to the comments of Leonardo Bonucci on Instagram.
The English International posted "The Blame is 50-50. All we can do is laugh."
Raheem Sterling's latest Instagram story, following Leonardo Bonucci's comments last night… pic.twitter.com/UIYojxGuBr

— Goal (@goal) April 3, 2019
Sterling himself has been going through the exact problems off late and the Manchester City forward came as a helping hand for the youngster Moise Kean.
Juventus manager Massimiliano Allegri remarkably claimed that the forward should not have celebrated in that manner to provoke the supporters.
Allegri after Kean is racially abused by Cagliari fans: "He shouldn't have celebrated in that manner"https://t.co/a3sybjpbGS pic.twitter.com/wKITWnguSa

— Indy Football (@IndyFootball) April 3, 2019

"He shouldn't have celebrated in that manner," Allegri said.
"He is a young man and he has to learn, but certain things from the crowd also shouldn't be heard."
"You need great intelligence to deal with these situations and should not go to provoke people. That, of course, does not mean the idiots in the crowd and the way they reacted should be justified," the Juventus boss said.
"As always in life, there are idiots who do stupid things and ruin it for everyone else.
"I don't think talking about it all the time helps. I don't think halting play helps, because not everyone in the stadium did that.
"We need to use the cameras, find those who are doing it and punish them. It's very simple, identify them and not one-year ban or two, just give them a lifetime ban.
"We've got the technology, it can be done if the authorities want to. The problem is, they don't really want to."
---