Mason Greenwood goal Vs Brighton: Teenage sensation stuns Brighton & Hove Albion with terrific goal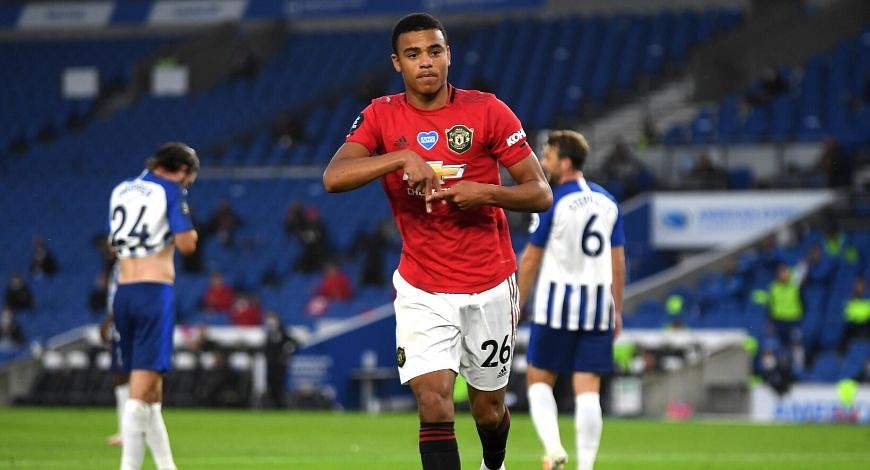 Mason Greenwood goal Vs Brighton: Watch manchester United's teenage star stunning Brighton & Hove Albion with a goal.
Manchester United's chase for the top-4 race has been boosted by prodigy player Mason Greenwood who opened the scoring against Brighton & Hove Albion in the Premier League fixture.
Manchester United was dominating the game since start, but Greenwood's goal stepped up the performance of the Red Devils, the English International found the net in the 16th minute of the game.
Aaron Wan-Bissaka drew Brighton players as he was playing on the width, hence reducing the cover on Greenwood, which helped Wan-Bissaka to make a perfect pass to him.
Greenwood dribbled the ball inside the 18-yard-box  before striking through the legs of Dunk and into the bottom right corner from the center of the area to make it 1-0 on the board.
This was the 13th goal of the season by Greenwood, an impressive tally considering the age and chances given to the player. From here, Manchester United looked even more ferocious.
Watch the goal
Greenwood's goal 😍
pic.twitter.com/hWNNQ7tWgn

— RiZzy🔴 (@RiZzyUTD) June 30, 2020
Is Mason Greenwood the most talented youngster in the Premier League? ✨

📺 Watch on Sky Sports PL
📲 Download the @SkySports app!pic.twitter.com/HQpsAgug4J

— Sky Sports (@SkySports) June 30, 2020
The duo of Paul Pogba and Bruno Fernandes is finally clicking and the Portuguese International doubled the score in the 30th minute when he smashed the ball upon receiving a pass from Pogba.
This is the first goal by Manchester United in which both of these players were involved, probably a start to a decisive midfield partnership.
Although, the goal was under the speculation of offside and VAR made a check, eventually awarding the goal to Ole Solskjaer's side. The Red Devils are hoping for a top-4 finish this season.
So that they don't have to rely on winning the Europa League to advance into the next edition of the Champions League.
---
Share this article