The Maverick Coach – Bishweshwar Nandi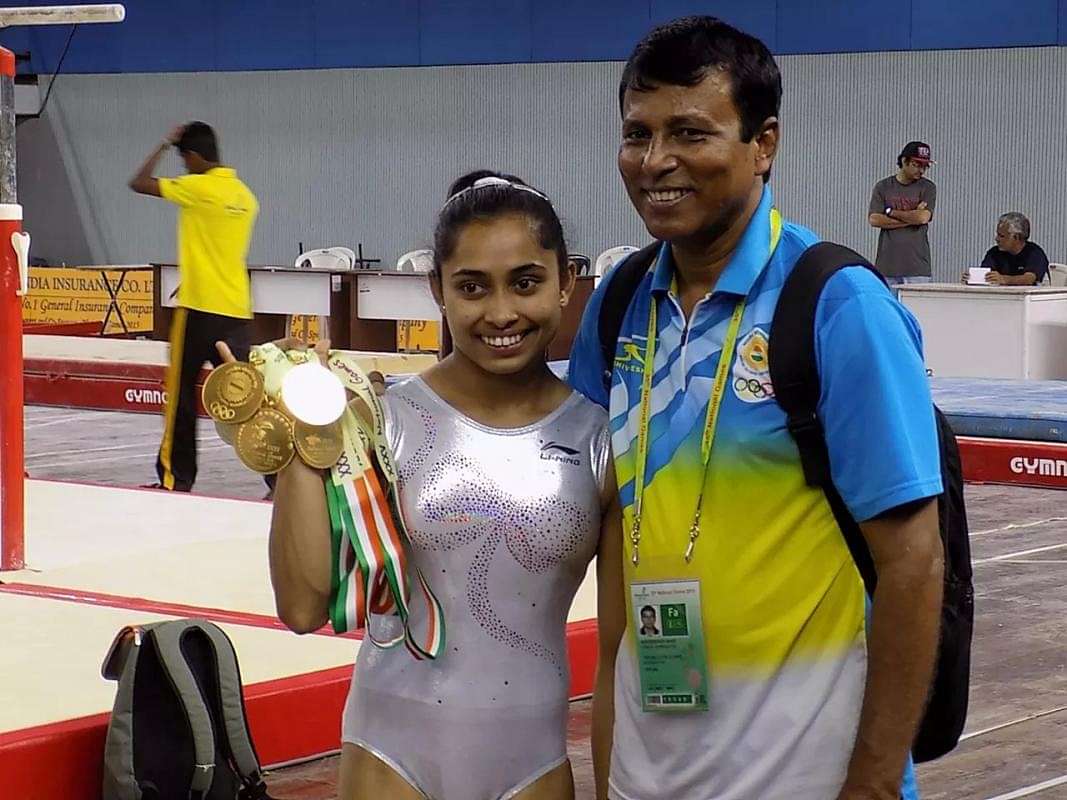 Very often in life, we come across individuals possessing awe-inspiring stories which move us. Gymnast Dipa Karmakar was an unknown commodity till the Rio Olympics began on 5th August. People had pinned their hopes on sports which have a good track record like shooting, wrestling, hockey and badminton. In midst of all of this frenzy, a girl hailing from Tripura was quietly getting ready to etch her name in the annals of Indian sporting history. However, she was not alone in her quest. Supporting Dipa for 16 years with unbridled perseverance and a solitary dream was her coach who wanted to see Dipa on the podium of the grandest spectacle on this planet. Read on to relive the journey of the maverick coach, Bishweshwar Nandi.
Life and Career
Bishweshwar Nandi was a prolific gymnast himself. He was a 5-time national champion and was also a part of the 1982 Asian Games contingent held in Delhi. Most importantly, he carried forward a delightful legacy of Tripura which churns up great gymnasts.
Dalip Singh, the man who is known as the father of gymnastics in Tripura started this trend in the Netaji Subhash Regional Coaching Centre, which will very soon be getting a makeover into a indoor stadium. This legacy was carried forward by other stalwarts like Montu Debnath, Kishore Deb Burman and now Bishweshwar Nandi. Though he never achieve something big as an athlete, he had the burning desire to see his dreams fulfilled through his protégés.
Also Read : Forget hearts, It is time to start winning medals India

Struggles
In a recent interview, the maverick coach Bishweshwar Nandi rued the fact that there was an inherent bias among sports in India. In a country where diversity is supposed to be celebrated, cricketers are treated as gods whereas sportsmen from lesser known disciplines end up in oblivion. With no proper training equipment available, Mr. Nandi set out himself in the journey to train Dipa into a world-class gymnast.
This involved building a springboard from the parts of a discarded scooter.  During the course of the training, he had to bear spiteful talks and insults from the society for training a girl in an unknown sport like gymnastics. He fought through all of this and strode ahead.

A story of sheer grit and determination
Mr. Nandi mentioned that he faced a multitude of complications and brickbats for trying to fulfil a young girl's ambition. In addition to that, the lacklustre facilities in the sporting complex deteriorated things further. However, his dream for Dipa was not just a pipe dream. He saw the potential and became a father figure for her.
In a sport where medals slip away due a 0.001 point difference, Mr. Nandi helped Dipa get better and better. In one instance, when Dipa was diagnosed with flatfoot, a condition which affects the quality of the jump, the maverick coach Bishweshwar Nandi came to the fore. He motivated her to fight and helped her rehabilitate through conditioning exercises.
From toiling away for 17 long years to completing Produnova, one of the most dangerous manoeuvres in gymnastics, the pair has truly come a long way. We only hope that this keeps going further and we clinch a medal in the 2020 Tokyo Olympics.

A slow rise to stardom
Mr. Nandi helped carve out Dipa's success story from 2002 when she became the champion in the North-East games at the age of nine. Since 2007, she has bagged 77 medals, including 67 golds in all competitions.
The best among all her performances was definitely the bronze medal winning performance in the Commonwealth Games in 2014. Currently after her heroics in Rio, she has turned into a household name: the credit of which should be attributed to the maverick coach Bishweshwar Nandi.

The Rio Story
To help her maintain her focus, Dipa was confined to what Mr. Nandi candidly described as a house arrest and her phone was taken away. On August 7th, the day of action, Dipa performed exceedingly well.
Also, on her last jump, she missed out on a maiden bronze medal by just 0.15 points despite succesfully executing the Produnova vault. Mr. Nandi mentioned that Dipa was inconsolable on going back to the Games village and that showed the desire she had to make her country proud.
Irrespective of the result, the coach-protégé pair won millions of hearts and the maverick coach Bishweshwar Nandi should be rightfully nominated for the Dronacharya award.
---