Mikel Arteta Drops Pierre-Emrick Aubameyang For Disciplinary Issues Ahead Of Tottenham Derby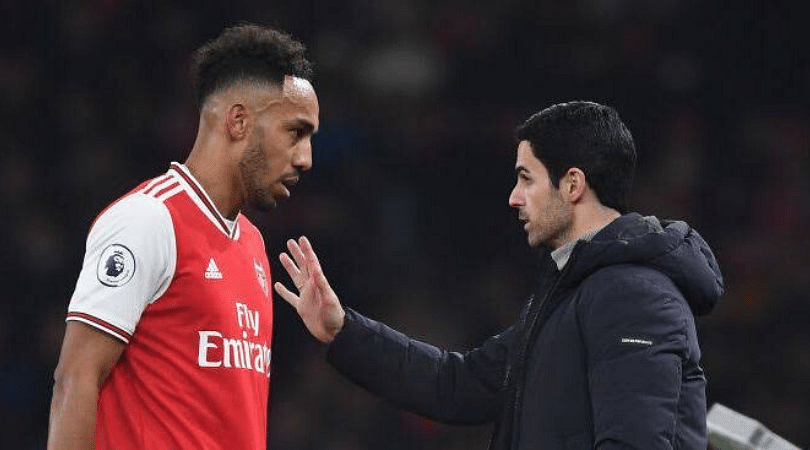 The club's top scorer was a shock exclusion from the club's playing 11
Finding his feet in the ongoing season of the Premier League just ahead of the London derby matchup with Tottenham, Pierre-Emerick Aubameyang was bound to be a crucial figure for arsenal of the day.
However, far from spearheading his side's attack against the club, Aubameyang found himself out of his side's gameplan on the day. As Arsenal's playing 11 was revealed ahead of the contest, one omission which left Arsenal's ardent supporters beleaguered was that of nine goal man Aubameyang.
Arteta Cites Behavioural Issues
Speaking ahead of the encounter, Mikel Arteta revealed that Aubameyang was dropped by him owing to disciplinary issues. While Arteta refused to elaborate on the misconduct, it's clear that the misdemeanour was serious enough to force the Spaniard coach into opting for such a shocking decision.
Arteta says he's dropped Aubameyang for disciplinary reasons. Wouldn't elaborate.

— Patrick Davison (@skysports_PatD) March 14, 2021

Although Aubameyang has been horrid for Arsenal since signing a new deal, the striker continues to remain one of the best sources for a goal for the club. Freddie Ljungberg whose previously worked with Aubameyang had defender the striker's woeful form.
"If you have a great player, he will always stay a great player, there can be some circumstances that change it. The quality doesn't disappear," Freddie said.
"If you look at Auba: if you let him go in behind, or let him go one against one against the right-back, he will twist him and turn him and then it's a goal.
"He has certain super strengths that you can't really compete against, but if you play against him you try and stop those things and then you can nullify him a little bit but I think he's a top, top player."
Meanwhile Jose Mourinho talked about the importance of the derby affair between the two clubs ahead of the Sunday showdown.
"It's a derby, with the emotion around it I don't think the form matters at the moment. If you look also to their results also very positive results. They have one foot already in the quarter finals of the Europa League. I think it's a very positive moment for both of us," the Tottenham man said.
---
Share this article