MS Dhoni: The Untold Story: Five things that we can expect in the movie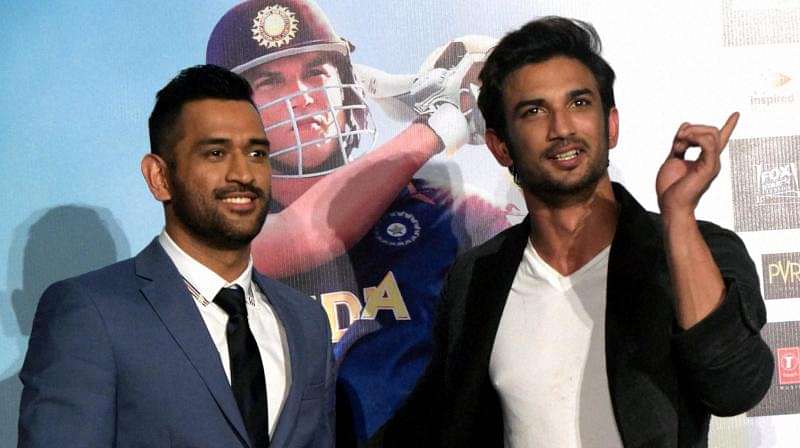 MS Dhoni is one of the most followed and talked about cricketer, second only to the all-time great Sachin Tendulkar. Thus the expectation from the movie, MS Dhoni: The Untold Story, which is all set to hit the big screen on Friday is immense. The trailer has been received well by the audience and it is expected that the film will be having a grand opening day collection. The movie is looking for a grand worldwide release, with opening at a record 4500 screens.
As the release day is approaching the curiosity and the buzz surrounding the movie has reached to unprecedented level. The trailers of the movie has already given us some insights of what to expect from the movie. A lot of information about Dhoni's early life is known to common masses. However there are still some interesting mysteries surrounding Dhoni's personal life and professional life which people might be interested in knowing. Let us take a look at few such things from Dhoni's life which we at The SportsRush believe could make a final cut in the movie.
1) His Early Relationships:
The trailers give us glimpses of Dhonis personal life. In one of the songs Sushant Singh Rajput, the reel Dhoni is seen romancing actress Disha Patni, playing the role of Dhoni's former girlfriend Priyanka Jha. It is said that Dhoni was in an intense relationship with the girl before he made a cut in the national side. However unfortunate demise of Priyanka in a road accident put an end to this chapter in Dhoni's life.
Moving on, Dhoni got married to Sakshi and settled down in his life. But between Priyanka and Sakshi, his name got linked with a lot of prominent ladies. Rumors flew thick and fast in 2007 when Dhoni publicly confessed that he had a crush on Deepika. Dhoni invited her to watch few of the international match and she obliged. However the stories linking both died down pretty quickly. It would be interesting to know if the movie focusses on this aspect of his life.
Read Also: Gambhir recalled to the team for Kolkata Test

2) His humble background
MS Dhoni hails from a lower middle class family from Ranchi, Jharkhand.  His passion for football is known to all. He initially excelled in this sport and was selected at district and club level tournaments. Dhoni was a goalkeeper for his club team and was sent to play cricket for a local club by his football coach. This is how his first romance with the game started. Dhoni impressed people with his wicket keeping skills and became a regular member of the Commando Cricket Club. He made huge strides then at different level of the game.
A thing which might get significant focus in the movie is his phase in life when he decided to be a Travelling Ticket Examiner at the Kharagpur Station from 2001 to 2013, under South Eastern Railway in Midnapore (W), a district in West Bengal. Dhoni has not been vocal about his stint as a TTE. People can expect movie focusing on this area.

3) Late debut
Dhoni made a cut in the national Squad after a stupendous performance for India A against Kenya in 2003-04. However a fact that is still not out in the public domain is that he could have made a debut, at least three years ahead of his original Debut.
In the year 2001 during the Australia's tour to India, Indian selectors were looking for a new wicket keeping batsman who could play big shots and play along with the tail. Dhoni was selected to represent East zone team in Deodhar trophy. A good performance in the tournament could have handed him a direct entry in the national squad.
However Bihar Cricket Association could not convey this decision to Dhoni. By the time the news reached him the game had already started and Deepdas Gupta had donned the gloves for the East zone team. In the second match too, Dhoni was named the 12th man and was not given an opportunity to prove his mantle. Had he got an opportunity then based on his performance he could have donned the Indian Jersey way back in 2001.
Dhoni might be thinking that luck was not in side as India tried two keepers in the series- Nayan Mongia and Sameer Dinge. We are eager to whether this part is presented in the movie or not.
Read Also:Famous comebacks in Indian cricket

4) Controversy regarding Removing Three Seniors from the Squad:
The trailer of the movie portrays Dhoni talking to the selectors over a video conference talking about sacking of senior players from the squad. He is seen saying that the interest of the team comes first. Ever since the trailer has been out there has been a lot of speculation regarding who the players would be. However it will be interesting to know if the director of the movie would be audacious enough to name the players.
However if the movie names the players than the film would be subjected to their fans wrath which would be counterproductive. We expect that the film would not take the risk of garnering such negative publicity.

5) Thinking behind his Test retirement
The real cause behind the shock announcement has been subjected to a lot of speculation mainly because Dhoni has never really tried to explain his decision.
Ravi Shastri who was at the helm of affairs back then when asked about transfer of power to Kohli had to say that "I think that was one of the reasons why MS decided to quit. You know he realised that there are three formats of the game. It is becoming hard for him. But at the same time he knew there was someone ready," he said.
"Now if you think back, you will know why he made that decision. It was a good decision because it was clear in everyone's mind, across the media, that this is your future captain and let him captain in that last Test match in Australia so that all speculation goes to rest," Shastri added.
We expect the movie to focus on this decision and what were the external motivations which influenced his decision.
---