38 Year Old LeBron James, After Being Declared "WASHED", is NBA's Most In-Form Player Ahead of Youngsters in Their Prime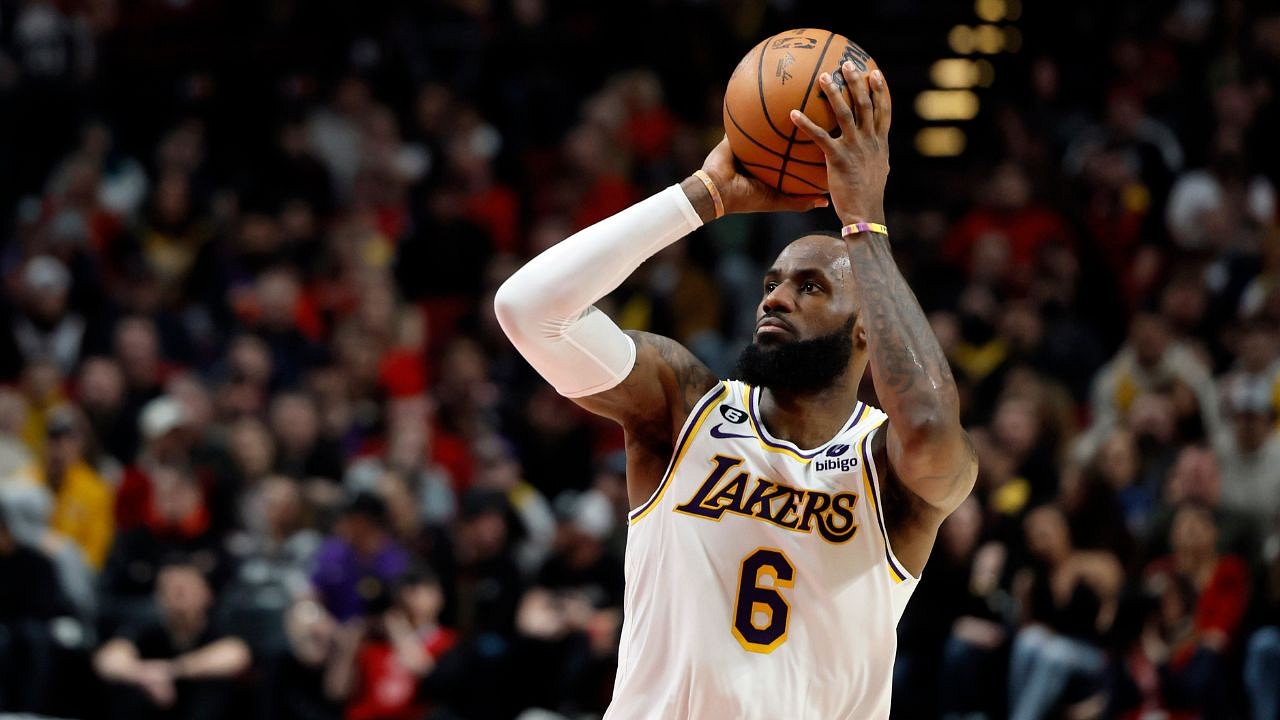 There is an age-old adage that goes something like "Time and tide wait for none". But it would appear exceptions exist and that proverbs are also likely to be proven wrong, from time to time.
In the NBA, the exception to the rule when it comes to defying father time presents itself in the shape of LeBron James. His dominant presence has lasted over 2 decades.
King James has been a part of the NBA's fabric for 20 years now. Considering how the Lakers star's athleticism is one of his greatest assets, a decline was expected, by now at least.
But as stated earlier, the norm doesn't quite apply to LeBron James.
Also read: WATCH: LeBron James Channels Vintage 2016 Self, Hits Desmond Bane With CHASEDOWN Block
In fact, not only is LeBron contributing at a historic level during his 20th season, his recent performances rank #1 in the NBA in 'form rating'. This rating was measured on his 38th birthday.
The rating, which accounts for performances over the last 15 games, sees James as the most in-form player in the NBA. Incredible indeed, considering how there was some noise regarding James being "washed" until very recently.
LeBron James is averaging 33.9 points, 8.4 rebounds, and 7.6 assists over his last 15 games.
The Lakers superstar has been key to a recent Laker resurgence, especially in Anthony Davis' absence. James has recorded an incredible stat line of around 34-8-7 over his last 15 games and has led the Lakers to a 9-6 record in that span.
The 4x NBA champion had only recently met with considerable criticism. After the Lakers crashed out without making the Playoffs in 2021-22, James was under serious pressure.
The noise had started to gather around whether LeBron was actually "washed up" and on the way down.
But yet again, the man from Akron seems to have found a way to silence the critics. HoopsHype's 'Form Rating' sees LeBron James as the most in-form player in the league, edging past Jayson Tatum and Nikola Jokic to the top spot.
LeBron James (age 38) is the most in-form player in the NBA. pic.twitter.com/lHgnFSoXzA

— HoopsHype (@hoopshype) January 23, 2023
Extending the time frame to the entirety of the season to date, James finds himself at #13 on the list. An extremely impressive achievement, for a 38-year-old veteran.
Luka Doncic leads the '2022-23 Global Rating Ranking' for the season.
Despite being only #5 in the 'Form Rating', Luka Doncic finds himself atop HoopsHype's ratings for the season. The Slovenian phenom has been on a tear for the Dallas Mavericks and his historic numbers going with his absurd usage rate account for his unprecedented statistical output.
Luka is averaging 33.7 points, 8.9 rebounds, and 8.8 assists per game for the season. An improvement on King James' numbers that elevate him atop the form ratings, over a longer time period too.
The 2022-23 NBA season has already thrown up quite a few statistical anomalies. Incredible individual production has been the norm. And it would be interesting to see if a 38-year-old LeBron can climb further on HoopsHype's rankings while maintaining his spot atop the form ratings.
Also read: "I see LeBron James' cleverness and not athleticism": Arsenal Legend Thierry Henry Cites the King's Mentality as Reason for Greatness
---