7 Footer Shaquille O'Neal Once Photobomed Alexandra Daddario and Made her Look "Tiny"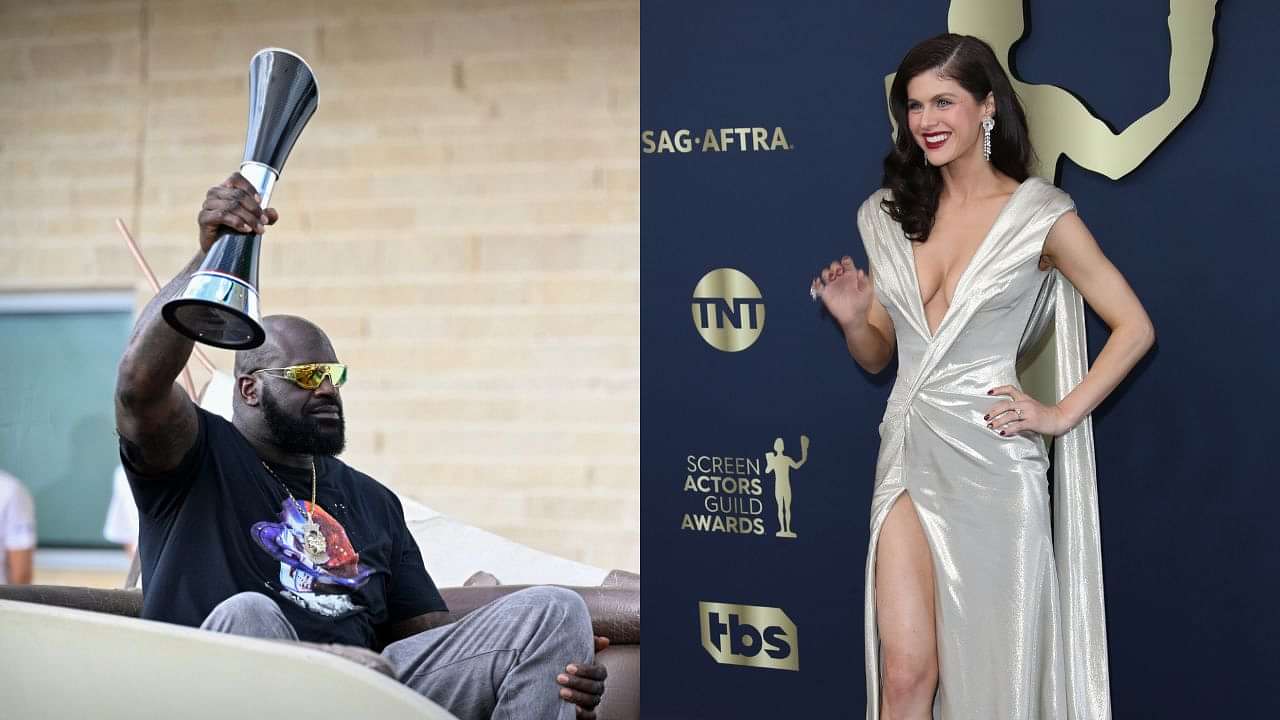 Shaquille O'Neal and Alexandra Daddario, are two names you thought you would never hear together, but here we are. And in this instance, we are reminded of the fact that Shaq is no ordinary human.
To be 7-foot tall and to have a physique that is bigger than two people put together? Well, we're not making up stories. Shaq indeed looks that big. And he weighs nearly 400 lbs.
To a normal person, O'Neal would look very scary. A giant of a man, little do people know that he is a gentle one, would be a scary sight. Just ask Alexandra Daddario.
Also read: Kobe Bryant and Kanye West Nearly Made One Of The Most Coveted Shoes Of All Time
Alexandra Daddario's picture with Shaq shows the massive height difference.
Well, for context, the picture on Instagram clearly illustrates the height difference. Daddario is 5'8″. Whereas O'Neal is 7′.
The difference is staggering. And this was all the way back in 2017. And the two even interacting tells us how famous O'Neal really is. Daddario is the one to fan girl over him.
Loading embed instagram https://www.instagram.com/p/BQJUF9RlVVk/?utm_source=ig_embed&utm_campaign=loading
And since she has done it again, a picture where Shaq is well and truly photobombing her!
Also read: "LeBron James Isn't a Top-5 player in the NBA": Stephen Jackson Says Lakers' MVP is in His 'Top-3 All-time' But Not Right Now
Shaquille O'Neal photobombs Alexandra Daddario and makes her look "tiny"
At the Formula 1 US Grand Prix late last year, Alexandra was in attendance. And so was the hero of 2021, Shaquille O'Neal.
Loading embed instagram https://www.instagram.com/p/CkEskzBOxPB/?utm_source=ig_embed&utm_campaign=loading
The visit gave Alex an opportunity to be a part of the grid before lights out and of course, she would meet Shaq there. Or erm, she would get photobombed by Shaq.
And even today, you can see how much bigger O'Neal is compared to a normal human being.
Also read: "Eric Lewis is The Worst NBA Referee!": NBA Twitter Lambasts Officials For Missing Crucial LeBron James Foul in Lakers' OT Loss to Celtics
---