Amidst $15 Million Negotiations, Kyle Kuzma Seemingly Takes Shots At Players Like Kevin Durant And James Harden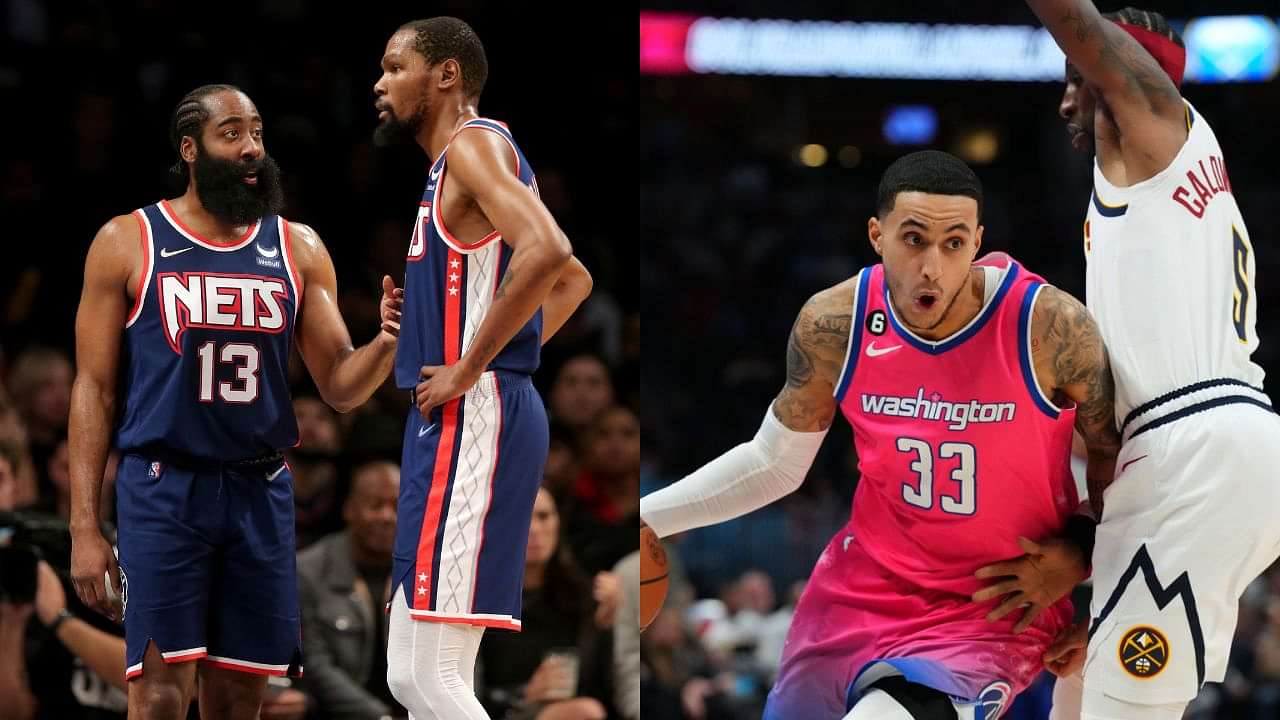 Kyle Kuzma and the Washington Wizards have been putrid these past 10 games. Aside from a win against the Minnesota Timberwolves, they have lost 9 of their last 10 games. Bobby Marks said it best when he said he wouldn't be shocked to see Washington hover around an 11-15 type record in mid-December for the next half decade. 
With the Wizards giving Bradley Beal the supermax, they clearly want to win now. At least, that's what that move would suggest. However, with how poorly the team is playing, perhaps earning more draft assets in exchange for their stars would prove to be more beneficial. 
Their most enticing trade piece is undoubtedly Kyle Kuzma. Kuz made his way to the Wizards in the summer of 2021 when the Lakers pulled the plug on a deal that brough Russell Westbrook to LA and sent Kuz along with a myriad of other pieces to DC. Now, it seems as though he could potentially be on his way out.
Also read: "Kyle Kuzma Wants $20 Million Per Year!": Wizards Star Is Headed Toward the Exit, As Per Bleacher Report
Kyle Kuzma talks about not wanting to be immature in asking out of DC
Kyle Kuzma is in the final year of his contract and has a player option for the upcoming 2023-24 NBA campaign. If he chooses to pick it up, he will earn $13 million and if he were to test the free agent market by declining it, he would earn no less than $15.6 million. 
The Wizards have the right to offer him their best offer sheet before any other team if he were to decline his PO but it's up to them if they want to risk losing Kuz for nothing. Instead, they could try to dangle him in trade scenarios. 
While talking with ESPN, the former Laker actually addressed his future with the Wizards and said, "I definitely could [ask for a trade]. But that's very immature. I'm not really an immature person. I like to do business in a professional way. So I would never do that." 
Surprisingly enough, the Los Angeles Lakers have reportedly shown interest in Kyle Kuzma as of recent. Nothing substantial has emerged from this rumor as of yet but according to a multitude of sources, the purple and gold's primary trade package this season will revolve around 1 FRP, Kendrick Nunn, and Patrick Beverley. 
Did Kyle Kuzma take shots at guys like Kevin Durant and James Harden?
When Kuz said that asking out of a team was 'immature', fans couldn't help but wonder if he was subtly taking shots at guys who have done so in the past. James Harden asked out of both Houston and Brooklyn and Kevin Durant asked out of Brooklyn profusely this past offseason before staying put. 
Other superstars who made a fuss about their team situations were Anthony Davis with the Pelicans and Kawhi Leonard with the Spurs. It seems as though Kyle was simply talking about himself in this scenario but at the same time, with the player empowerment movement at an all-time high, he could've been slyly taking shots at guys forcing themselves out of situations.
Also read: "Not Playing Behind LeBron James and Anthony Davis Helped": Kyle Kuzma Relishes In His Growth Following Lakers Departure
---