"Dennis Schroder, why can't you throw those lobs to me?": Anthony Davis jokes about his Lakers teammate not giving him alley-oop opportunities like LeBron James does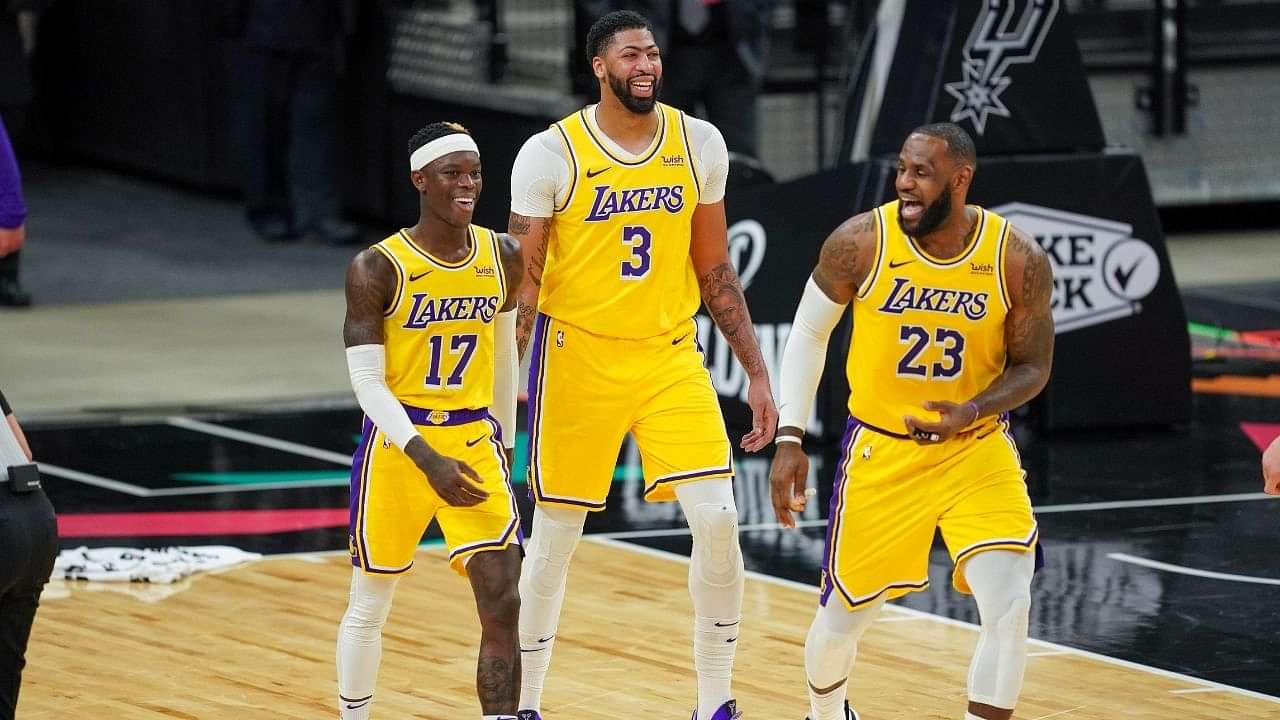 Anthony Davis has a pet peeve with new Lakers teammate Dennis Schroder. The big man wants to receive more lobs from the speedy guard.
Davis and Schroder have not seen much court time together this season. It's been exactly 4 weeks now since AD played his last game – a loss to the Denver Nuggets. His return is the shot in the arm the Lakers need to challenge for the top seed.
Despite this, the Lakers looked marauding in the 20-odd games that AD, LeBron and Schroder played together. All 3 of these players are elite defenders for their positions and have great chemistry in transition. The Lakers still do own the league's best defense, so far this season.
Also Read: "Kobe Bryant was harder to guard than LeBron James because he had no weaknesses": Amar'e Stoudemire can't make up his mind about which Lakers star was more unguardable
AD thinks Schroder can make improvements with their link-up play in pick-and-roll situations. Davis obviously thinks he deserves to see more easy scoring opportunities, and he let us know about it.
Anthony Davis on Dennis Schroder throwing lobs to Damian Jones, but not him
Schroder spoke to reporters in the Lakers' media availability yesterday. One of the topics that came up was about his chemistry with Anthony Davis. Schroder minced no words when he talked about their need to improve their pick-and-roll actions:
"Since he's been out, he got on me when Damian Jones set a pick on the left wing and I found him for the alley-oop right away. He looked at me, and he was like 'Why can't you do that with me?'"
"We're still trying to figure it out. I think when he comes back, I'm going to put more pressure on myself to find him even more for the lobs because I think nobody can stop that."
Loading embed tweet https://twitter.com/hmfaigen/status/1370905536976146435?ref_src=twsrc%5Etfw
Also Read: "Michael Jordan took no prisoners": Former Bulls teammate Darrell Walker reveals the GOAT mindset that led MJ to dominate for so long
LeBron has been the de facto point guard for the Lakers in AD's time there. Sure, he's thrown a few lobs to Davis every now and then, but we've seen the forward be absolute unstoppable during his time with the Pelicans.
At one point, Davis was the best vertical spacer in the league. He will be hoping to get more of those chances once again.
---