Despite No Zion Williamson, The Pelicans Are Afloat Thanks to CJ McCollum's Heroics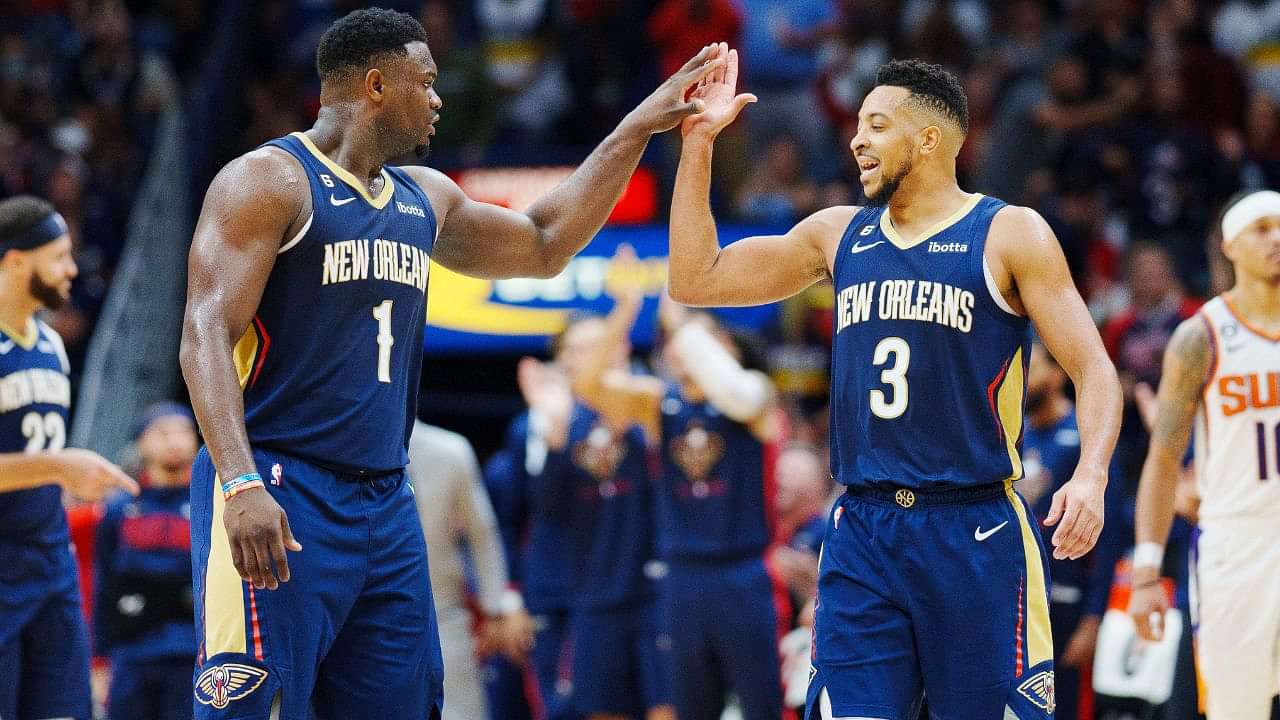 After barely making it to the postseason last year, the New Orleans Pelicans are one of the best teams in the West this season. The return of Zion Williamson has been a huge reason for the same.
Averaging a sensational 26 points, 7 rebounds, and 4.6 assists on 61% FG, the former Duke Blue Devil has been making his presence felt for the team. Despite missing the entirety of the 2021-2022 campaign, Williamson is playing at an All-NBA level and was even ranked as high as #6 in the MVP Ladder.
However, the Louisiana-based franchise took a blow when Williamson was diagnosed with a right hamstring strain in only their first game of 2023.
Also Read: Kings Legend Blasts NOLA Star Amid 3-Week Rest Post Hamstring Injury  
Since the southpaw's injury, CJ McCollum has been making his presence felt, keeping NOLA afloat.
CJ McCollum steps up during the absence of Zion Williamson and Brandon Ingram
To be honest, CJ was having a pretty spectacular season all along. However, since Brandon Ingram's, and now Zion's absence, McCollum has taken things up a notch.
Over the past 12 games, the 31-year-old has been playing at an All-Star level. Helping Willie Green's boys maintain their #3 spot in the West, the 6-foot-3 guard has been putting up an incredible 26.8 points, 6.3 assists, and 4.4 rebounds per game.
The former MIP has managed to display all of the moves in his insanely deep arsenal and has been shooting 51% from 3FG and 62 TS%.
Loading embed tweet https://twitter.com/NBA_University/status/1612816807714344960?ref_src=twsrc%5Etfw
"It's been a blessing for me and my family": CJ loves New Orleans
After having spent nearly a decade with the Portland Trail Blazers, CJ was traded to the Pels. So far, New Orleans is more than content with what they've gotten out of McCollum.
In a recent postgame interview, the former President of the NBPA also displayed his love for the city, his teammates, and the front office.
"It's been a blessing for me and my family. It was a great transition, a smooth transition where I moved to New Orleans, my family is coming in later. The basketball side of it has been everything I thought it would be and more. And the guys have been great.
The organization, front office has been fantastic. Everything they said they were gonna do, they've done. Everything I said I was gonna do, I've done. So it's been a really happy relationship in terms of development, in terms of how I move around the locker room, how
I move in the community, how I play and how they've coached me, how they've stayed on me and continued to try to get the best out of me. It's a credit to the organization, it's a credit to Willie."
Loading embed tweet https://twitter.com/NBA/status/1612665574990962688?ref_src=twsrc%5Etfw
It has been great to watch this team play ball this season. And it'll surely be great to see them fight for that #1 spot in the West. We just hope that Zion Williamson comes back soon so we can see the full potential of this squad.
Also Read: Isiah Thomas Talks of the First Time He Saw Lakers Legend Fail
---