Despite Not Receiving $1 Million, Ja Morant Gets Told By Donovan Mitchell To Do The 'Motherf**king' Dunk Contest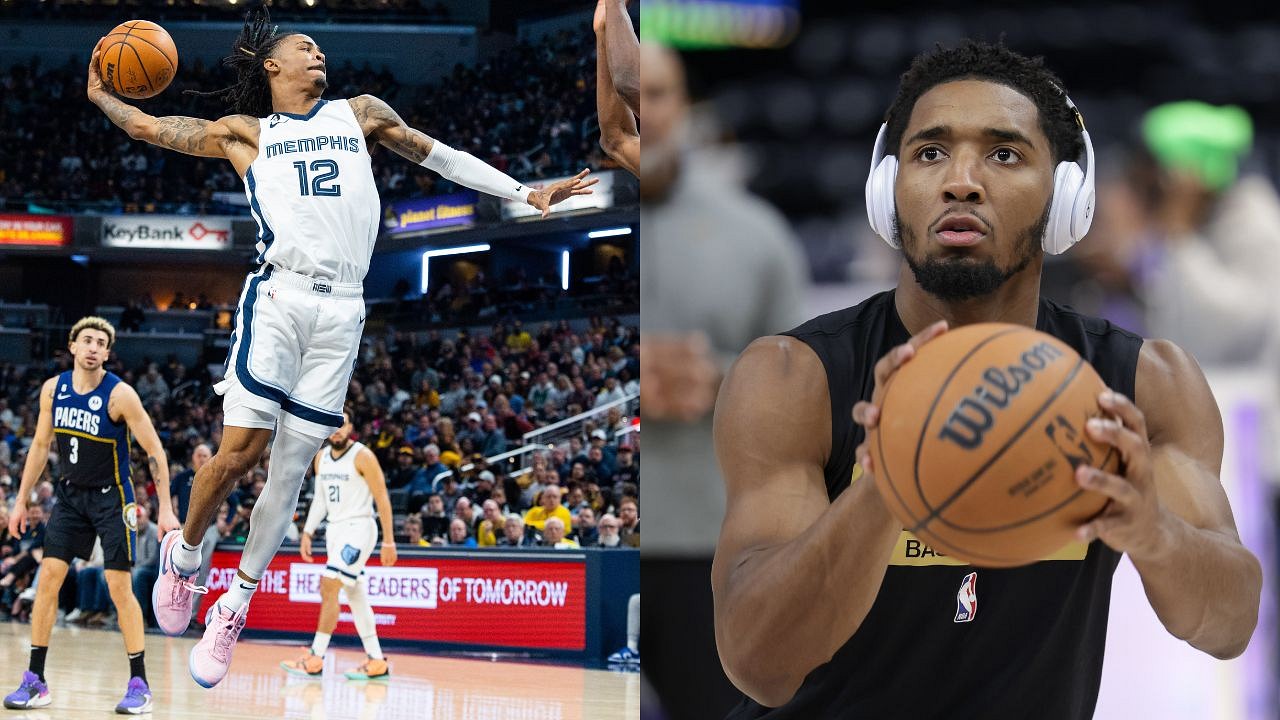 Ja Morant is one of the most electrifying athletes in North American sports today. The second he leaves the ground and takes off into the air, there's no telling what he might try to do. Well, most of the time, he's willing to put his body on the line in the hopes of snagging a poster over any and everybody who stands in his way. 
The way he contorts his body while in the air is something the NBA hasn't seen in a very long time. The build up to his dunks is almost always the same: left to right drop step dribble with or without a screen leading to open space in the paint and then raising up. 
He's caught a plethora of bodies this season alone and tonight's dunk against the Indiana Pacers was no less jaw-dropping than the others he's had. Cocking the ball back as far as he did and slamming it over Jalen Smith went viral across all social media platforms today.
Also read: Ja Morant's Disgusting Poster Against the Indiana Pacers Had Kevin Durant Sobbing at Home
Donovan Mitchell pleads for Ja Morant to enter the Dunk Contest
The Dunk Contest has lost a bit of its charm over the past couple of years. While the dunks have been creative in terms of usage of props, they simply have not been able to recreate the magic of the contests that guys like Michael Jordan, Dominque Wilkins, Vince Carter, and Aaron Gordon have participated in. 
The 2023 Dunk Contest has 4 candidates currently with them being Shaedon Sharpe, the G-League's Mac McLung, and KJ Martin. Donovan Mitchell however, wants the 4th and final addition to be none other than Ja Morant. 
Spida responded to a tweet from the Grizzlies superstar that sent out a challenge to players across the league to jump with him if they wanted to go viral. In response, Mitchell hilariously quote tweeted by saying, "Bruh just do the mf dunk contest." This tweet even got a like from JJ Redick.
Bruh just do the mf dunk contest 😂😂 @JaMorant https://t.co/4aNrft733K

— Donovan Mitchell (@spidadmitchell) January 15, 2023
Ja Morant has one condition for being a part of the dunk contest
Ja Morant would bring an otherworldly amount of attention to this year's Dunk Contest if he were to participate in it. He has been urged by the entirety of the NBA world, both fans and media alike to give it a shot but he doesn't seem to be interested unless there's money involved. 
When asked about it, he once said that he would do it if he were gifted $1 million for merely participating in it. With the downward trajectory that the Dunk Contest has been on as of recent, $1 million is a small price to pay for a league worth billions if it means getting thousands of people to turn the contest back on, on their TV.
Also read: "Ja Morant Has Got That Dawg In Him": Gary Payton Praises Grizzlies Superstar as the Only Point Guard He Likes To Watch
---
Share this article