"Don't Have Anyone Who is Halfway in in the Locker Room!": Kyrie Irving Takes Shots at James Harden, Talks About Kevin Durant's Injury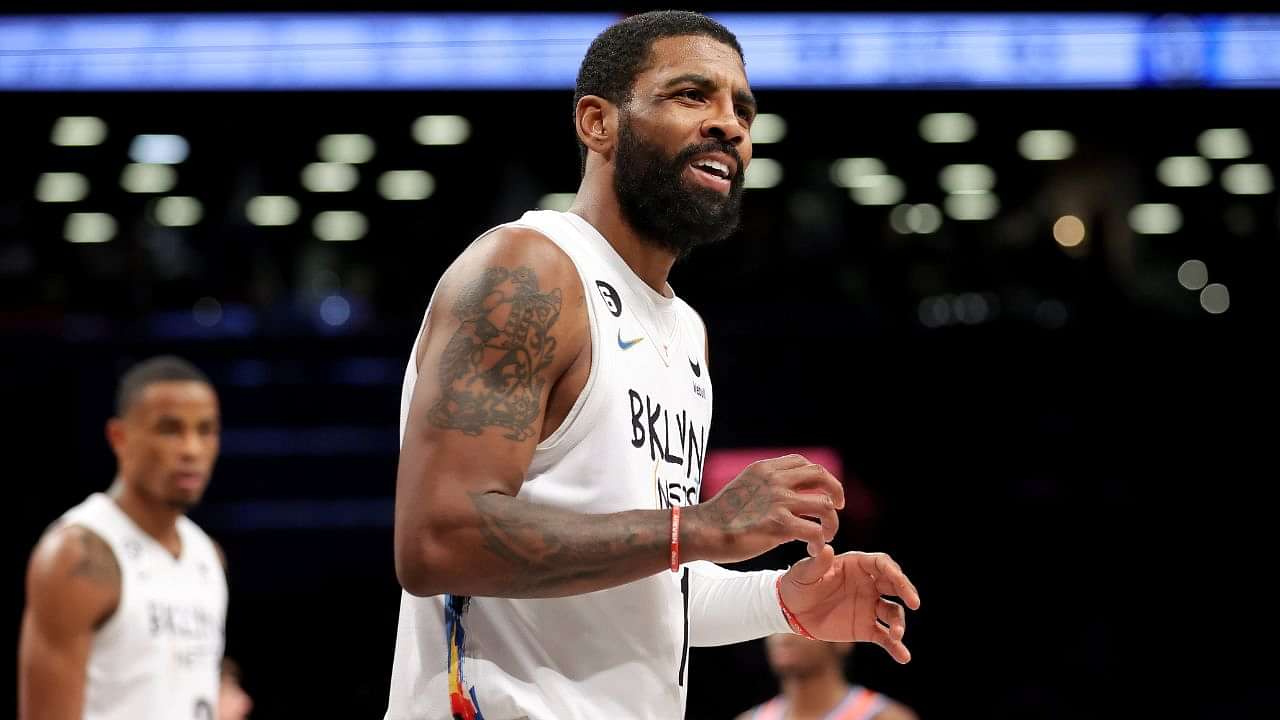 The Brooklyn Nets lost tonight's matchup against the Oklahoma City Thunder. Playing with a whole squad minus Kevin Durant, the Nets could not match the Thunder's young guns, and lost the contest in the 4th quarter. Kyrie Irving could manage only 15 points as the Nets failed to find their shooting stroke.
Lu Dort, Josh Giddey, and Shai Gilgeous-Alexander scored 22, 28, and 28 to lead the Thunder past the Nets 112-102.
Seth Curry was the best player on the court for the Nets. He scored 23 points in 26 minutes off the bench. The Nets struggled with turnovers, giving away the ball 15 times, as compared to the Thunder's 8.
The Nets would head out on a five-game road trip, where they would not have Kevin Durant along with them. After the game, Kyrie Irving spoke about playing without KD and more.
Also Read: "I'm Not Ranking LeBron James": Luka D oncic Refuses To Pit Lakers Star Against Michael Jordan Or Anyone Else
Kyrie Irving takes a shot at James Harden, talks about KD's absence
Last year, the Brooklyn Nets went through a rough patch starting in January. It was triggered when Kevin Durant injured his knee and was ruled out for two months. In that stretch, the Nets went 5-16 and lost James Harden.
Asked about whether the Nets are worried about another repeat of 5-16 without Durant, Kyrie said,
Loading embed tweet https://twitter.com/Alec_Sturm/status/1614805186589110277?ref_src=twsrc%5Etfw
James Harden was with the team while Durant was healthy, but after KD got injured, Harden wasn't too content with Kyrie being a part-time player and him having to carry the team. He forced a trade before the deadline and ended up in Philadelphia.
While there weren't too many comments about it from the players last year, seems like Kyrie is still not over what happened.
Also Read: "Get Us to the Playoffs in One Piece!": Klay Thompson Believes in Warriors' Playoff Chances, Puts One Condition
Can the Nets hold on without Kevin Durant?
Kevin Durant was playing at an MVP level this year. The Durantula was averaging 29.7 points, 6.7 rebounds, and 5.3 assists. In the two games without him, the Nets have clearly lacked an offensive spark.
KD was diagnosed with an MCL sprain that was set to be re-evaluated in two weeks, but his timeline was set at a month. The other teams in the NBA are pulling up their socks, and the Nets need to do the same if they want to keep the seeding without KD.
What has helped them is that the Bucks have been struggling too, else they would have lost their 2nd seed already.
Also Read: Doc Rivers Spews Confusing LeBron James and Michael Jordan 'GOAT' Take Prior To Lakers-Sixers
---