"I'm Not Ranking LeBron James": Luka Doncic Refuses To Pit Lakers Star Against Michael Jordan Or Anyone Else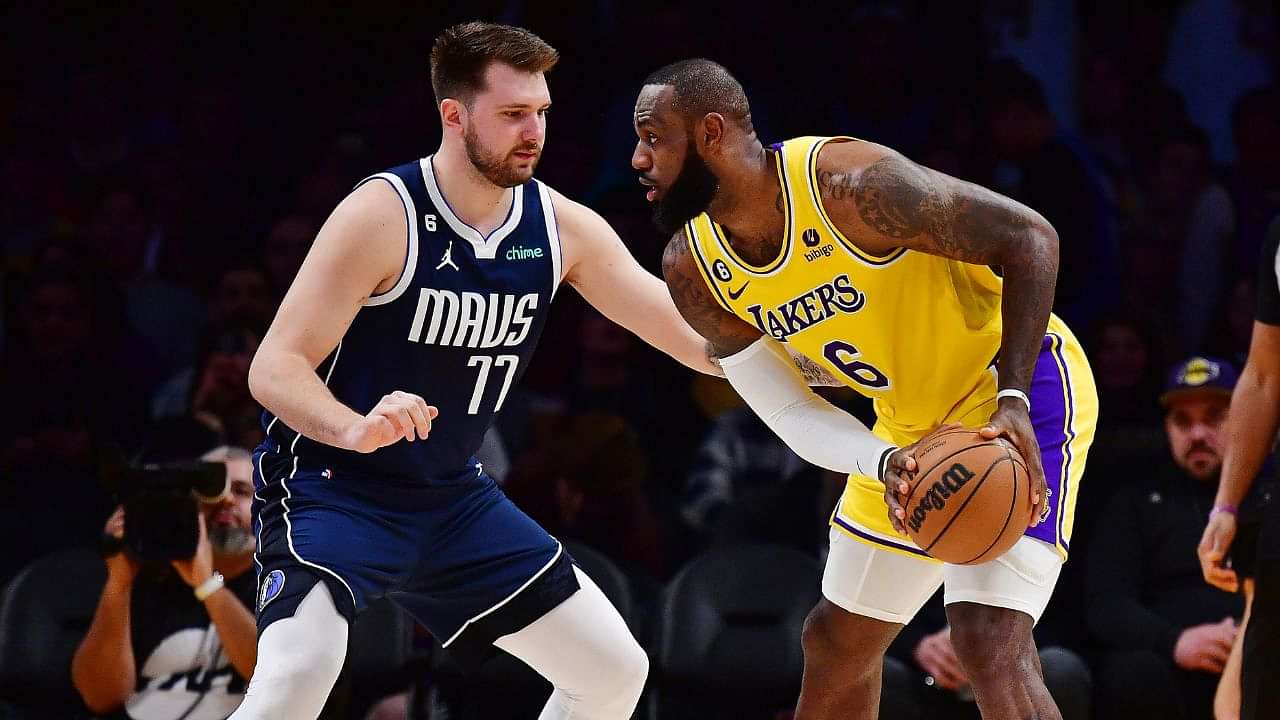 Luka Doncic has risen up the ranks in the NBA and firmly established himself as a top 5 player in the world in merely 5 years of professional play in the United States. Anybody who watches Doncic play basketball could easily tell that he's one of the most cerebral players in the NBA along with being one of the most well-rounded on offense. 
A lot of what drives conversation about basketball is the topic of 'who is better, player X or Player Y?'. The 'GOAT' debate between Michael Jordan and LeBron James has been raging on for years on end now and dates back to a time when James hadn't even won a single championship. 
For fans and the media alike, conversation about who is the better player is a large part of what keeps the NBA interesting. Whether it's a nuanced question like 'who has better handles, who is the better shooter,' or the straightforward 'is X better than Y', these fuel major talking spaces like NBA Twitter or Reddit.
Also read: Luka Doncic to Miami? The Ringer CEO Believes Mavericks Star Will Follow LeBron James' Footsteps
Luka Doncic isn't interested in ranking LeBron James
Luka Doncic is often referred to as 'Baby LeBron' and it makes sense as to why. James himself described him perfectly when he said that Doncic is a team first player, like himself, but if he gets dared to score, he most certainly will, as evident by him leading the league in scoring this season. 
Doncic and LeBron James are tied together because of their playstyles and so questions about 'The King' are almost always guaranteed to come his way during his media availability. 
He was recently asked about where he would rank LeBron all-time but the Slovenian superstar shut that down pretty quick, saying, "I'm not doing the rankings stuff, man. I just enjoy great basketball players. That's it. He's an amazing player, an exceptional player, but I'm not doing the ranking stuff." 
Loading embed tweet https://twitter.com/TheHoopCentral/status/1614716777329758208?ref_src=twsrc%5Etfw
LeBron James and Luka Doncic have played each other 10 times
Luka Doncic has only ever played LeBron James as a member of the Los Angeles Lakers and since getting drafted in 2018, has played 'The Chosen One' 10 times. In those 10 meetings, Luka and the Mavericks have won 4 times while the Lakers and LeBron won 6 times. 
In those 10 games, James has averaged 27.9 points, 9.4 rebounds, and 8.3 assists. Doncic on the other hand has put up 24.1 points, 8.2 assists, and 8.5 rebounds against the Lakers with James while shooting 43.3% from the field.
Also read: "I Hated LeBron James For 20 Years": Lenny Cooke Blamed Lakers Superstar For Destroying His Career Until His Daughter Opened His Eyes
---