"Dwyane Wade Kanye'd Himself for His Princess Day!": When Gabrielle Union Spilled Details About Their $5 Million Wedding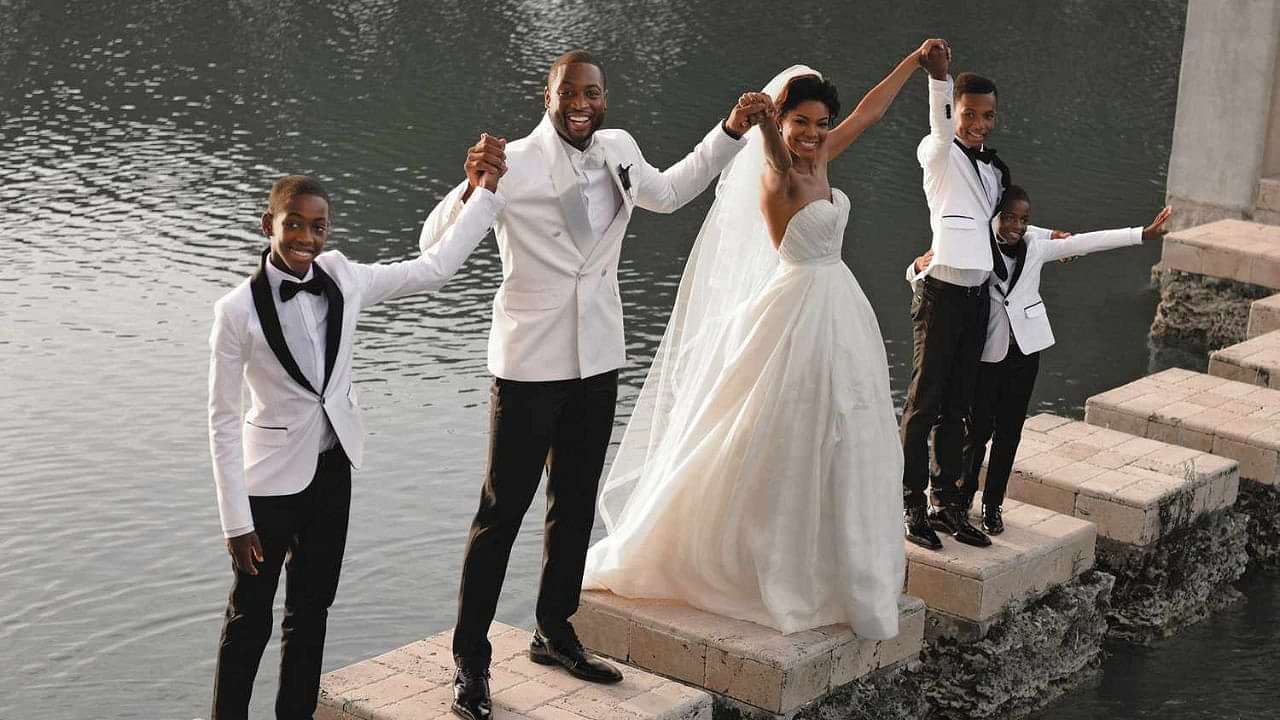 A wedding is a huge day for both the bride and the groom. It's a celebration of the couple's love and an announcement of their commitment to stay with one another. The case was no different for Dwyane Wade and Gabrielle Union. The couple met in 2007 and tied the knot on August 30th, 2014.
While traditionally, it's always the bride who goes all out and gets the 'bridezilla' tag, that wasn't the case for Gabrielle Union. The couple tied the knot at the luxurious Chateau Artisan estate in Miami. They spared no expense, as it was rumored that the wedding cost them over $5 Million.
Being engaged since December 2013, they waited eight months before tying the knot. Despite the hardships, the couple stayed together and now have been married for over eight years.
Also Read: Gabrielle Union, Who Spent $5 Million on Wedding With Dwyane Wade, Ruined Flash's Suit Right Before His Jersey Retirement in Miami
Gabrielle Union compared Dwyane Wade to Kanye West
In 2o14, the Miami Heat were handed a gentlemen's sweep in the NBA Finals. It was sheer domination by the San Antonio Spurs, and the Heat had no answer for them. After the Finals, DWade had time on his hands, and he dove deep into the wedding planning.
According to what Gabrielle Union told US Weekly about the planning process,
"We're pretty deep. And by we, I mean he and the wedding planner. I'm at work. He realized that I was trying to turn it into a frat party with k-cups and beer pong, and he took over. He really Kanye'd himself and really doubled down, and it's his princess day and I'm just along for the ride."
Dwyane Wade sat down with DSquared2 and designed three outfits for the wedding.
Wade told the New York Times,
"Everyone wants to look good on their wedding day. And I'm not going around the back. My fiancée may have the bigger moment, but I want everyone to turn and see me when I'm walking down the aisle. I want my entrance."
Meanwhile, Gabrielle wore a Dennis Basson gown.
Also Read: Ayesha Curry, Who Was Sued for $10 Million, Recreated Stephen Curry and Her Favorite 'Romantic' Date Order
Wade once squashed rumors of having Gabrielle Union's poster in college
After that elaborate wedding, Union and Wade have had quite a smooth sailing. Ever since his retirement in 2019, the couple has been spending all their time together, and are often seen going on exotic holidays.
Once Gabrielle Union was on a talk show, where she claimed Dwyane Wade had her poster in his college dorm. Talking on The Last Show with Stephen Colbert, Wade hilariously declined the same and said,
"So, my wife is a bigger celebrity than me. And she gets to come on your show and other shows way more than I. So, she planted this story. This is a planted story. This did not happen, people."
He continued and said,
---