Eclipsing LeBron James By Nearly 5-Fold, Stephen Curry's '41 Bangs' From Mike Breen Towers Over The Rest Of The NBA Following His Clutch Shots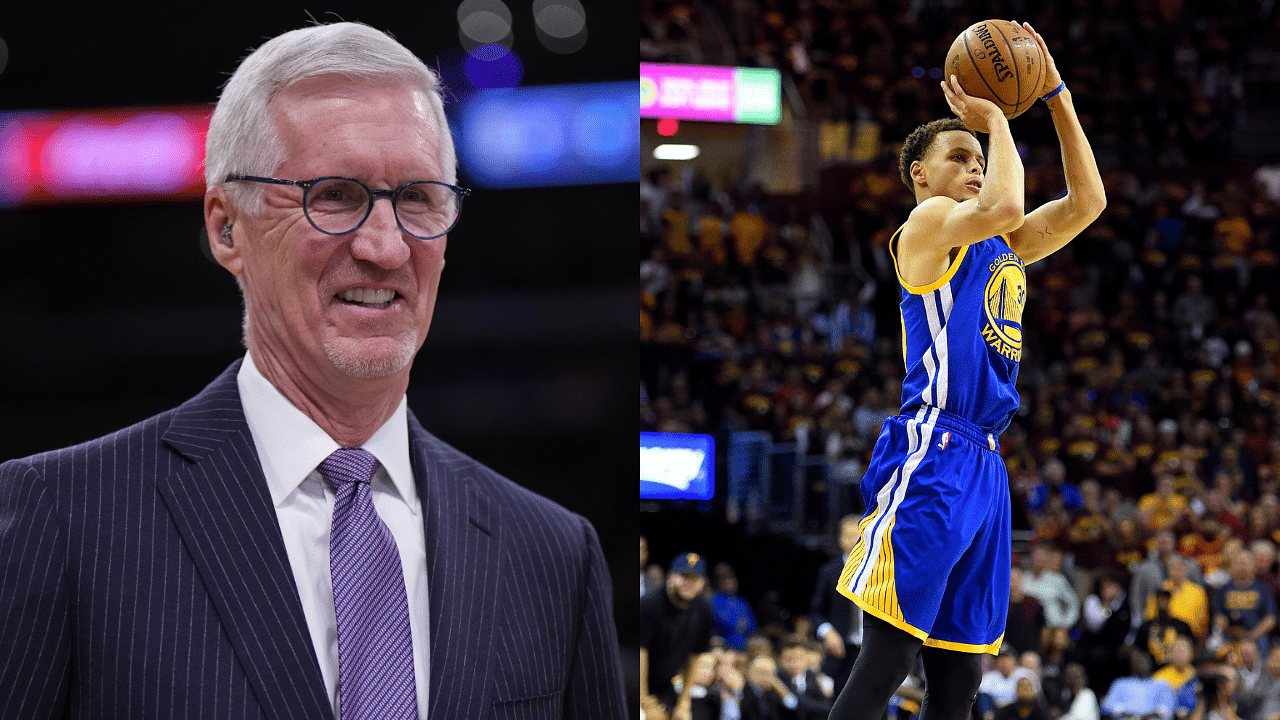 American commentator Mike Breen is well-known for his "Bang" calls on iconic NBA shots. The league's lead announcer since 2016, Breen has made "Bang" calls for a range of iconic shots by some of the modern game's most famous superstars. This obviously includes Stephen Curry, who has received the "Bang" call from Breen a whopping 41 times in his career, according to a Twitter user.
This includes the 2016 iconic 2 3-pointers that Curry scored during a 2016 regular season game against the OKC Thunder. Emerging from an ankle injury, Curry helped his team fight back from a double-figure lead. He scored two long-range three-pointers in the final quarter, including one from just inside the halfcourt. To date, the incident represents the only occasion when Breen used the "Double Bang" call on the Warriors' superstar.
Mike Breen remembered his iconic "Double Bang" call for Stephen Curry
Curry comprehensively leads the list when it comes to "Bang" calls from Mike Breen. His 41 calls comprehensively beat out LeBron James, who has only received 9 "Bang" calls in his career thus far.
Regardless, the iconic double-bang call for Curry in 2016 came after he picked up an ankle injury. Curry eventually returned and scored two long-range 3-pointers in the 4th quarter. The Warriors fought back from a double-figure deficit, leading to Breen claiming that the crowd had watched something special, according to a video posted by the Warriors on YouTube.
"Sometimes I look back at it and I say "who is this screaming fool?" It was a cumulative emotion because you'd watched them all season and just one game after another, they just did things that were extraordinary. In the game where he came back from an ankle injury, and he hits you know, a couple of feet from inside the half-court. You just said, boy you're watching something special."
Loading embed tweet https://twitter.com/OTownNBA/status/1703135061607088550?ref_src=twsrc%5Etfw
James is joint 3rd on the list, with Klay Thompson having garnered a total of 28 such calls from Breen. Jayson Tatum and Kevin Durant also have 9 Bang calls each, which rounds up the top-5 list.
Curry therefore has around 4.5 times the "Bang calls" James, Durant, and Jayson Tatum have received throughout their careers till now. The list is utterly dominated by the Splash Brothers who have 69 Bang calls from Breen between the two of them.
While Breen has given out the Bang call a plethora of times, it is generally a reaction on the magnanimous, almost bold nature of the shots that warrants the phrase. Hence, while a range of role players have also received Bang calls in the past, it is no measure of the overall shooting quality of the players.
Julius Randle received his first and only Double Bang call in game against Miami Heat
Back in March, the Knicks defeated the Miami Heat in a thrilling 122-120 game. With a total of 7 lead changes and 7 ties, the game needed one of the stars to come up with quality. That was done by Julius Randle.
Despite playing less than 36 minutes, Randle produced 43 points, and 9 rebounds. He also scored a career-high 8 3-pointers, leading to the iconic call from Breen.
With less than 2 seconds remaining on the clock, Randle overturned Miami's 1-point lead with a long-ranger. Breen could not contain his excitement, and ended up screaming "Bang-Bang."
---