"Giannis Antetokounmpo is just different, keep going GOAT": Magic Johnson, MarJon Beauchamp & NBA Twitter Laud Bucks MVP For his 50-points in 30 Minutes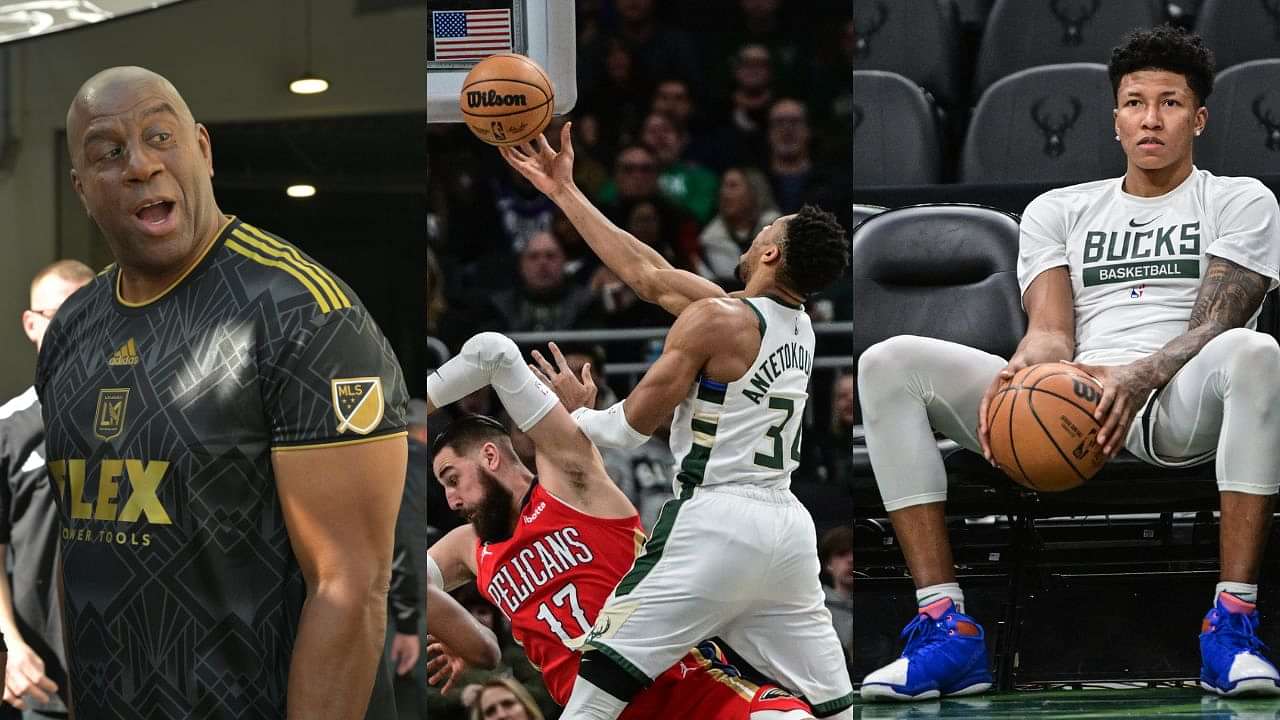 Giannis Antetokounmpo is leaving no room for argument that he is the most dominant force among the top MVP candidates like Nikola Jokic, Joel Embiid, and Jayson Tatum. While Embiid made his point against The Joker on Saturday, Giannis made his putting up 50 points in 30 minutes against the New Orleans Pelicans.
Well, it helped that the Pelicans were without Brandon Ingram, CJ McCollum, and Zion Williamson, but still, putting up 50 points, 13 rebounds, and 4 assists against a 26-24 team in just half an hour of game time is just mind-boggling.
And fans appreciated the Greek international's effort while he took his MVP candidature up a notch.
Also read: Giannis Antetokounmpo, With His 25th 40/10/5 Game, Ties Larry Bird and Kareem Abdul-Jabbar For the 7th Most All-Time
Giannis Antetokounmpo puts the league on notice once again for his MVP candidature
Upping Bucks' 32-17 record with a dominant 135-110 win over the Pelicans Giannis Antetokounmpo has set his team to fight Embiid and the Sixers for the #2 spot in East as the Celtics stay put at #1.
His 50-point double-double, however, drew the most attention from NBA Twitter as he stands #4 in the MVP race currently.
Loading embed tweet https://twitter.com/nathanmarzion/status/1619898717045428225?ref_src=twsrc%5Etfw
Loading embed tweet https://twitter.com/buckfan2006_jg/status/1619916349966553088?ref_src=twsrc%5Etfw
Even Magic Johnson couldn't help himself but call out the greatness.
Loading embed tweet https://twitter.com/MagicJohnson/status/1619908387982168065?ref_src=twsrc%5Etfw
So couldn't Kevin O'Connor form the Ringer.
Loading embed tweet https://twitter.com/KevinOConnorNBA/status/1619899935884976130?ref_src=twsrc%5Etfw
His teammate MarJon Beauchamp appreciated it calling him the GOAT.
Loading embed tweet https://twitter.com/Marjon32/status/1619913966867857409?ref_src=twsrc%5Etfw
The 7ft tall Greek Freak won his first MVP in 2019 and repeated the next year for his second and last one. It's probably going to cut down between him, the Joker, and Embiid by the end, showing how the big men era in the league is here to stay.
It was the first time in more than two decades that Nikola Jokic won his first 2021 for Center to win MVP since Shaquille O'Neal. Not only that but it's already been 4-years in a row for the Bigs to win the highest individual honor in the NBA.
With the 5th in the 2022-23 season, if it does happen, this era will certainly be remembered for some of the greatest international Big men of the NBA.
Also read: "I can just see colors": Giannis Antetokounmpo Explains his Court Vision as Bucks Beat Nikola Jokic-less Nuggets
Giannis is getting to the charity stripe like Wilt Chamberlain, scary times!
A major catch in Antetokounmpo's game has been his 13.4 free throw attempts per game this season, which is the most since Wilt Chamberlain's 1960-61 season.
Loading embed tweet https://twitter.com/_Talkin_NBA/status/1619895238520147968?ref_src=twsrc%5Etfw
He's converting around 8.5 of those per game shooting 63% on his FTs. That man might be one of the worst free throw shooters in the league percentage-wise but has found a way to use volume to outscore the best shooters in the game.
Also read: "Nikola Jokic is more of a motivation to win the whole thing": Joel Embiid Opens Up After the 47/18/5 Performance in a Win Amidst All-Star Starters Snub
---