"I can just see colors": Giannis Antetokounmpo Explains his Court Vision as Bucks Beat Nikola Jokic-less Nuggets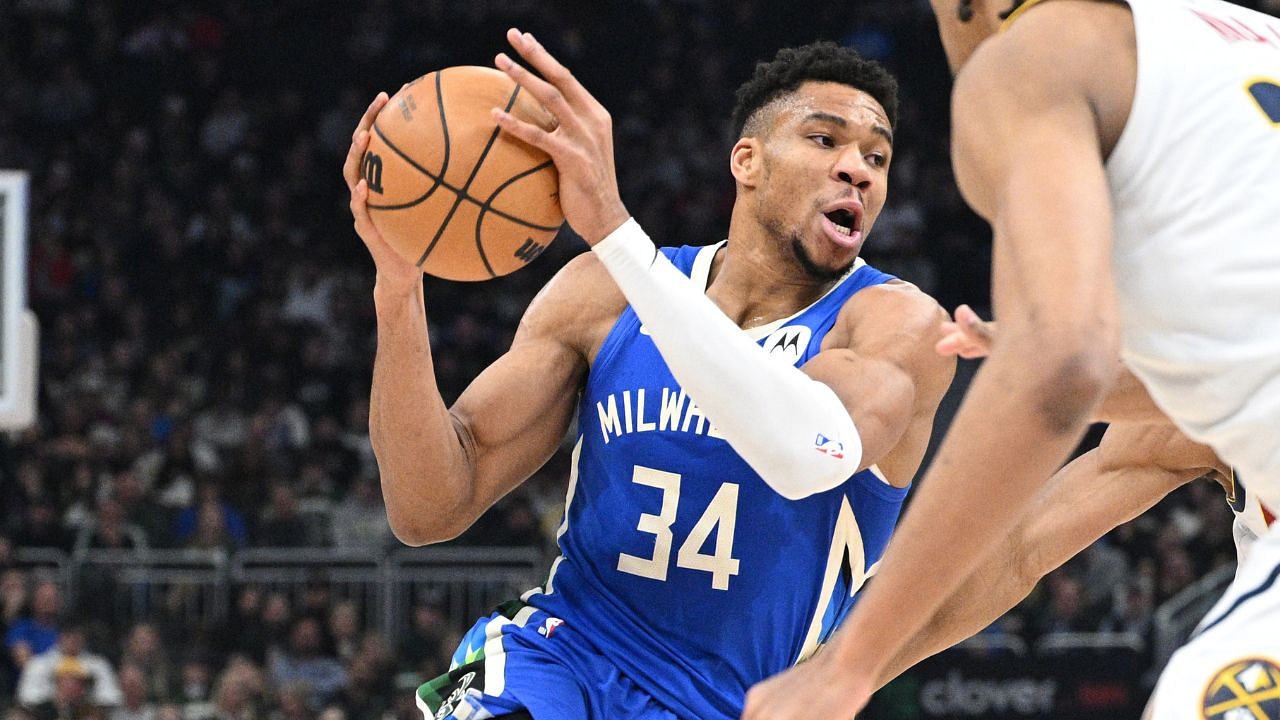 The Milwaukee Bucks might have finally broken out of their January slump. Led by an effervescent Giannis Antetokounmpo, they rallied to beat a short-handed Nuggets team.
Giannis was at his efficient best, putting up 33-14-4 and he also had 3 steals to help things on the defensive end. He shot the ball at an efficient 60% from the field.
The 107-99 scoreline is reflective of the defensive effort the team put together. The Bucks had 7 blocks and 11 steals. Giannis himself was happy with the performance, and more importantly, he was happy with the momentum.
Also read: "Damian Lillard Is Lucky He Isn't Playing Patrick Beverley": 60 Points Isn't Enough For Skip Bayless To Applaud The Blazers Superstar
Giannis Antetokounmpo explains court vision
In his post-game press conference, the Greek Freak broke down how his team played and lauded an all-around defensive effort. He also touched on how he operates and facilitates his team.
When asked about how he sees the court and tries to facilitate play, he says, "I try to look at the pass first, if I see somebody that's open, I try to pass the ball."
He touched on how he approaches the rim and makes outlet passes, "usually, I look at the rim, but I can see people moving, I don't see who it is, I can just see colors and jerseys." 
A precious insight into the mind of the world's best player as they beat the best team in the west. Albeit the Nuggets fielded a team without Jokic and Murray.
Keep building good habits. pic.twitter.com/6rVowseIRr

— Giannis Antetokounmpo (@Giannis_An34) January 26, 2023
Also read: Alperen Sengun Records Rare Stat Line to Join Magic Johnson and Lonzo Ball as 4th Ever to Achieve Historic Feat
Why didn't the NBA promote this game more?
At first glance, you wouldn't think the Milwaukee Bucks vs the Denver Nuggets would be a good matchup. However, when you factor in the two players in the game, it makes sense for the league to give it special importance.
Nikola Jokic and Giannis Antetokounmpo are back-to-back MVPs. They deserve to get national media attention. And yet the NBA failed to promote it. In fact, the Nuggets were on the second night of a back-to-back and rested all their important players.
Instead, its focus is on big market teams. As the league evolves and grows, it is important to pivot the attention to teams with stars. And Milwaukee and Denver, despite their size are home to two colossal superstars.
Disappointing. Jokic vs. Giannis should be a marquee game heavily promoted by the NBA. A battle of back to back MVPs. Instead it's the second night of a back to back with all of Denver's best players sitting out. What a bummer. https://t.co/HVzfUHVcf8

— Kevin O'Connor (@KevinOConnorNBA) January 26, 2023
Also read: "You'll see one day": Pat Riley Reveals Kareem Abdul-Jabbar's Secret to a 20-year NBA Career 
---
Share this article