"Giannis Antetokounmpo Scored 7 Points, and is the Best?!": Skip Bayless Compares LeBron James' Birthday Performance to Greek Freak's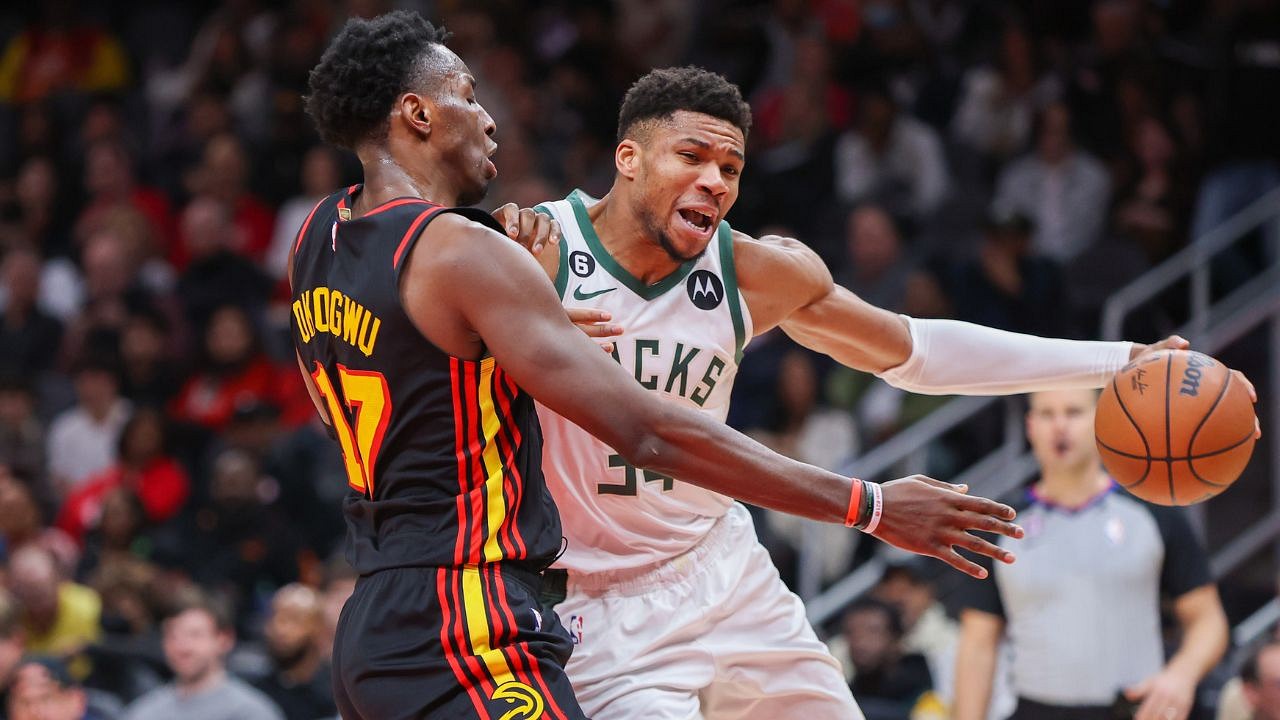 After going on a 4-game losing skid in late December, the Milwaukee Bucks have bounced back entering the new calendar year. Coming off a win against the New York Knicks, Giannis Antetokounmpo and co. kicked off their 4-game roadtrip with a huge win.
Playing against a Clint Capella-less Atlanta Hawks, Mike Budenholzer's boys managed to grab a 114-105 pretty comfortably.
It was a huge night for Jrue Holiday. Leading Milwaukee in assists, steals, and threes this season, the two-way star recorded 27 points, 4 rebounds, and 5 assists. DPOY candidate Brook Lopez contributed with a 20-point, 12-rebound double-double along with 2 blocks and a steal.
Apart from these two stars, 3 other players on the roster managed to score in double digits. Much to everyone's surprise, none of them is Giannis.
Also Read: Shaquille O'Neal and Candace Parker Have Contrary Opinions About the Greek Freak
Skip Bayless slams Giannis Antetokounmpo for 7-point night
In the past 4 Bucks wins, the Greek Freak has been averaging a staggering 37.5 points. Although, the 2-time MVP didn't seem to be on the same scoring rampage as he's been throughout the season.
Despite playing a team-high 34:57 minutes, the former DPOY managed to score only 7 points on 10 shots. The 7-footer was extremely inefficient, shooting merely 30% from the field and 25% from the charity stripe. However, Giannis did record a 18-rebound, 10-assist double-double.
Skip Bayless would go on to compare LeBron James' 47-point performance against the Hawks to Antetokounmpo's 7-point outing. Further, the "UNDISPUTED" analyst taunted Shannon Sharpe for calling the 2021 Finals MVP the "best player on the planet". The 71-year-old tweeted:
Wait, LeBron scored 47 at Atlanta on Dec. 30th … and tonight Giannis scored 7??? Yes, he had 19 rebounds and 10 assists but – again no Capella, no real post presence for Hawks – and Giannis managed only 7 pts??? Somebody I know says Giannis is the Best Player on the Planet.
Greek Freak's season so far
The 2021 champs are currently 3rd in the East with a 27-14 record, sitting merely 2.5 games behind the #1 Boston Celtics.
While the likes of Holiday, Lopez, and Bobby Portis have been doing an exceptional job, Antetokounmpo has to be majorly credited for the team's success, who are missing out on the services of All-Star Khris Middleton.
Despite being ranked #5 in the past few MVP Ladders, the European superstar has been playing some incredible basketball and is definitely a frontrunner to lift the first-ever Michael Jordan Trophy.
So far, the 6-time All-NBA player has been averaging 31 points, 11.9 rebounds, and 5.3 assists.
Also Read: Giannis Antetokounmpo Sarcastically Addresses the 3 Reports at Bucks Practice
---