Giannis Antetokounmpo, With His 25th 40/10/5 Game, Ties Larry Bird and Kareem Abdul-Jabbar For the 7th Most All-Time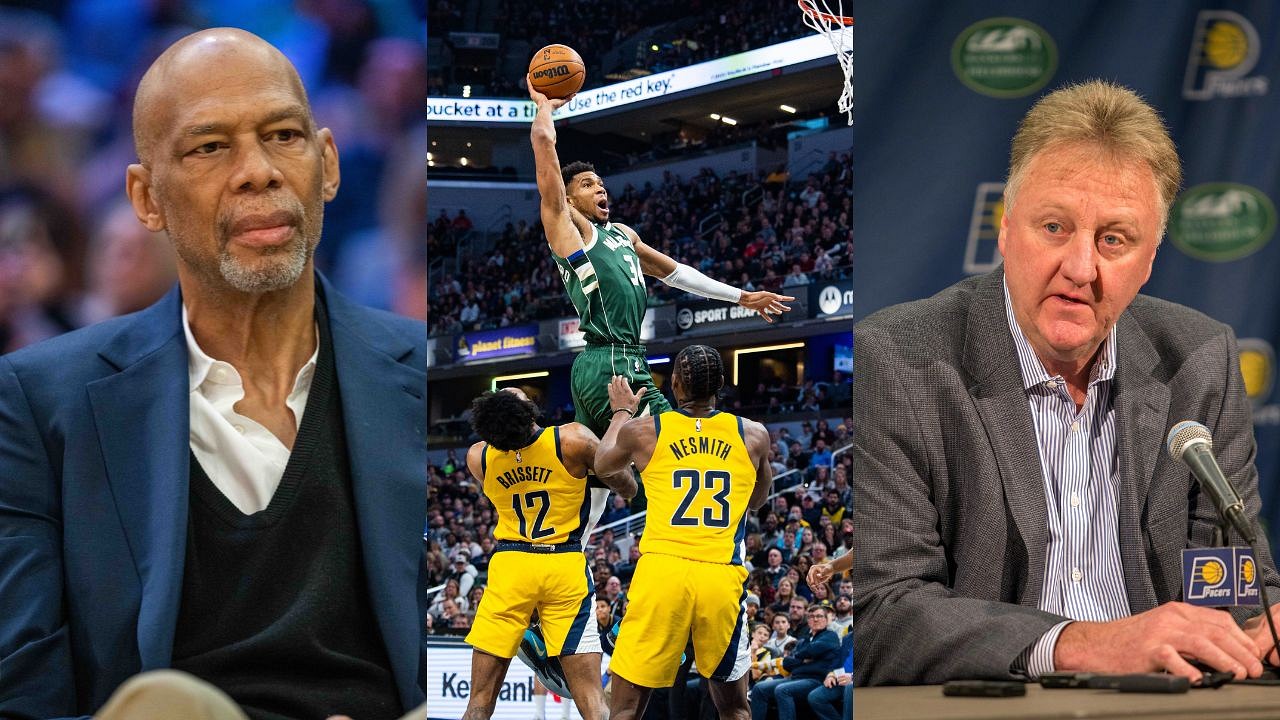 It's clear that Giannis Antetokounmpo is going to go all out for the MVP title with the efforts he is putting in each night. Amidst the scoring revolution going on in the NBA, guess how many points does Giannis have tonight? The Buck's 7ft forward had 41 points in the 141-131 win vs. the Pacers.
However, scoring isn't the only area that the Greek Freak dominates. Giannis' rebounds tonight (12) were more than double that of Myles Turner's. His crucial block and steal late in the game also made a difference in the outcome. And then he had 6 assists as well to add to it.
Also read: "Playing against Nikola Jokic is Joel Embiid's Super Bowl": ESPN's Ramona Shelburne Reveals Sixers Star's Excitement For Nuggets Game
Giannis Antetokounmpo ties Larry Bird and Kareem Abdul-Jabbar on the all-time 40/10/5 games list
Giannis has always been flirting with most Kareem Abdul-Jabbar statistics since attaining his peak 5–6 years back. But the creative forward, who recently talked about just seeing colors while passing the ball, also affects the game through his playmaking.
That makes him comparable to a small forward from Boston back in the day who affected the game in every way possible—Larry Bird. With his 25th 40-10-5 game tonight, the Greek international tied both Bird and KAJ for the 7th most such games.
Equalling two greats of the two best franchises of the league in a day? Getting a 30-point double-double in a win against the Nuggets, becoming captain of the East for the 2023 All-Star game, and now this, what else can you ask for a great weekend, eh?
Also read: 7ft Giannis Antetokounmpo's This Body Part is So Big, It Makes Basketballs Look Comically Miniscule
Giannis and the Bucks have a tough few weeks ahead
If Giannis goes for these 30-point triple-doubles every night it might lead to an overload to his knees which have already been sore lately.
With the team's third-best scorer, and the leader of their bench, Boby Portis, is out with an MCL sprain, the Bucks have got to get the best out of Jrue Holiday and Khris Middleton.
But the latter's 17/4/4 and Holiday's 20 points, 9 rebounds, and 9 assists effort still needed a 40-point double-double from Antetokounmpo in Indianapolis, meaning they need their other role players to step up each night as well.
Let's see if it all works out and the Bucks get to the Finals again after two years of becoming the NBA champions.
Also read: "Giannis Antetokounmpo is a world champion … trash talker": Patrick Beverley Reveals Bucks Star's Hilarious Way of Showing off MVP Privilege
---