"Giannis Antetokounmpo is a world champion … trash talker": Patrick Beverley Reveals Bucks Star's Hilarious Way of Showing off MVP Privilege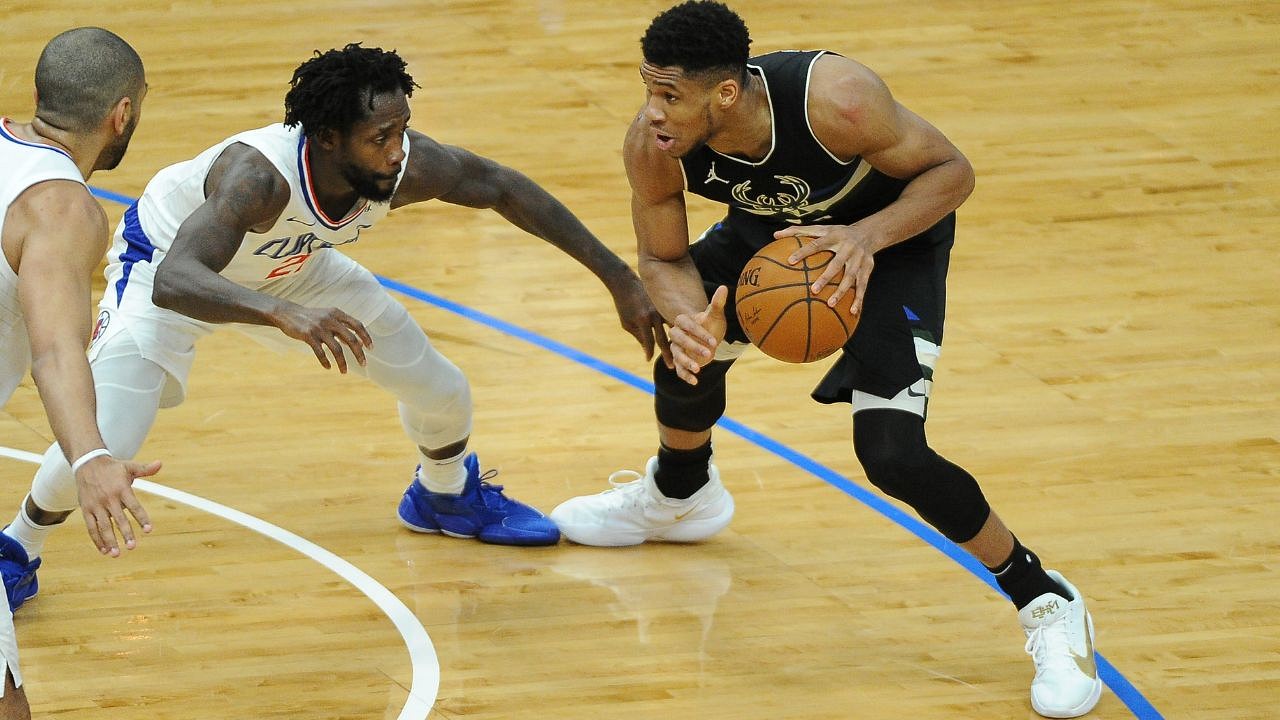 Giannis Antetokounmpo is not only one of the most entertaining basketball players on the court but off it as well. The Greek international makes a conscious effort in being happy and spread his contagious happiness wherever he is before or after the game and whoever he is with.
During the games though, the 7' foot forward of the Milwaukee Bucks might look like he is possessed with some otherworldly powers when he is running up and down the 30-yard court, giving it all on both sides of the ball.
Only a few dare to talk trash to the Greek Freak when he is in the zone and on the court, it generally seems like he is in the mood to kill, it's just, he is not. Ask Patrick Beverley, he'll tell you how Antetokounmpo trash talks, in his voice.
Also read: "I love the Navitimer,": Giannis Antetokounmpo Praises $4.5 Billion Swiss Watch Maker After Signing on as Ambassador
Giannis Antetokounmpo has a fun way to stick his "champion" privileges in others' faces
It might come as a surprise to many that Patrick Beverley can really mimic other players, if not many, his Giannis Antetokounmpo is one you would actually love to watch irrespective of whether you like the Lakers guard or not.
On his podcast, he recently revealed how the Bucks superstar once answered him when Beverley tried to complain to the referees about Giannis stepping on the line while taking a free throw.
"Hey, Pat!! Champ, Champion (pointing towards himself)"

 
As hilarious and hurtful as it gets! It would have hurt and made Pat Bev laugh, all at the same time.
Also read: WWE Legend Chris Jericho was Thrilled to Meet Giannis Antetokounmpo and Get a Signed Jersey
Giannis is aggressing toward another championship politely
Last year the defending NBA Champ and 2021 Finals MVP did not have much to fight for when he faced Jayson Tatum and Jaylen Brown-led Celtics and didn't have his Robin, Khris Middleton, by his side.
But this season, the Bucks are being cautious with Middleton's minutes and will try to keep him fresh for the postseason. With Giannis in MVP form, Brook Lopez being a contender for the DPOY, and ever-resilient Jrue Holiday being as good as he was in the last two seasons, Milwaukee should believe in themselves to come out of the East.
Let's see what ends up happening for them. Anyway, we know what we are going to get from the Greek international, both on and off the court.
Also read: WATCH: 6ft 6″ Zion Williamson Once Bullied 'Ripped' Giannis Antetokounmpo Under the Paint
---