"Giannis has shrunk and disappeared in the playoffs too often": Skip Bayless aims potshots at Bucks star ahead of closeout Game 6 vs Hawks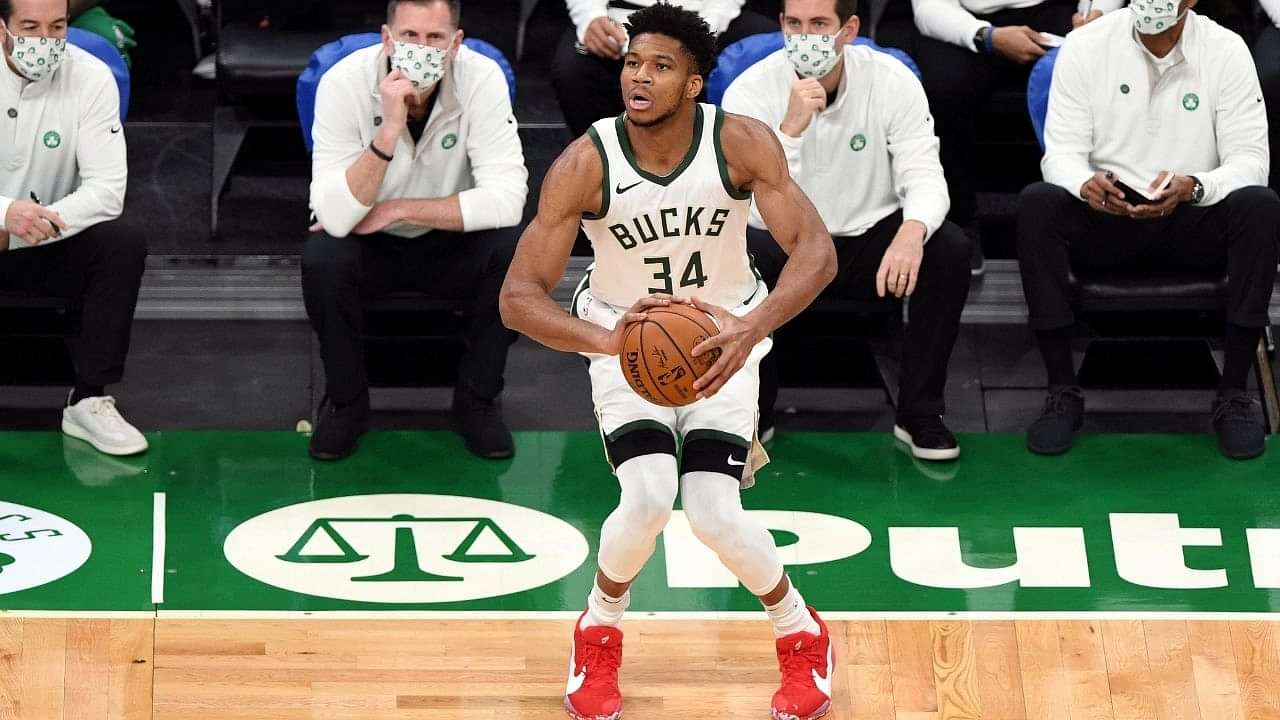 Skip Bayless shares yet another controversial take about Giannis Antetokounmpo as the Bucks win Game 5 against the Hawks. 
Playing against each other for the second time this series without their respective superstars, the Milwaukee Bucks defeated the Atlanta Hawks 123-112 in Game 5 and are one win away from making it to the NBA finals. 
The Bucks lost Giannis Antetokounmpo in Game 4 due to a hyperextended knee. The Hawks, meanwhile, lost their young and enigmatic leader in Trae to a bone bruise in Game 3 in to a freak accident where Trae unknowingly stepped on the referee's foot.   
Also Read: "Kevin Garnett, Zach Randolph, and Rasheed Wallace" Bucks Forward Bobby Portis Reveals His Favorite Players As A Kid
Accepting that this season will forever have an asterisk attached to it due to a long list of superstar calibre players being injured, it is important to recognize how this situation has given birth to a fresh crop of superstars such as Devin Booker, Donovan Mitchell and so on.
Moreover, forced to play without their key player(s), teams have had to adapt on the fly, in many cases making incredible adjustments to deliver shocking results. 
The Bucks' recent victory is a great example of the same. With four of their top 5 players scoring more than 20 points, including a playoff career-high performance by Brook Lopez (33 points 7 rebounds), the Bucks put on a great display of unselfish basketball, moving the ball and making all the right reads to secure a dominant victory.   
Skip questions Giannis's importance as the Bucks win Game 5 in dominant fashion 
Analyst Skip Bayless, who has always been critical of Giannis for not 'stepping up' during the post-season, was quick to question the superstar's importance on the team as the Bucks outplayed the Hawks to secure a Game 5 victory without the Greek freak.  
"I slept on this and I woke and it hit me right between the eyes, are you sure that the Milwaukee Bucks aren't a little better all-around basketball team, a playoff basketball team without Giannis?
Recognizing all of Giannis' achievements until now, Skip went onto criticize Giannis for his inability to perform as a player and leader when it matters the most.
"Other times in playoff games he just shrinks and disappears, they build a wall he has no answer to the wall because he has no real mid-range game and what do we see regularly from him?"
"We see airball free throws, we see air ball threes, we see too many threes. When you shoot airballs in playoff games it takes the heart out of the team, your team loses faith and trust in the best player, by far, on the court."
Loading embed tweet https://twitter.com/RealSkipBayless/status/1410977158785241088?ref_src=twsrc%5Etfw
Praising the Bucks strategy of bringing in Brook Lopez to play inside the paint, which evidently served them well, Skip had this to ask
"Brook Lopez is pretty talented, I'm not saying he is better than Giannis but is he a better fit for them as a playoff team than Giannis? Does he make it easier for the ball to move?
The 69-year-old analyst then went onto continue his anti-Giannis monologue stating the following:
"I've always wondered about, is he that guy? is he an alpha? is he a leader? is he a tone-setter? Does he have that killer will in him? I don't know, I'm not sure about that, I've never been sure about him as the player on the team that he could take to the championship."
---