"Hockey and baseball players beat each other, but they aren't called 'thugs'": Jermaine O'Neal points out hypocrisy in NBA's treatment of 'Malice in the Palace' on All the Smoke Podcast with Stephen Jackson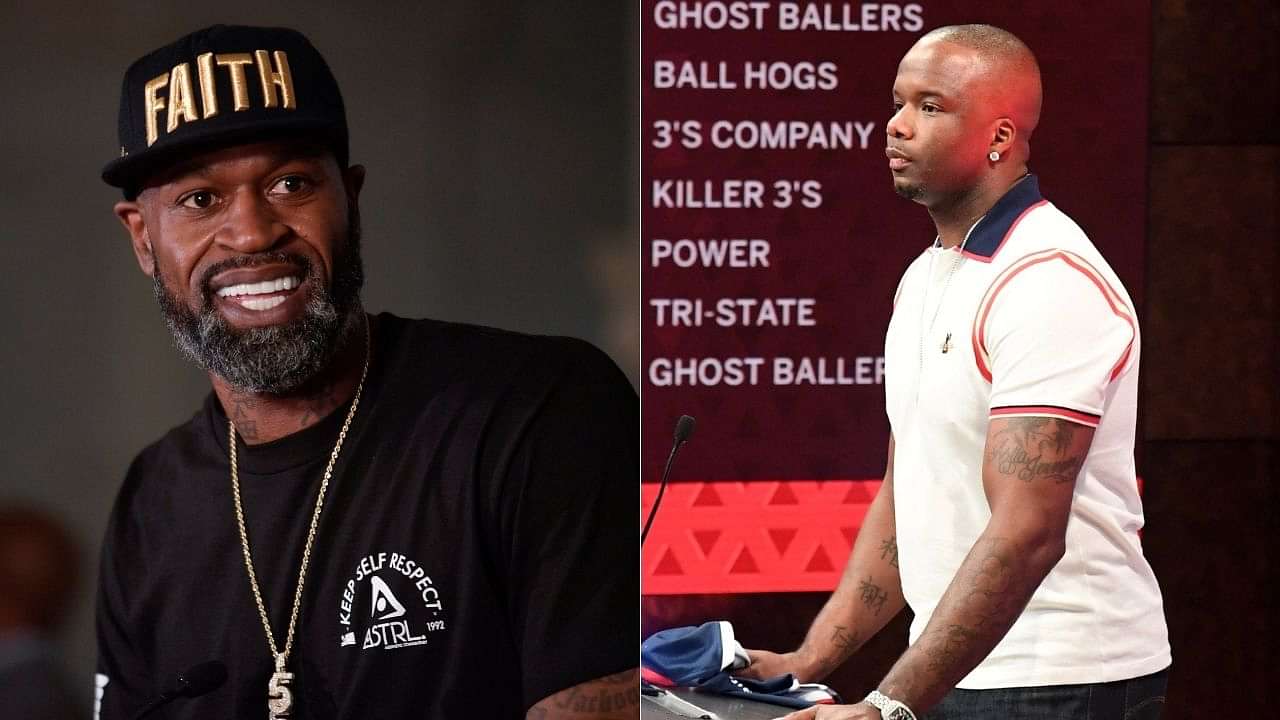 Jermaine O'Neal and Stephen Jackson were right in the middle of 'Malice in the Palace' – one of the defining moments in basketball history.
If you didn't follow basketball in the noughties, chances are that the Pistons-Pacers brawl of 2004 is but a footnote for you. But the reality of the incident is that it changed NBA basketball and the landscape of the league forever.
It involved 2 of the top 4 teams in the league based on their standings in the 2004 playoffs. The Pacers had gotten off to a mean start and had the best record in the league at the time.
They held a comfortable lead when all hell broke loose after on-court altercations between Ron Artest and Ben Wallace. Artest went and lay down at the scorer's table when he was hit by beer chugged by a Pistons fan.
The showdown that then took place with 50+ seconds left in the game made it impossible for the league authorities to finish it out. The scoreline stayed at 97-82 in favor of the visitors as they beelined to the locker room.
Also Read – "Watch what happens next": Dennis Schroder gets support from wife ahead of Celtics debut after the German point guard faces internet trolls
Jermaine O'Neal talks about 'Malice in the Palace' on 'All the Smoke' with Stephen Jackson and Matt Barnes
Jermaine O'Neal and Stephen Jackson were both central figures in this brawl. O'Neal was recently on 'All the Smoke' podcast, where the topic of conversation inevitably veered to 'Malice in the Palace'.
O'Neal minced no words while denouncing how the league and national media dealt with the incident. He specifically pointed out the racist undertones in all of the criticism they faced:
"To me, when you talk about career and all this other stuff, that's the part that made me a little bit bitter about everything. The 'thug' word was thrown out there probably a thousand times."
"All of a sudden, it's about hip-hop, the music we listen to. It's about our cornrows, it's about our tattoos, it's about the color of your skin."
"I remember going through the whole arbitration process and the lawyer's bringing up some hockey stuff. They get to beat the hell out of each other on a regular basis."
Loading embed tweet https://twitter.com/shobasketball/status/1425533680877916161?ref_src=twsrc%5Etfw
Also Read – "LeGM is at it again, hypes up Isaiah Thomas": LeBron James shows love to the former Celtics guard in the midst of Lakers free agency rumors
"Baseball is the same way. You get to rush the mound, throw some hands – but they ain't 'thugs'! So, to me, it became more about a race thing. And what I did, and what Jack (Stephen Jackson) did, was in straight protection of my teammates."
"When people talk about leadership, people talk about togetherness, they talk about brotherhood. That is tested when your a** is in a 20,000-seat arena and people are at you."
---