"I Am Getting Old": Stephen Curry Reacts to Breaking Wilt Chamberlain's Franchise Record in His Signature Witty Style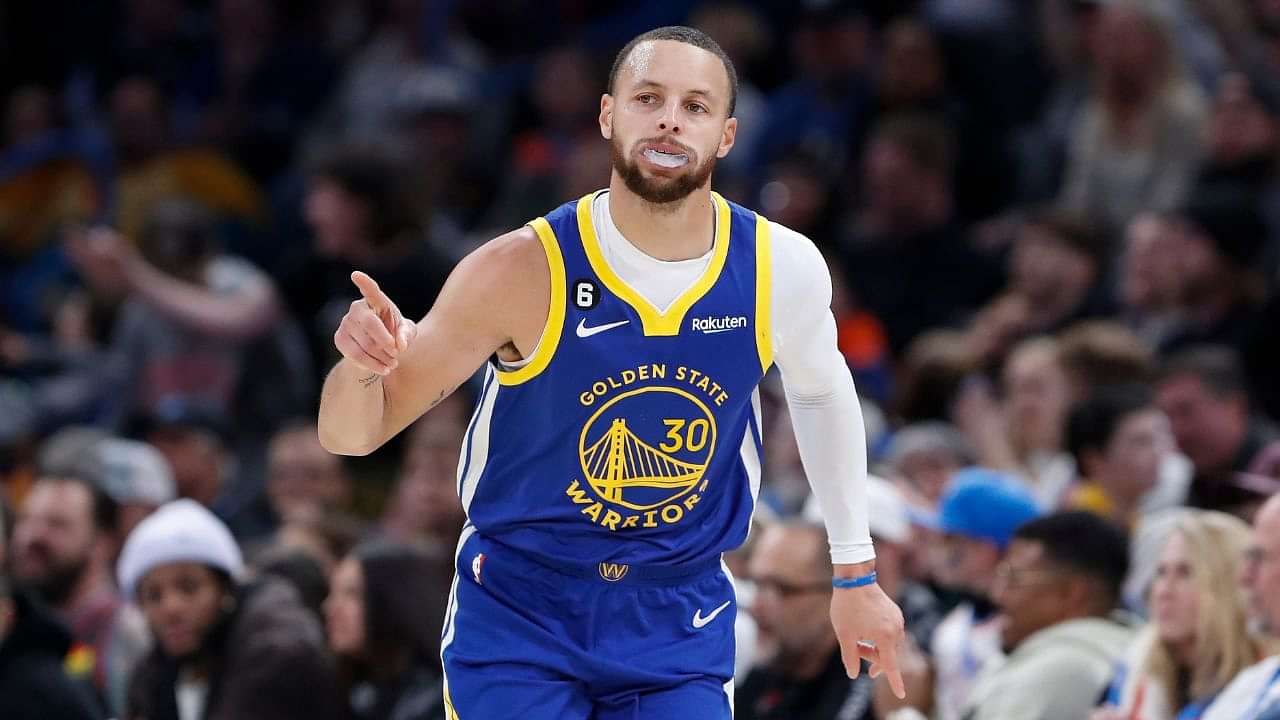 Stephen Curry is at it again. The Golden State Warriors maestro continues to build his legacy. After his return from injury, the NBA community was abuzz with speculations of Curry's impending decline. But just after two underwhelming performances, Curry is now back on his MVP horse.
It's almost as if doubt fuels Steph's desire to excel.  In his last 5 games, he is averaging 33 points per game while shooting 4.8 3-pts per game on 42.1% shooting. The loud whispers of doubt that began following Curry after the partial dislocation of his shoulder are awfully quiet now.
Especially after tonight. Because tonight was something special. After all, Stephen Curry not only led his team to a resounding victory but also broke the almost mythical Wilt Chamberlain's franchise record.
Also read: "I knew greatness would be out here early": Kyrie Irving Praises Lakers' Russell Westbrook Who Showed Up for the Shootaround Before Others
Stephen Curry breaks Wilt Chamberlain's Franchise Record
The game against the Oklahoma City Thunder was special for Curry and Warriors fans for more reasons than one. Firstly, Stephen Curry dropped an incredible 38 points and gathered 12 assists. He pushed his total tally of double-doubles to 149 and is now only 6 double-doubles away from climbing to the second spot in franchise history.
On the other hand, Stephen Curry also dethroned Wilt Chamberlain as the all-time leader for GSW in field goals made. Curry made 12 of his 22 attempts and pushed his total to 7222 field goals. Wilt made 7216 field goals in his career.
In the post-game conference, after being asked what passing Wilt's record meant, Curry said:
"Means I am getting old. It's special. I think everybody who breaks a wilt record feels a certain type of way because they were certain nobody was gonna touch it. But definitely blessed."
Loading embed tweet https://twitter.com/NBCSWarriors/status/1620262675715342336?ref_src=twsrc%5Etfw
Curry is definitely not wrong about breaking a Chamberlain record. Wilt was a force of nature and for Curry to outdo him should be enough in itself to make a case for the Hall of Fame.
 Curry also leads the franchise in missed field goals
Apart from his ridiculous ability to convert shots, Curry is also one of those players who tend to miss them. He definitely makes up for it with his output from the three, but it's safe to say he is not as efficient from the field as Wilt Chamberlain, who mostly scored in the paint.
Perhaps that is why Stephen Curry also leads the franchise in field goals missed. Fascinatingly, Wilt is fourth on the list behind Curry, Rick Barry, and Paul Arizin. It's safe to assume Curry will only increase his number of field goals made and missed. And it's highly unlikely anyone will come close to breaking either of these records in the near future.
Also read: "You Want Me? Take My Son": Lucille O'Neal Firmly Stated Shaquille O'Neal's Step-Father, Philip Harrison, Had To Accept Shaq As His Own
---