"I knew greatness would be out here early": Kyrie Irving Praises Lakers' Russell Westbrook Who Showed Up for the Shootaround Before Others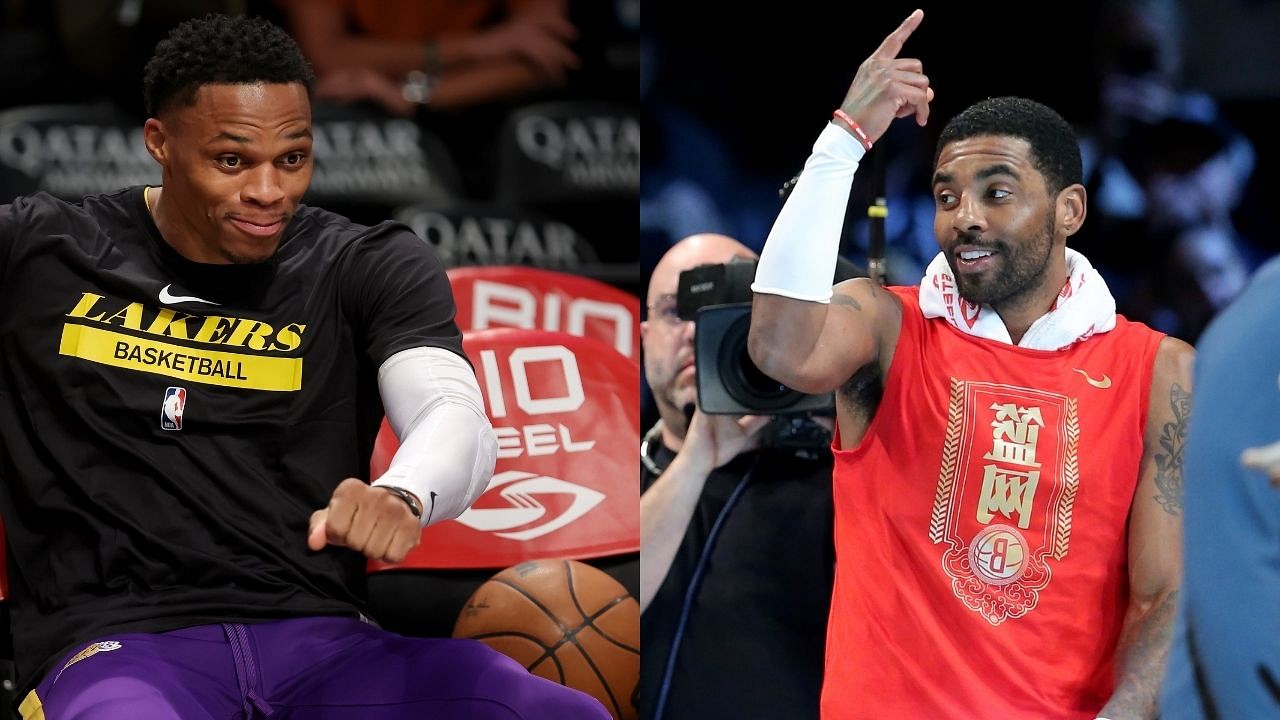 LeBron James, Kyrie Irving, Anthony Davis, and Russell Westbrook were to be some of the biggest names on the court when the Nets took on the Lakers Monday night in Brooklyn.
However, only Uncle Drew and Brodie were available for the game as The King and The Brow had "injuries" to deal with as the Purple and Gold have themselves back-to-back to deal with in New York.
Irving, to most of us surprise, took time to appreciate greatness as saw Russell Westbrook come out early for the shoot-around.
Also read: "LeBron James Is the GM!": Kyrie Irving Once Addressed LeGM Rumors and Complimented Lakers Star for His Basketball IQ
Kyrie Irving with big-time praise for Russell Westbrook before the game
It is rare for the controversial Brooklyn Nets point guard to say something that's not absurd for most. However, Kyrie Irving, before taking the court against his opposite number in a Lakers uniform, came up with massive praise for one of the NBA's greatest players of all time.
"I knew greatness would be out here early."

– Kyrie to Russ. ✊

(via @NBATV)

— Hoop Central (@TheHoopCentral) January 30, 2023
Never seen anything as awe-inspiring from Irving after his famous shot against Stephen Curry's Warriors in the 2016 NBA Finals.
His tremendous form in the absence of Kevin Durant might have to do something with his good mood. Before his 26 points, 7 rebounds, 6 assists, 3 steals, and a block against the Lakers in a 121-104 win, the man hadn't scored under 30 in the last six games.
Now you know where it's coming from?
Also read: Kyrie Irving, After Being Snubbed As First Choice, Joins Kevin Durant for Elite Nets Record
Brooklyn Nets without Kevin Durant
It's now been 10 games since KD sprained his MCL, and since then, his team looked in all sorts of trouble. They were 2-6 before their last two outings despite Kai's incredible form.
However, the last two games have brought them back to life, and it looks like they definitely can manage to at least hover around the .500 mark in the games without the Slim Reaper.
Although they did play a depleted Lakers last night, let's not take their win against the Knicks for granted. That was really impressive.
Also read: Kevin Durant Asks For Ja Morant and Zion Williamson in the Slam Dunk Contest for 2023 All-Star Weekend to be a Hit
---
Share this article