Kevin Durant Asks For Ja Morant and Zion Williamson in the Slam Dunk Contest for 2023 All-Star Weekend to be a Hit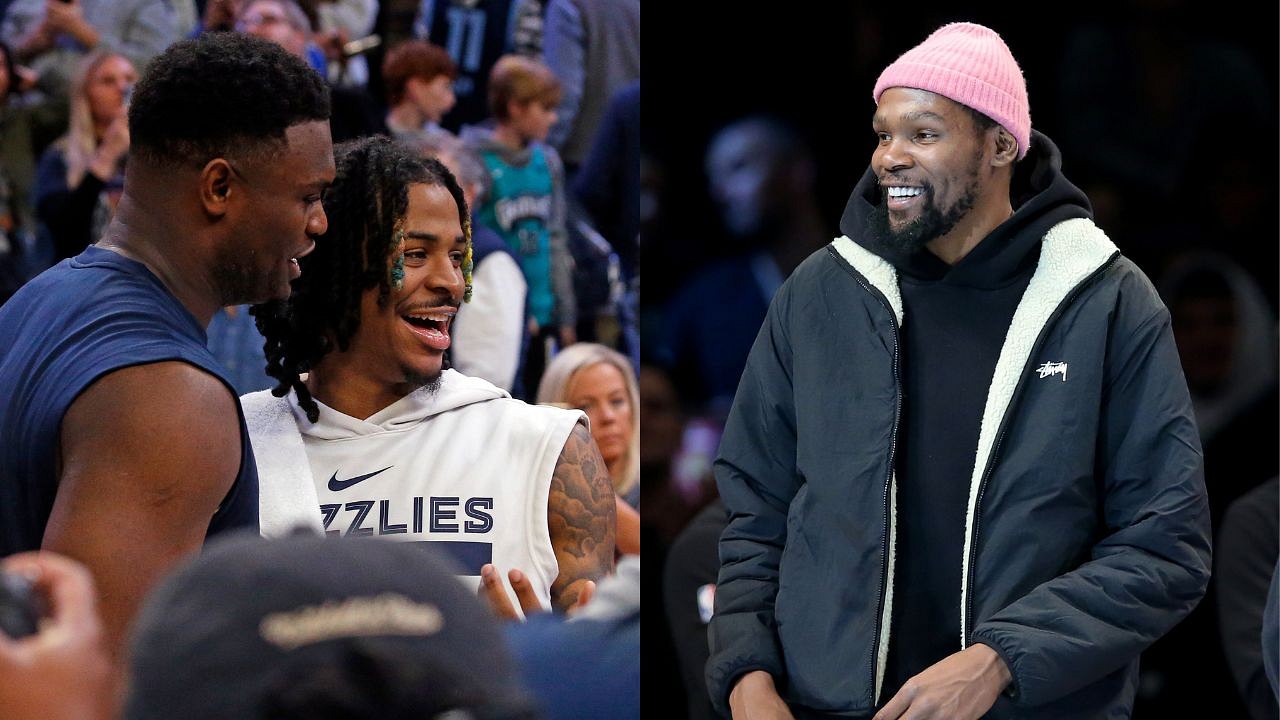 There was a time when Michael Jordan and Dominique Wilkins would participate in the same Slam Dunk Contest during the All-Star weekend. Over the past few years, NBA has had a tough time in getting even younger stars like Zion Williamson and Ja Morant to it. For the 2023 All-Star Weekend, we have Mac McClung.
There are multiple reasons which led up to now the league getting players from the G-League to star in the show. However, Kevin Durant thinks the 2019 Draftees, who are now All-Stars, could bring more eyeballs to the exhibit by participating in the dunk contest.
Also read: Zion Williamson Warned LeBron James About Himself Far Before He Had Even Made it to the NBA
Kevin Durant asks for Ja Morant and Zion Williamson in the Slam Dunk Contest
In a recent episode of his podcast ETCs with Kevin Durant, the Slim Reaper talked about how sacred the dunk contest used to be back in the day when he himself was a little fan and watched the likes of Jordan and Wilkins do it multiple years.
He also talked about young superstars of the 2000s like LeBron James and Derrick Rose not participating in it has to do something with where it is right now, but said the viewership could be brought back if Ja Morant and Zion Williamson were in it.
"I think the stars need to come back… It felt like it was stars every year when I was a kid," said KD and went on to say he'll be more excited if Zion or Ja would participate.
Let's hope NBA somehow makes it happen.
Also read: "I'd Pretend It Was Game 7 and Michael Jordan Was On My Team": Kevin Durant Recounts How Bulls Legend Was His Idol Growing Up
How has NBA come from Jordan, Wilkins, and Vince Carter to Mac McClung
Mac McClung is a tremendous basketball player, I wish he would be on the Lakers roster but in the dunk contest? Okay, he'd be good if any other superstar also participated in it.
However, his being the big name in it is just absurd. It hasn't been a long time since we saw the likes of Mike, the Human Highlight Reel — Wilkins, and later Vince Carter perform in it. And now we are here.
It must have something to do with superstars in the 2000s not participating, but also with what happened with Aaron Gordon multiple times when he didn't win the contest when he clearly came off as the winner to both — the naked eye and the replays. It was due to bias in judging.
So, NBA should just stop it or take some massive steps to make it bigger like the good old days.
Also read: "Don't kno ball, but I kno how to brush my hair": Shaquille O'Neal Responds to Kevin Durant Shot at Him For Not Knowing Rui Hachimura
---
Share this article