"I Wanted to be a Smaller Shaquille O'Neal!": Allen Iverson Once Colorfully Described His First Impression of Lakers Legend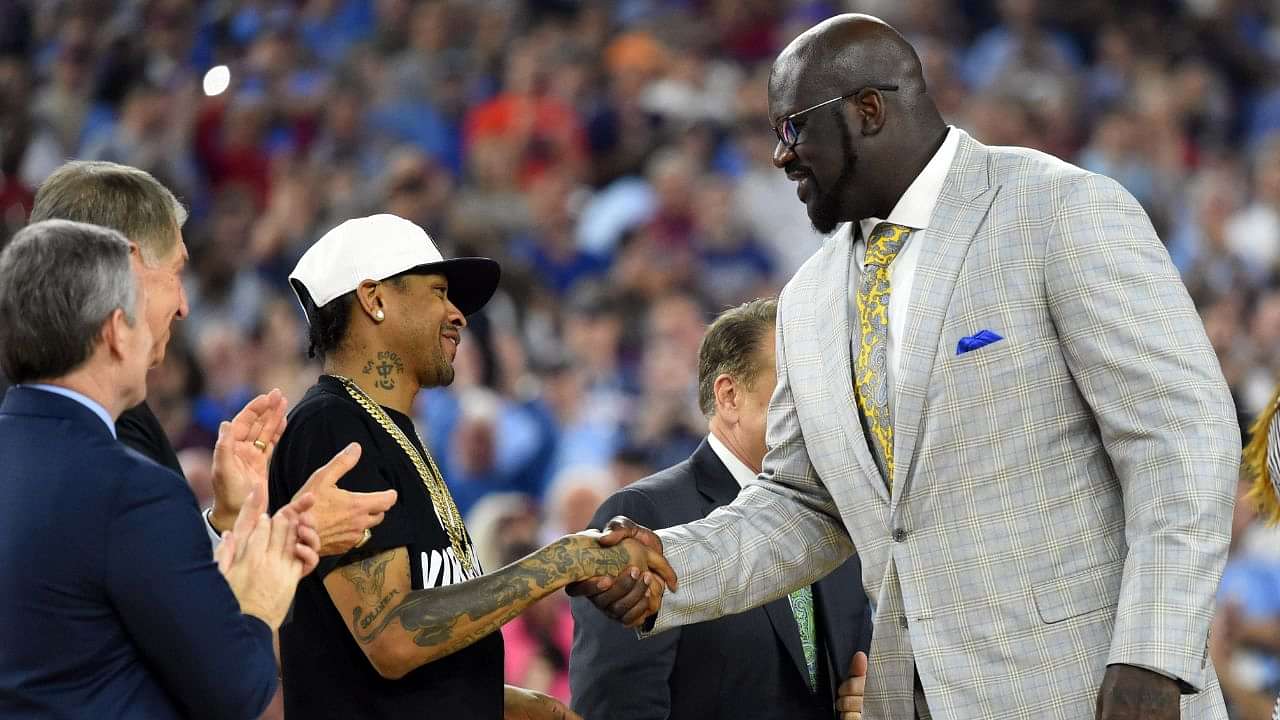 Allen Iverson isn't quite respected enough by the NBA community. Sure, he is known as 'pound for pound the greatest of all time'. But admittedly, that's a little disrespectful to him.
He didn't play in a league full of guys who were the same size as him. He played against giants, absolute behemoths who make a 6'3" person look tiny. So why in the world should he only be judged against those who had similar dimensions to him?
Now, one of the behemoths that he did have to do it against was Shaquille O'Neal. In his prime no less. And in 2016, he was not only asked about his first impression of the Diesel but also, what it felt like in general.
And the man's answer was absolutely hilarious, to say the very least.
Also Read: "I Was F**king Rattled in Boston": Draymond Green Credits 'GOAT Stephen Curry' for Carrying him in Game 4 of 2022 NBA Finals
Allen Iverson thought Shaquille O'Neal was 'scary' the first time he saw him
Shaquille O'Neal was never exactly a meek presence during his time in the NBA. Far from it.
This was the man that was known as the big bad bully of the entire NBA. And while others did try to take it from him, they never quite could.
But Allen Iverson was different right? He has been undersized all his life. 7-foot behemoths are nothing but a higher roadblock to a bucket… right?
Well, as it turns out, that was never quite true.
He even wanted to be a smaller Shaquille O'Neal.
There has been a lot of talk about Michael Jordan being his idol. But perhaps Shaquille O'Neal deserves some credit in that category as well.
Shaquille O'Neal is soon going to owe Allen Iverson a lot of money
Allen Iverson was famously endorsed by Reebok during his playing career. And to this day, it has been of great benefit to man.
You see, Reebok, which is now owned by Shaquille O'Neal, put a trust fund in place for Iverson, as part of his contract. That trust fund is worth a whopping $32 million.
There is only one catch.
The fund can only be redeemed when AI turns 55.
But, with the man now at 47, there are just 8 years to go.
That may seem like a long wait at first. But for $32 million?
Doesn't seem all that long away now.
Also Read: Magic Johnson's Mother, Christine Absolutely Despises Laker Legend's World Famous Nickname
---