"I Was F**king Rattled in Boston": Draymond Green Credits 'GOAT Stephen Curry' for Carrying him in Game 4 of 2022 NBA Finals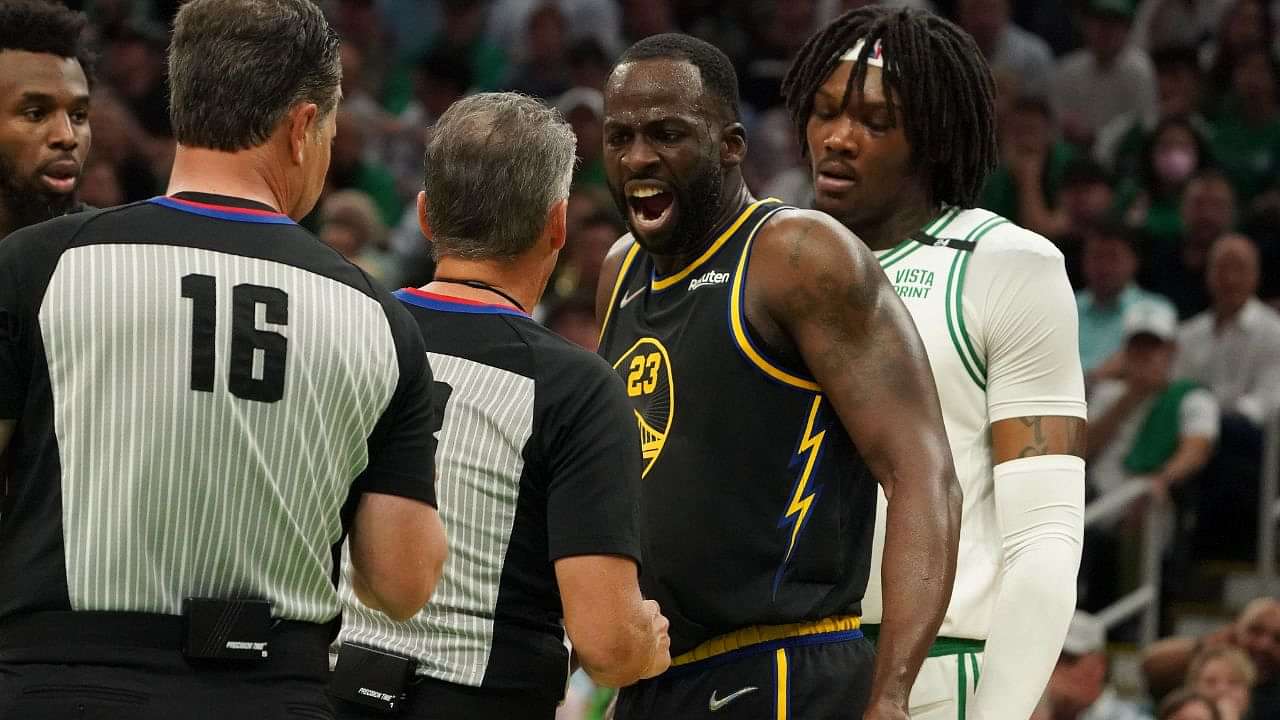 The 2022 championship served as a notice for all those who believed the window for the Warriors to win another chip had shut, especially post two-time Finals MVP Kevin Durant's exit. Nonetheless, Dub Nation had faith in its core of Stephen Curry, Klay Thompson, and Draymond Green.
Scripting one of the greatest dynasties in recent times, the Warriors' quest for their 4th title in 8-years wasn't short of a roller coaster ride, inculcating new pieces and helping reinstate Klay, who was coming off a two and a half years sabbatical.
Winning their 6th WCF title, the Warriors faced the young and supremely talented squad of the Boston Celtics for a shot at the Larry O'Brien trophy. Though Steve Kerr and crew had the championship DNA, the Cs were a more well-rounded team.
Also read: "Hey man, those Boston fans are great as they're saying f**k you Draymond": Warriors forward takes a dig at commissioner Adam Silver
The fierce battle between the two finalists had a plethora of emotions. Unfortunately, things took an ugly turn with Draymond, who was subjected to all kinds of insults from fans at the TD Garden.
"I heard everything you could possibly hear in that arena": Draymond relives the horror at TD Garden.
While Draymond might not be one to play, according to the book, nothing justifies the treatment meted out to him in Boston. With the series being 1-1, Game Three would take place at the TD Garden. Celtics fans were willing to go on guns blazing, given the team making the Finals after 12 years.
However, the fans would cross the line with Draymond, hurling all sorts of abuses at him, including racist remarks. It got to a point where Mrs. Green had to intervene.
Loading embed tweet https://twitter.com/ClutchPointsApp/status/1535432829089329152?ref_src=twsrc%5Etfw
Loading embed tweet https://twitter.com/ClutchPointsApp/status/1534777416023003136?ref_src=twsrc%5Etfw
Sadly, Dray let fans get to his head, losing the contest, putting up a stat line of 2-points, 4-rebounds, and 3-assists on 1-for-4 shooting from the field. Luckily for the former DPOY, he had Steph Curry as a teammate, who would put on one of the best shows in Game Four at Boston.
"At Game 3, I was f**king rattled," said Green. "I heard everything you could possibly hear in that arena."
The Michigan State product (Draymond Green) noted fans in Boston called him the N-word on multiple occasions as he finished a Game 3 loss with just two points, four rebounds, and three assists.
"I've been booed damn near in every arena in the NBA, that was a different thing," Green said. "So going into Game Four down 2-1, I'm just like I just need to come in here and stabilize myself. Shoutout to the GOAT Stephen Curry because in Game Four I still wasn't myself, but I rallied enough to be better, and then he carried me."
Via: Bleacher Report
Stephen Curry cemented his legacy in Game Four of the 2022 Finals against the Celtics.
With the lack of a Finals MVP trophy haunting him, Curry had the ultimate opportunity to silence all his doubters. The 6ft 3″ guard would find the most appropriate situation to do so, putting up one of the greatest Finals shows, being down 1-2 away from home.
Loading embed tweet https://twitter.com/StanfordSteve82/status/1535476197500624896?ref_src=twsrc%5Etfw
Curry would finally lay his hands on the deservedly Finals trophy, making him an all-time great.
Also read: "Watching Stephen Curry vs Jayson Tatum up close in NBA Finals costs $70,000": Models of Porsche and owning a Bahamas island cheaper than courtside tickets
---