"I'd Pretend It Was Game 7 and Michael Jordan Was On My Team": Kevin Durant Recounts How Bulls Legend Was His Idol Growing Up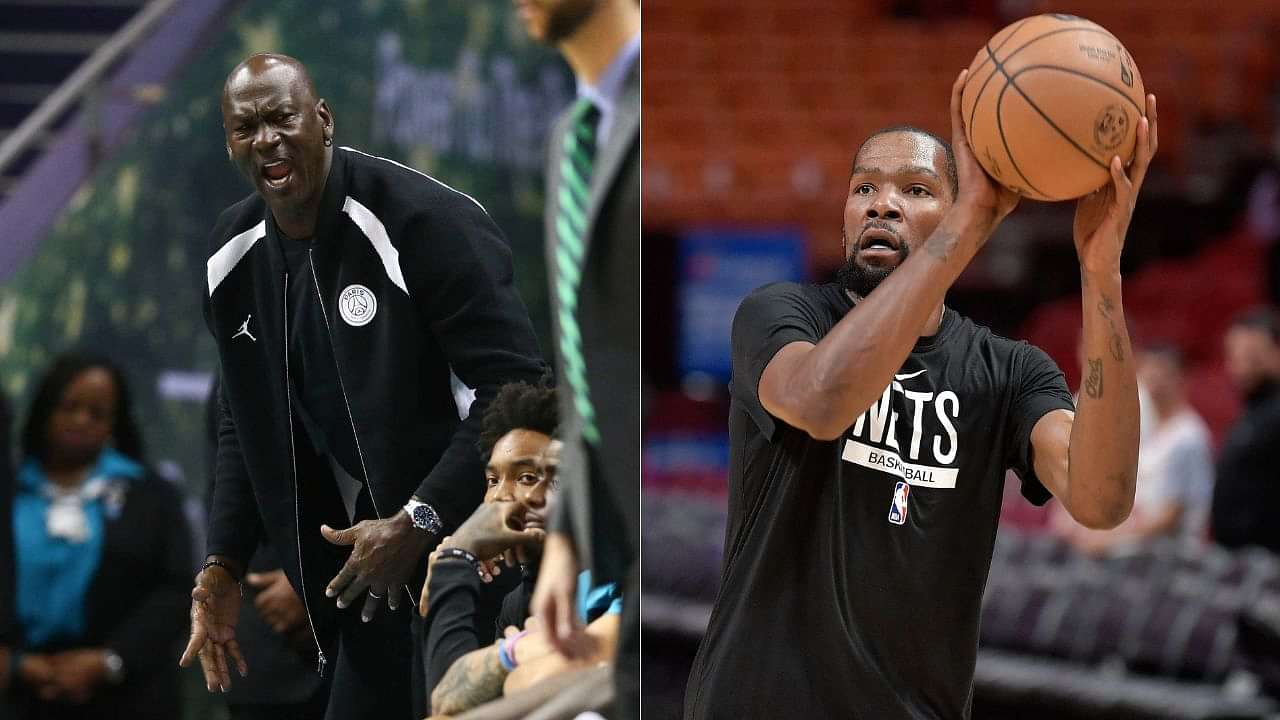 Many people regard Kevin Durant as perhaps the greatest scorer of all time alongside Michael Jordan.
Kevin Durant first burst onto the spotlight during his freshman year at the University of Texas. Playing for the Longhorns, he won recognition as the unanimous National Player of the Year.
Since coming into the league, KD has showcased a really complete scoring skillset. This man can play on the fast break. He can shoot it from anywhere on the floor.
When KD gets the block in the high or mid-post region, every opponent knows what his move will be. A hesi pull-up jumper, right from the top of the key. Or from somewhere near the lane. Knowing that, however, is practically useless.
At 6'10" (nearly 6'11" barefoot), Durant can get his shot off against practically any opponent. In any shot clock situation. There are times when it looks like he doesn't even see the defender when he shoots it.
Loading embed tweet https://twitter.com/BrooklynNetcast/status/1611184190036533248?ref_src=twsrc%5Etfw
Also Read – Michael Jordan Once 'Sarcastically' Picked Kevin Durant Over LeBron James and Kobe Bryant
Kevin Durant revealed how he pictured himself playing alongside Michael Jordan as a kid
Given his mastery of the mid-range shot, it should hardly surprise anyone to learn that Durant idolized Michael Jordan. After all, MJ is perhaps the most prolific mid-range scorer of all time. Alongside Kobe Bryant, who we can't forget in this conversation.
Kevin Durant spoke to celebrated Sports Illustrated author Jackie MacMullan about how Michael Jordan inspired him in childhood for a segment in a book called Basketball:A Love Story:
"Shooting around by myself, I would pretend it was Game 7 of the Finals and I was on the same team as Michael Jordan."
"That's when I really fell in love with the game, when I would simulate different scenarios. I knew I was pretty crazy – definitely on a different level from my friends mindset-wise, and that's what made me who I am."
Loading embed tweet https://twitter.com/eb_henderson/status/1103659387988701184?ref_src=twsrc%5Etfw
Also Read – Kevin Durant Equals Michael Jordan For Most 25-point Games to Start an NBA season, Still 64 Games Behind Another Legend
Can KD win a championship with the Brooklyn Nets?
The Brooklyn Nets find themselves at 4th spot on the Eastern Conference standings as of now. They'd started the season off pretty slow, but improved to a 27-13 record with a rally from late November.
However, the impact of losing KD to an MCL injury is clearly being felt by the rest of the squad. They have a losing record without KD in the last 2 weeks and change.
If they can stick it out in the Slim Reaper's absence, they still have a chance to be a top-2 seed. And given the improvements made by Nic Claxton, they will have a fighting chance to make it out of the East if they play to the best of their abilities in the playoffs.
---