Kevin Durant is one of the best players to ever step foot on the basketball court. No doubt he has been an inspiration for many players, Jayson Tatum is among that list for sure.
Kevin Durant's phenomenal form was the primary reason that team USA was able to win a gold medal in the Tokyo Olympics. In fact, KD became the highest scorer for the USA in the history of the Olympics.
In the final match against France, Durant and Jayson Tatum put on a scoring clinic and helped the team win the gold medal. Although Tatum has also made a name for himself now, a few years ago he was one of the many admirers of Durant's game.
Also read – "Jimmy Butler has a higher net income than Kevin Durant for 4 years": NBA fan calculates taxes for Nets and Heat superstars while taking shots at Dennis Schroder
But imagine being on the same team as your idol. Must be a great feeling for Jayson Tatum!
Kevin Durant and his heartwarming post with Jayson Tatum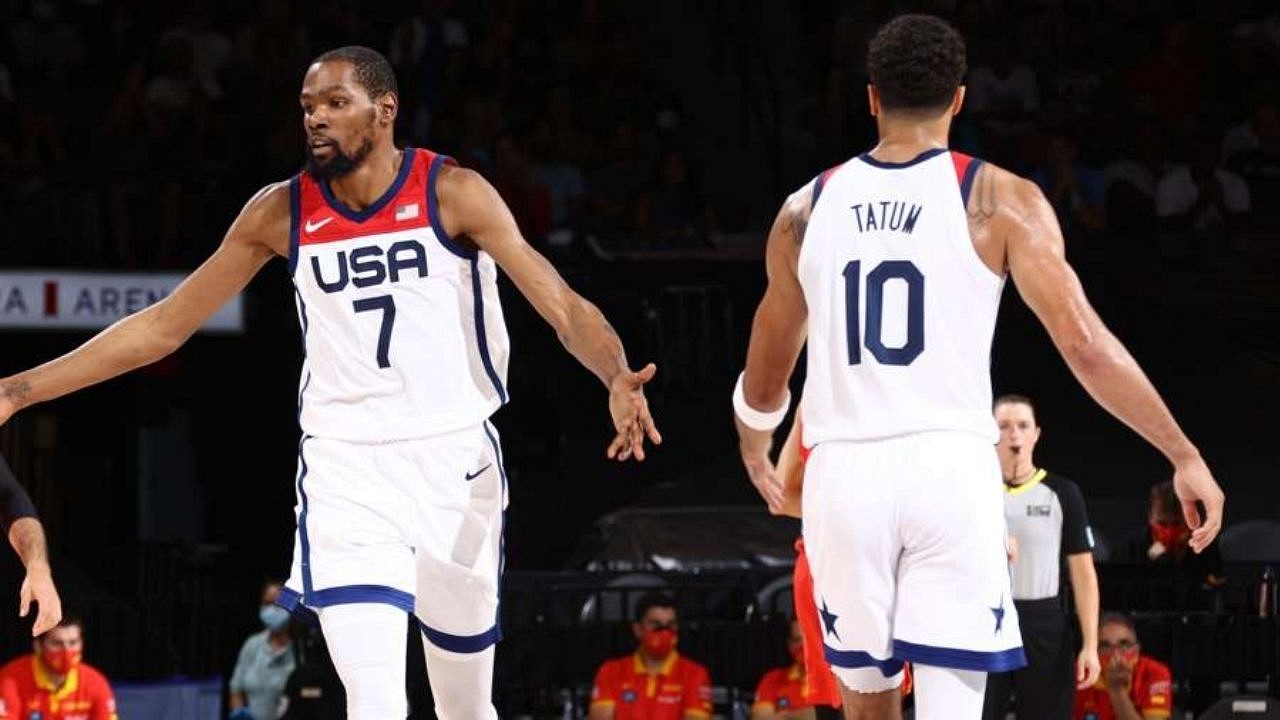 Tatum is one of the most talented players in the league as of now. In the future, he might become a leader for team USA just like Kevin Durant. Durant acknowledged Tatum's developments in a subtle way by posting a story with Tatum. KD captioned the story by saying:
"I'm old as hell"
KD's IG post on going from Jayson Tatum's idol to his gold-medal teammate: "I'm old as hell" pic.twitter.com/g5PdhiveZy

— Taylor Snow (@taylorcsnow) August 7, 2021
Well, despite being "old as hell" (Durant's words, lol), he is still one of the best players in the league. He proved his worth this season after making a comeback from a serious injury and is still playing at an elite level.
Also read – "Congrats Team USA!! Gold Medalists!": Tom Brady congratulates Kevin Durant, Draymond Green, and rest of Team USA for winning Gold at the Tokyo Olympics
Maybe in the upcoming season, he can lead the Brooklyn Nets to an NBA Championship. Regardless of his talents, it won't be an easy job by any means.
Can Kevin Durant add another championship to his resume? Or are his championship winning days over? Well, we will find that out when the new season kicks off.