"I'm still playing here": Spencer Dinwiddie hilariously responds to Nets graphic commemorating him, Caris LeVert and D'Angelo Russell as builders of today's team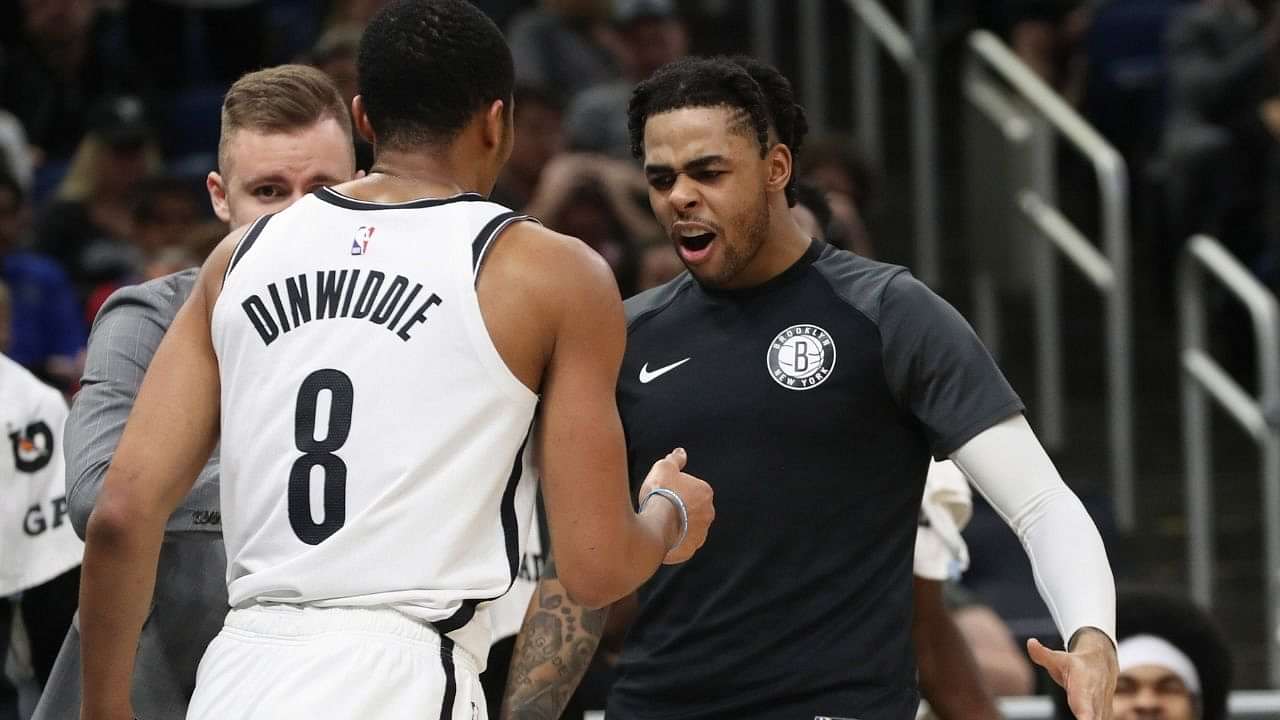 Spencer Dinwiddie hilariously took exception to being dubbed as a relic of the Nets' 2018-19 season which paved the way for this KD edition.
The Brooklyn Nets were mired in an era of mediocrity with seemingly no escape, not far back. The 2017-18 Nets fought hard, but they simply lacked the talent to make the playoffs. And so it happened that their pick, held by the Celtics and traded to the Cavs, turned into Collin Sexton.
Drafted by the Detroit Pistons in 2014, Dinwiddie did not last long in Motor City. He subsequently signed for the Chicago Bulls' G-League affiliate in 2016, before moving to the Brooklyn Nets. The Nets were the worst team in the league in 2016-17, and not much better the following year.
Also Read: "I'm coming back with a vengeance": Clippers star Paul George reveals that he's out to prove himself this 2020-21 NBA season
The 2018-19 season, however, was much different from the disappointments of the 4 seasons before. The maturing of D'Angelo Russell and the emergence of Caris LeVert, in addition to Jarrett Allen and Dinwiddie, made them one of the most exciting teams in the league.
Spencer Dinwiddie reacts to Twitter post thanking him for raising the Nets' profile
The Nets finished 6th in the Eastern Conference in 2018-19, and managed to take a game off Jimmy Butler's Sixers. Their strength in depth and the availability of ample cap space led to Kevin Durant and Kyrie Irving signing there.
Fast forward to this season, and Dinwiddie is out with a season-ending ACL tear. Caris LeVert and Jarrett Allen, along with Rodions Kurucs, were sent the other way as the Nets acquired James Harden. This means the squad now sports a virtually unrecognizable look from 2 seasons ago.
Loading embed tweet https://twitter.com/BACGraphics/status/1350253503537672199?ref_src=twsrc%5Etfw
Loading embed tweet https://twitter.com/SDinwiddie_25/status/1350258104026472449?ref_src=twsrc%5Etfw
Also Read: "Don't ever trash talk Black Jesus": When Reggie Miller trash talked Michael Jordan in a preseason Bulls game and got shut down in the second half
Dinwiddie likes joking around and always has a jovial demeanour to him. This tweet was definitely of the tongue-in-cheek variety, not him panicking about the Nets trading him. Come what may, he will always be a darling to Nets fans.
---