"Impossible To Catch A Rhythm": Michael Porter Jr. Criticizes Mike Malone For Lack of Playing Time in Loss vs Nets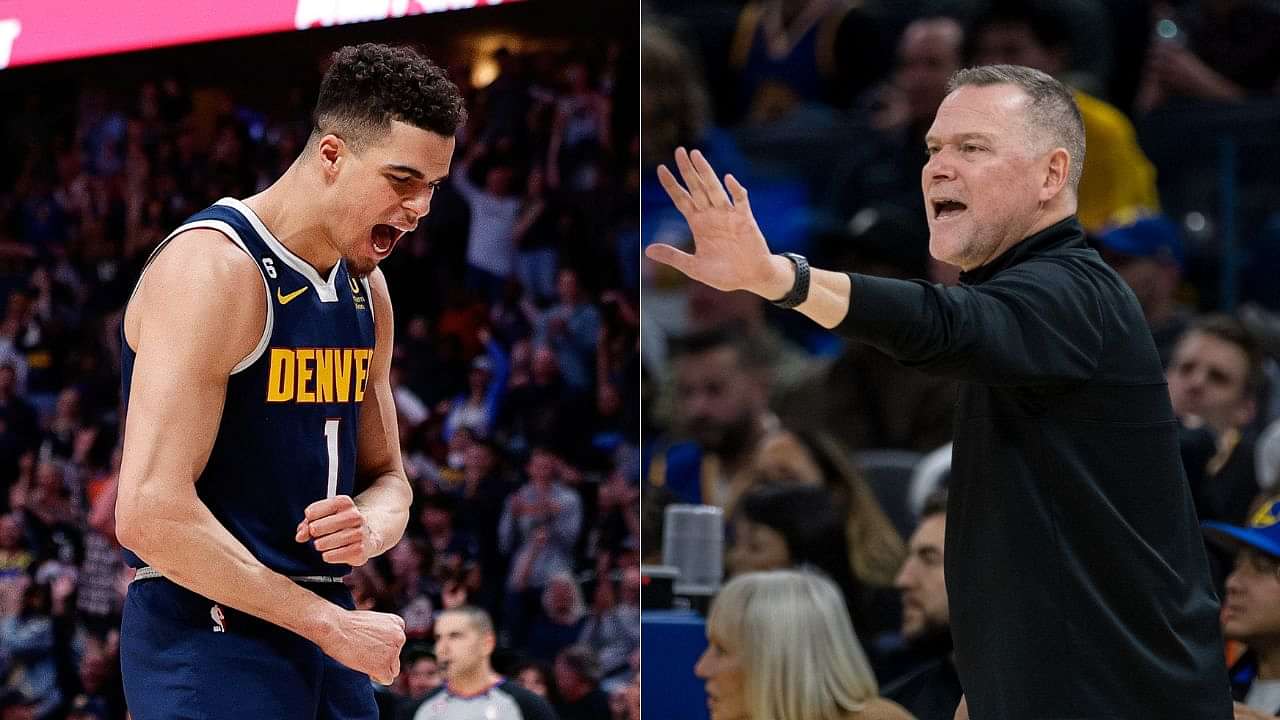 After going on a 4-game win streak, the Denver Nuggets have found themselves in the soup. Despite Nikola Jokic's incredible performances, Michael Porter Jr. and co. suffered losses against the Bulls and the Spurs.
Tonight, hosting the Brooklyn Nets at the Ball Arena, the Colorado-based franchise was in for a hard-fought battle. The action-packed thriller witnessed a total of 6 lead changes, and 6 ties, and finally ended 120-122 in the Nets' favour.
The Joker recorded yet another statsheet-stuffing performance. Playing 39 minutes, the Serbian superstar recorded 35 points, 20 rebounds, 11 assists, 2 steals, and 2 blocks.
Loading embed tweet https://twitter.com/TheHoopCentral/status/1635038524033613825?ref_src=twsrc%5Etfw
Also Read: NBA Reddit Speculates Kyrie Irving's Future as Lakers Catches Fire
Meanwhile, MPJ, who had a phenomenal first-half outing, was restricted towards the end of the game… by his own coach.
"How did I struggle?": Michael Porter Jr. on Mike Malone's allegations
The 6-foot-10 forward had put up 19 points in the first 2 periods of the game on an impressive 77.8/75/100 shooting split. One would naturally assume that the 24-year-old would be in red-hot form in the 2nd half as well.
However, after letting Porter Jr. play 7:21 minutes in the third quarter, Malone subbed him out. The Nuggets' head coach wouldn't put him back until there were 23 seconds left for the game to end.
A frustrated Porter addressed the same in the postgame interview:
"(He) sat me the whole fourth and put me in with 20 seconds left, I think," Porter said. "So, I mean it's impossible to catch a rhythm then."
Speaking about MPJ's situation, Malone stated that the youngster and the entire unit in the 3rd quarter struggled. Justifying his decision, the 51-year-old said:
"It wasn't just Michael Porter Jr. Everybody struggled when you get outscored 37-18. The group that was in there in the fourth played well. I rolled with that group."
As a response, the sharpshooter said:
"How did I struggle? I shot three times, and I didn't play. I didn't play in the fourth quarter, so I wouldn't say I struggled. I shot three shots. I made two of them. I missed one shot, so I wouldn't say I struggled. I would just say I didn't play."
Michael actually scored 4 points on merely 3 shot attempts. In his defense, that isn't exactly "struggling".
MPJ's stats from the 2022-2023 season
The Denver Nuggets hold a 46-22 record that places them #1 in the Western Conference. Yes, Jokic has been phenomenal this year. However, Michael Porter Jr. has been flourishing in his role.
After missing practically the entire 2021-22 season, the 4th-year player has been averaging 17.1 points, 5.3 rebounds, and 1 assist per game this season.
Of course, in the postseason, MPJ will have to elevate his game in order to help the Nuggets make a successful playoff run.
Also Read: NBA Twitter Reacts as Old Facebook Post of the Lakers Youngster Trolling the King Goes Viral
---