"Mavericks Should be Excited With D'Angelo Russell's Form": NBA Reddit Speculates Kyrie Irving's Future as Lakers Guard Catches Fire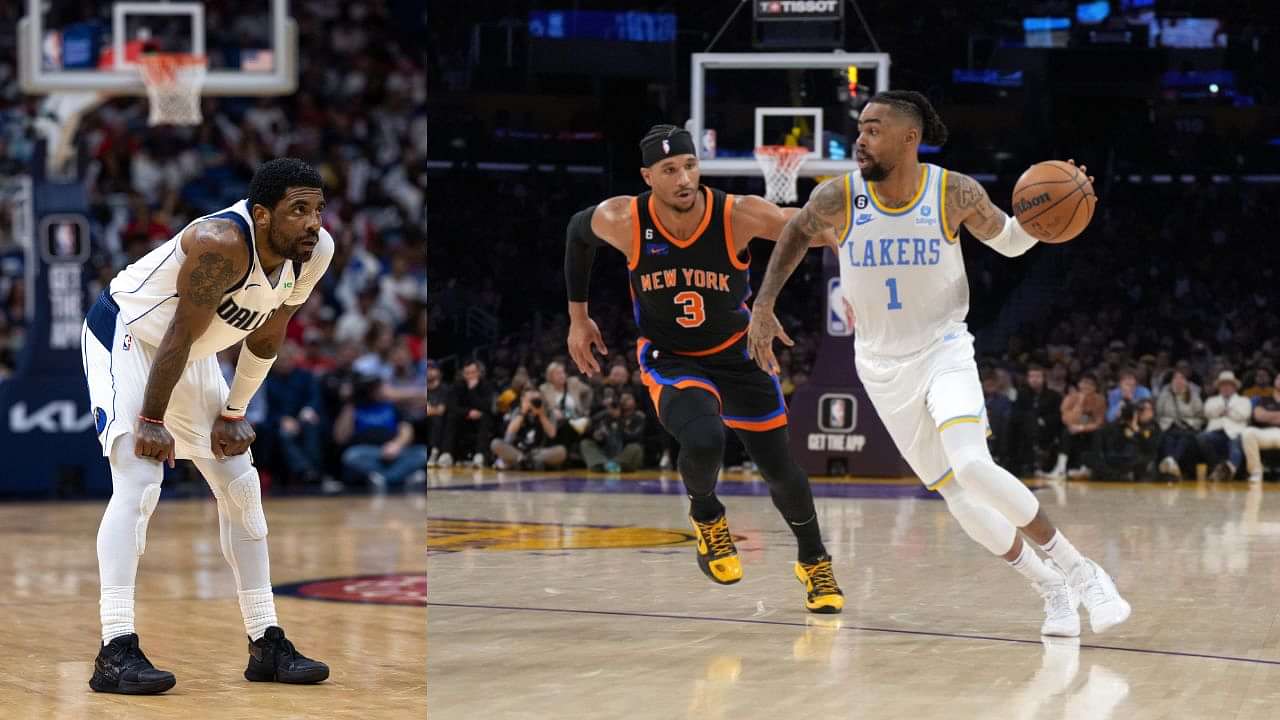 Even though a LeBron James team doesn't need a playmaker per se, D'Angelo Russell is showing he could both, score and make plays at an elite level. If he does so consistently, the Lakers might just drop the idea of chasing Kyrie Irving in free agency.
Before his move to Dallas, the LA Lakers were the priority destination for the 2016 NBA champ and since the move to Mavs, there were strong rumors suggesting he will sign with the Lakers after he becomes a free agent after this season.
That could be in jeopardy already, with DLo performing the way he is.
Also read: Since the Kyrie Irving Trade, the Brooklyn Nets Have 2 More Wins Than the Dallas Mavericks
The Lakers might not need Kyrie Irving if D'Angelo Russell comes through
Since his return, D'Angelo Russell has shown why he was the best possible chance (in the Market) for the Lakers to contend this year.
Facing his former Purple and Gold teammate on Sunday in Julius Randle, Russell could not lead his side to victory because of the poor showing of the rest of his squad, but he had the game of the season for his new franchise.
Doing that, and losing, would hurt. But whom it wouldn't hurt at all would be the Dallas Mavericks. The way things have gone since Kyrie's move, there are slight chances that they themselves would let the man walk considering he will be expecting a max salary.
After D'Angelo's 61 points and 17 assists in two games, NBA Reddit is suggesting that the Mavs might be the happiest party as of now.
Also read: "Anthony Davis Failed": Skip Bayless Puts The Tough Home Loss Against The Knicks On the Los Angeles Lakers Big
The Mavericks would be happy to have D'Lo instead of Kyrie
D'Angelo performing well is a win-win for Mavs. The Lakers would have to offer him in trade talks for Kyrie. If the Lakers keep Russell, Irving will have nowhere to go but re-sign given, no other contender would want a Kyrie Irving on a new contract. That would just be a menace for a franchise.
And if Irving and Luka Doncic fail to make any impact this season in the Playoffs, then the 7x All-Star might be in a vengeance mode to prove how good he is. Mark Cuban will also surely make some moves in the off-season to strengthen his frontcourt.
Also read: "LeBron James is Out of the Walking Boot": Lakers Take on the Knicks as The King is Finally Back Courtside
---