'Injured' LeBron James Partied with Wife Savannah James and Draymond Green at Jay-Z and Beyonce's Oscar Party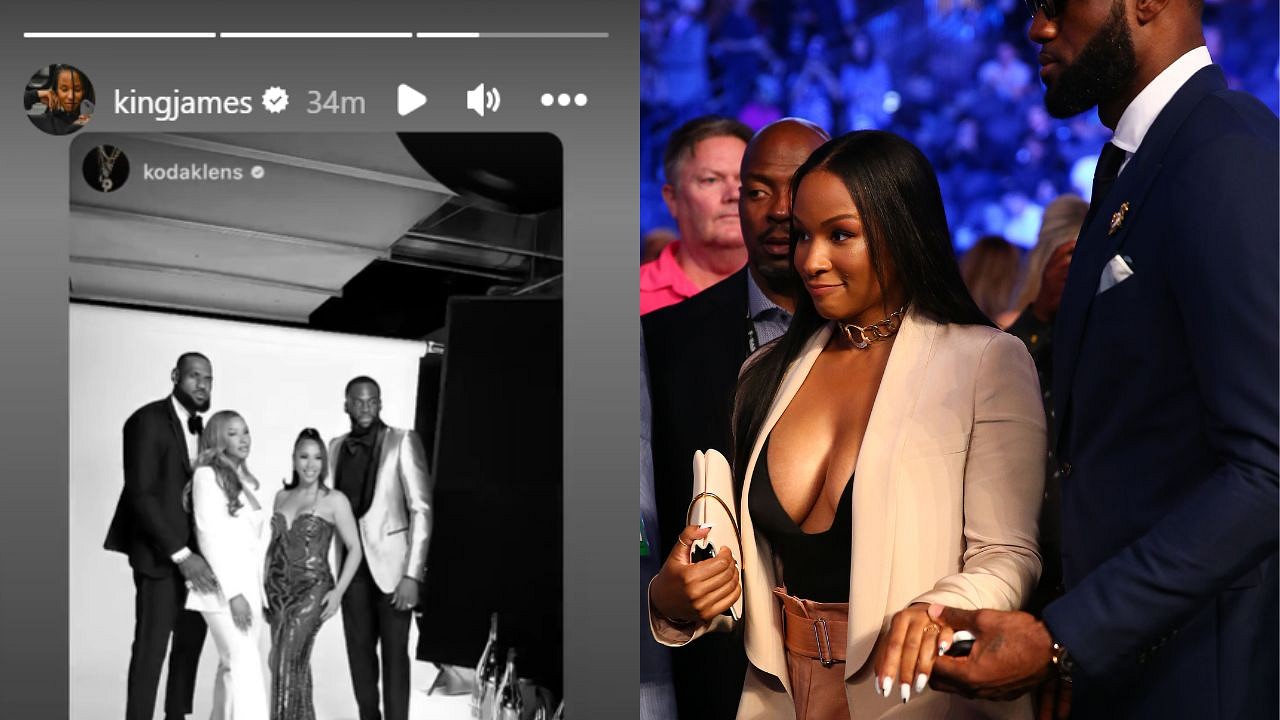 LeBron James is currently missing crucial games for the Lakers. The gold and purples are fighting to save their season and ensure a spot in the playoffs. However, with LeBron injured, their chances have dwindled significantly. In fact, even with the new-look roster, it is hard to imagine this laker side beating a few of the top-ranked seeds.
Meanwhile, it seems LeBron James is using his free time to party with his wife Savannah James, Draymond Green, and Hazel Renee. Although, considering it was the night of the Oscars and the party was thrown by Jay-Z and Beyonce, we can't really blame LeBron for being a part of it.
Also read: "Impossible To Catch A Rhythm": Michael Porter Jr. Criticizes Mike Malone For Lack of Playing Time in Loss vs Nets
LeBron James and Savannah head to the Jay-Z and Beyonce's Oscars After-Party
For a few years, Jay-Z and Beyonce have given birth to a new tradition. They host the annual after-party for A-Listers of Hollywood. Held at the Chateau Marmont in West Hollywood, the 'Gold Party' has become even more famous and trendy than the official Oscars. The party usually features some of the biggest names in the world.
This year's party featured familiar NBA faces. LeBron James, who recently became the all-time leading scorer, and Savannah James were part of the party. So were Draymond Green and his wife Hazel Renee. In fact, James and Green, who are friendly with each other, even posed together alongside their wives. James reposted the picture on his Instagram.
LeBron and Dray at Jay-Z's Gold Party 👀👀 pic.twitter.com/phCGGe1VWx

— DubNation(2022 NBA CHAMPIONS) (@dubs3000) March 13, 2023
This year's Oscars were surprisingly a normal event and did not face too many controversies. After last year's ceremony where Will Smith slapped Chris Rock, this year's ceremony was undoubtedly far less eventful. At least the after-party had an incredible guest list.
King James still deemed unfit for return
Unfortunately, the partying aside, LeBron is still not cleared to play in the NBA. James has missed 7 consecutive games since he was injured. Darvin Ham, in his latest report, revealed LeBron is healing as expected. This is good news for the Lakers who need him desperately. Without him, their chances of ensuring a spot in the top 6 will be next to impossible.
Also read: "Anthony Davis Failed": Skip Bayless Puts The Tough Home Loss Against The Knicks On the Los Angeles Lakers Big
---
Share this article